Whether you commonly grill for a small group or don't have the space for a large grill, it is still important find a quality grill that will last. We have researched and compiled the below list of our picks for the best small gas grills.
Since everyone's definition of small is a bit different, our list includes a variety of small to very small grills to fit the various needs of our readers.
The Best Small Gas Grills
Spirit II E-210 2-Burner Propane Gas Grill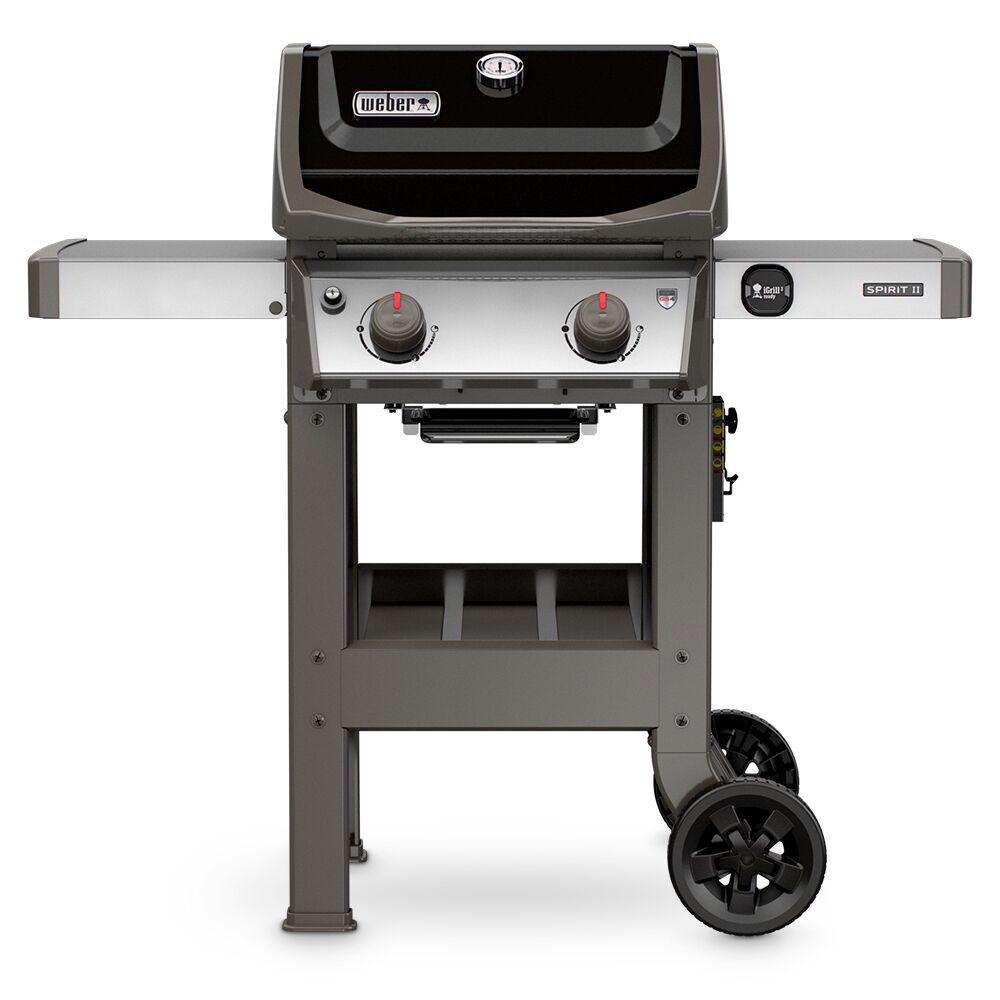 Weber is known for manufacturing high-quality grills that are made to last. While the Spirit II E-210 is a small 2-burner gas grill (26,500 BTU), it is still made with the expected high-standards of any other Weber.
If you are looking for a small grill because you are short on space, a convenient feature of this Weber is that the left side table folds down. This allows for extra needed storage space. There are also hooks (3 on each end of the side tables) for easy access to your grill tools.
While this is a 2-burner, it still provides a sizable cooking area of 360 square inches with a 90 square inches for the warming rack. This grill will easily cook 12 hamburgers at once without over crowding the cooking surface.
One feature we love about this grill is that it has a built in fuel gauge. It informs you of the level of propane in your tank so that you don't run out of gas while grilling. This might seem like a minor feature to some, but it can be extremely frustrating to unexpectedly run out of propane in the middle of preparing a meal.
This grill is available in four color: black (pictured above), blue, ivory, and red. Click the button below to see all colors.
Features:
2 stainless steel burners producing 26,500 BTU
Electric ignition
Porcelain-enameled cast-iron cooking grates
450 sq. in main cooking area, 90 sq. in warming rack
Grease pan (included)
Thermometer on grill hood (included)
10 year overall grill warranty
103 pounds
57 in. height, 48 in. width, 26 in. depth
Propane tank (sold separately)
---
Weber 441001 Original Kettle 18-inch Charcoal Grill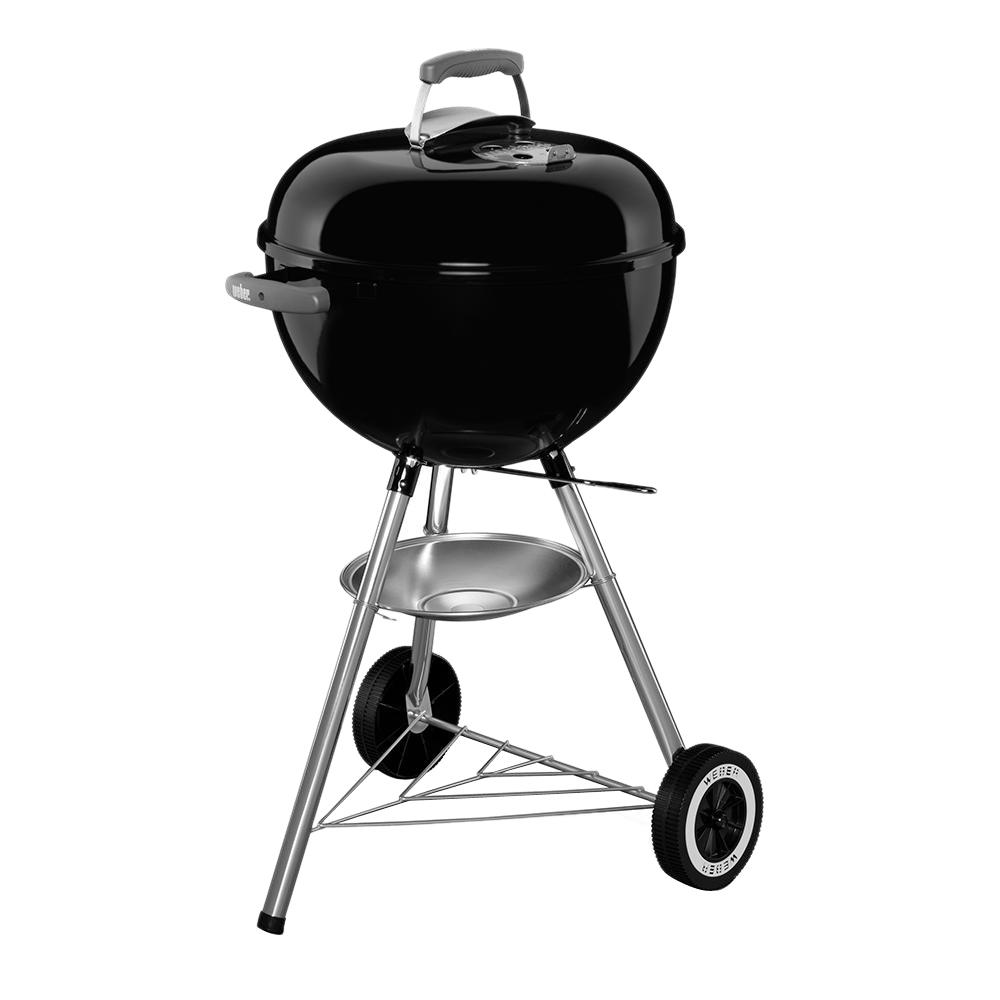 As you may have expected, we are featuring another Weber. This time an affordable, but heavy-duty charcoal grill.
This grill features 240 square inches of cooking space and an 18-inch diameter plated-steel cooking grate. It can handle approximately 9 hamburgers at one time.
The dimensions of this Weber are 23 in. width by 36 in. height by 18.5 in. depth. While it is able to BBQ a sizable amount of food, it is not overly bulky to stand in the way of other areas that you may wish to utilize.
Keep in mind that the Weber Original Kettle 22-Inch Charcoal Grill may also be an option to consider if you are looking for a slightly larger grill.
Features:
18-inch kettle
240 sq. inch cooking space
Plated steel cooking grate
Porcelain-enameled lid and bowl
One-touch cleaning system
Equipped with an ash catcher
Lid able to hook on the grill side
Damper allows for ample temperature control
Pair of durable wheels for easy mobility 
---
Char-Broil Performance 300 2-Burner Propane Grill
The Char-Broil Performance 300 2- Burner is a nice option for those that might not want to spend on the Weber Spirit II. However, don't let its affordable price fool you, this grill has some solid features for its price range.
The grill is equipped with 2 burners that produce 24,000-BTU in total. There is a significant amount of cooking space for this size grill at 300 square inches. Additionally, there is another 100 square inches for the warming grate located above the primary cooking space. The manufacturer indicates that it can accommodate about 16 hamburgers across the cooking space.
The lid is stainless steel and has a built-in thermometer to accurately gauge the internal temperature. The grill's electronic ignition makes it super simple to light the flames with the turn of the heat control knobs and a push of a button.
One feature that makes this an excellent choice for small spaces is the fold down side shelves. This allows the grill to be easily tucked away when not in use. This might seem like a minor feature to some, but for those struggling for extra space, it can be an extremely convenient component.
Features:
2-burners 24,000 BTU's 
Fuel: Propane (tank not included)
Stainless steel burner
Dimensions: 44-inches height, 42.9-inches wide, 24.5-inches depth
Porcelain-coated cast iron grates (rust-resistant) 
300 sq. in. primary cooking area, 100 warming rack
Electronic ignition
Fold down side shelf (metal)
Cabinet to hide away propane tank and store grill tools
4 casters (2 are lockable to prevent movement) 
---
Weber Q 1200 1-Burner Tabletop Propane Grill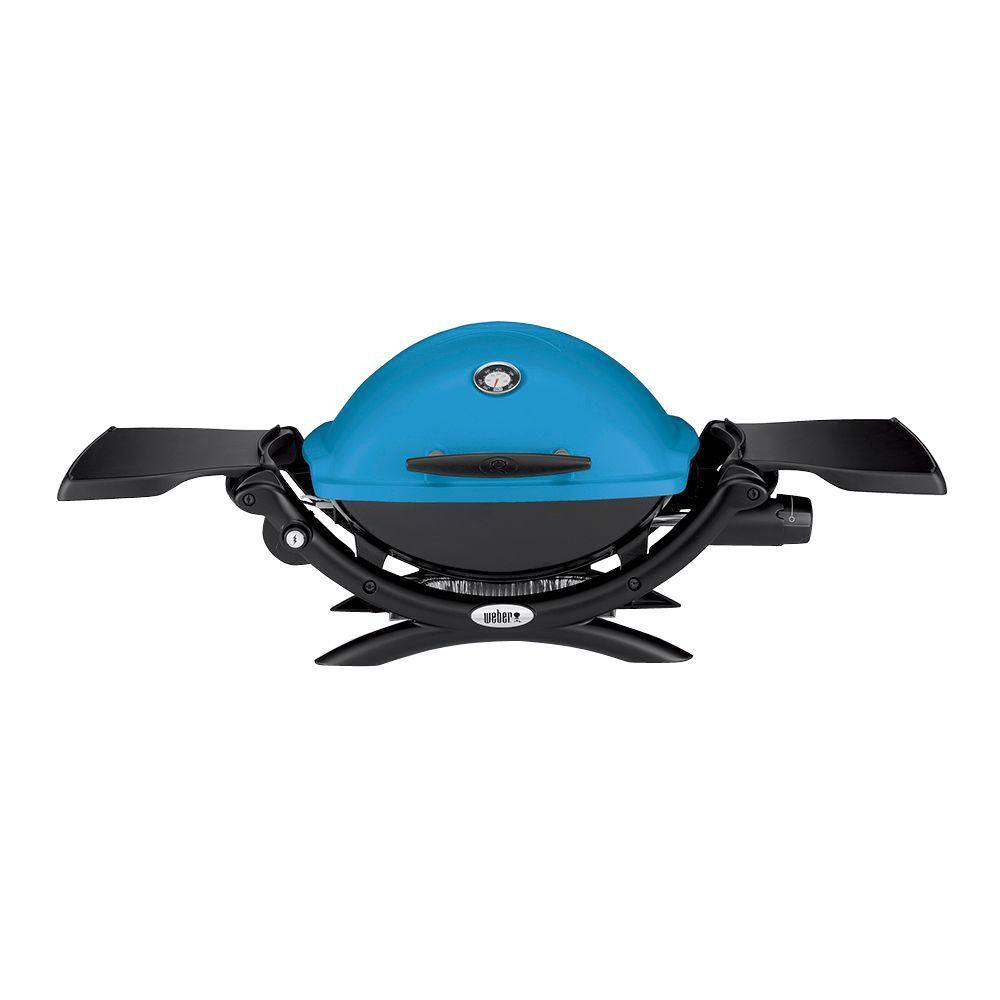 The Weber Q 1200 is undoubtedly small, but it still holds the quality you expect from a Weber. It is a tabletop grill, so you have the ability to move it around as needed. The side tables fold to make it compact for transportation. Keep in mind that while this grill is portable, it must be used outside for safety reasons.
This grill provides 189 square inches of cooking space heated by one stainless steel burner that produces 8,500 BTU per hour. The two cast-iron grates are porcelain-enameled to allow for even cooking.
You have options regarding the size of propane tank/cylinder that can be used with this grill. The typically used fuel sources are propane cylinders (canisters) 14.1 oz and 16.4 oz. However, you can also use a much large 20 pound tank if you buy this adapter hose.
This Weber comes in black (pictured above), blue, fuchsia, green, orange, red, and titanium for a variety of colors. Additionally, there is also a rolling cart that is designed for this grill that is sold separately.
Features:
Dimensions: 24.6 inches (height), 40.9 inches (width), 20.5 inches (depth)
189 sq. in cooking space
2 cast-iron, porcelain-enameled grates
1 burner, 8,500 BTU per hour
Heat source: propane
Electric starter
Foldable side tables
Cast aluminum lid with thermometer
Cast aluminum body
---
Nexgrill Evolution 2-Burner Propane Gas Grill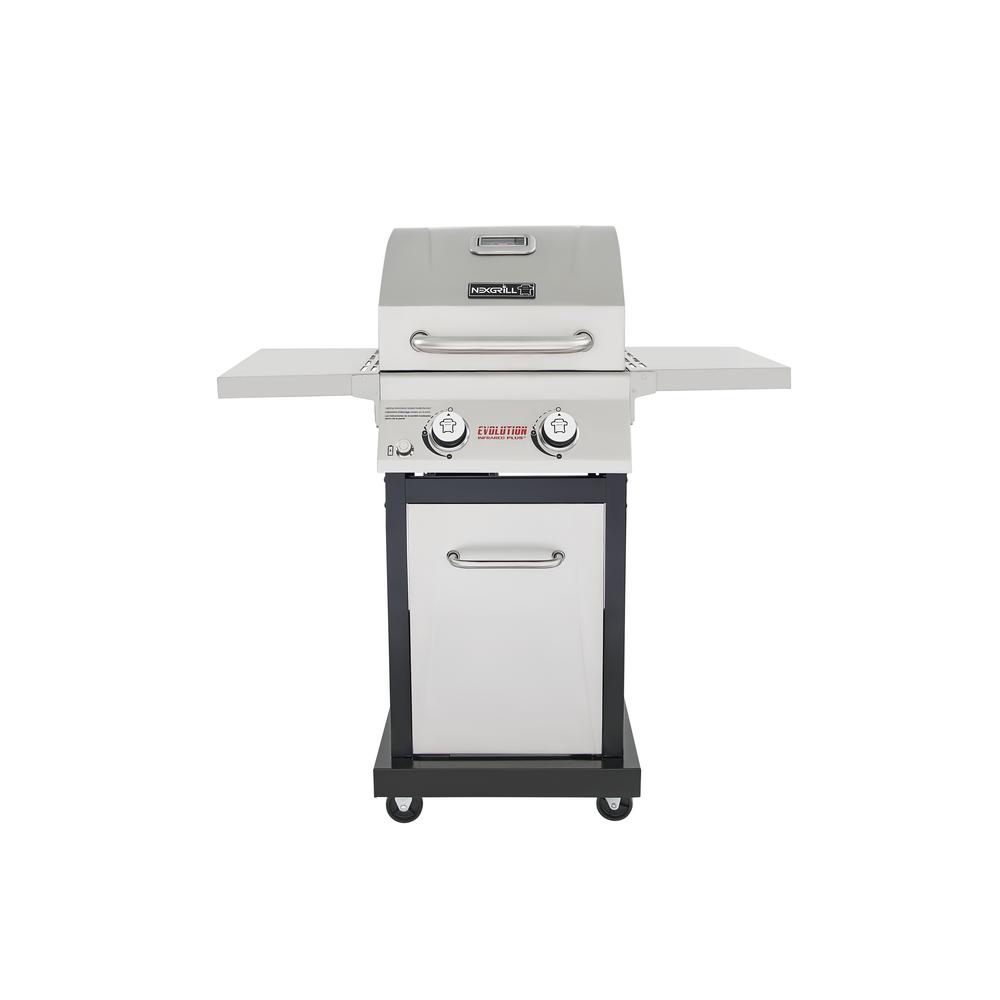 The Nexgrill Evolution is equipped with 2 stainless steel burners that offer 14,000 BTUs per burner or 28,000 BTUs in total. The primary cooking space is approximately 278 square inches, which is sufficient for most daily grilling purposes. The main cooking space can hold about 13 hamburgers.
This grill is built to run off of propane gas, but it is convertible to natural gas. Additionally, it offers the ability to cook using infrared technology or the traditional method of the flames heating the grates. In case you are unfamiliar with infrared technology, the heat is radiated to the food instead of being cooked from the heated grates. Infrared heat is believed, by some, to provide a much more even cook through the food compared to the traditional heating method.
The two side tables fold down to provide flexibility on where you store this grill. Additionally, we love the high-quality look of the stainless steel with the bulky knobs. Some grills in the price range frankly look cheap, but this Nexgrill Evolution displays like a more higher-end piece of outdoor cooking equipment.
SEE ALSO>>>> The Best Yakitori Grills
Features:
Dimensions: 45.9 in. height, 42.44 in. width, 22.15 in. depth
2 stainless steel burners
278.85 sq. in. primary cooking space
28,000 BTU's
Infrared cooking (optional)
Foldable side shelving
---
Fuego F24C Professional Propane Gas Grill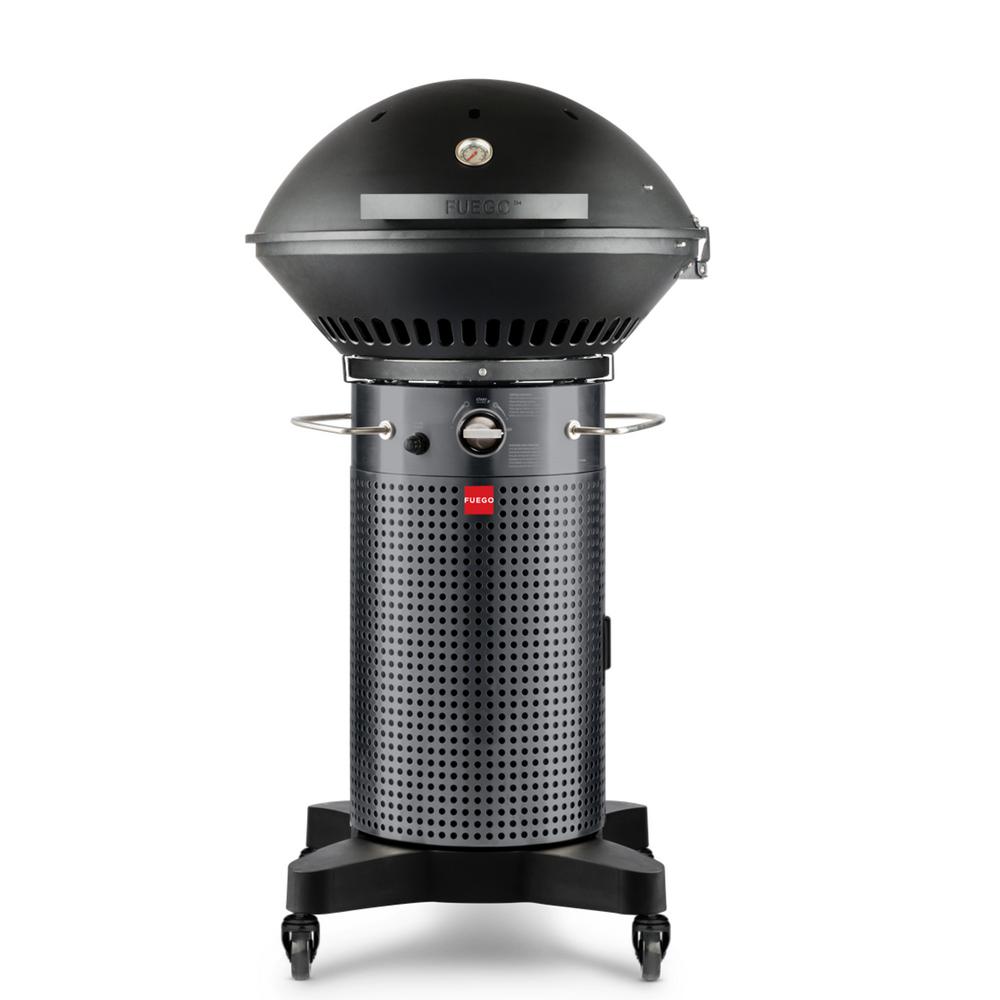 The Fuego F24C might look like a grill out of a futuristic movie to some, however, don't let its look fool into thinking this is some sort of gimmicky type of grill. This is one of our favorite grills for quality, space savings, and ample cooking space for its size. It can handle about 20 burgers at a time.
The grill features 525 square inches of grilling space in total. 415 square inches are for the primary cooking area with the remaining 110 square inches for the warming rack.
The Fuego F24C produces 26,500 BTU per hour with its two stainless steel burner system. This grill is fueled by a propane tank that fits compactly in the hinged clasp door system. It is also convertible to natural gas if this fuel source is preferred for you.
If you are a fan of Apple products, you may be happy to know that this grill was the creation of a former industrial designer for Apple, Robert Brunner. You can tell by looking at this grill that there was an extreme attention to detail with the idea of saving space in the forefront of the design.
Features:
2 burners, 26,500 BTU per hour
Able to reach 500°F in 5 minutes
Propane or convertible to natural gas
415 sq. in. primary, 110 sq. in. warming rack
24″ x 24″ footprint
High-quality casters for excellent mobility 
Electronic ignition
---
Cuisinart CGG-180 Petit Gourmet Portable Gas Grill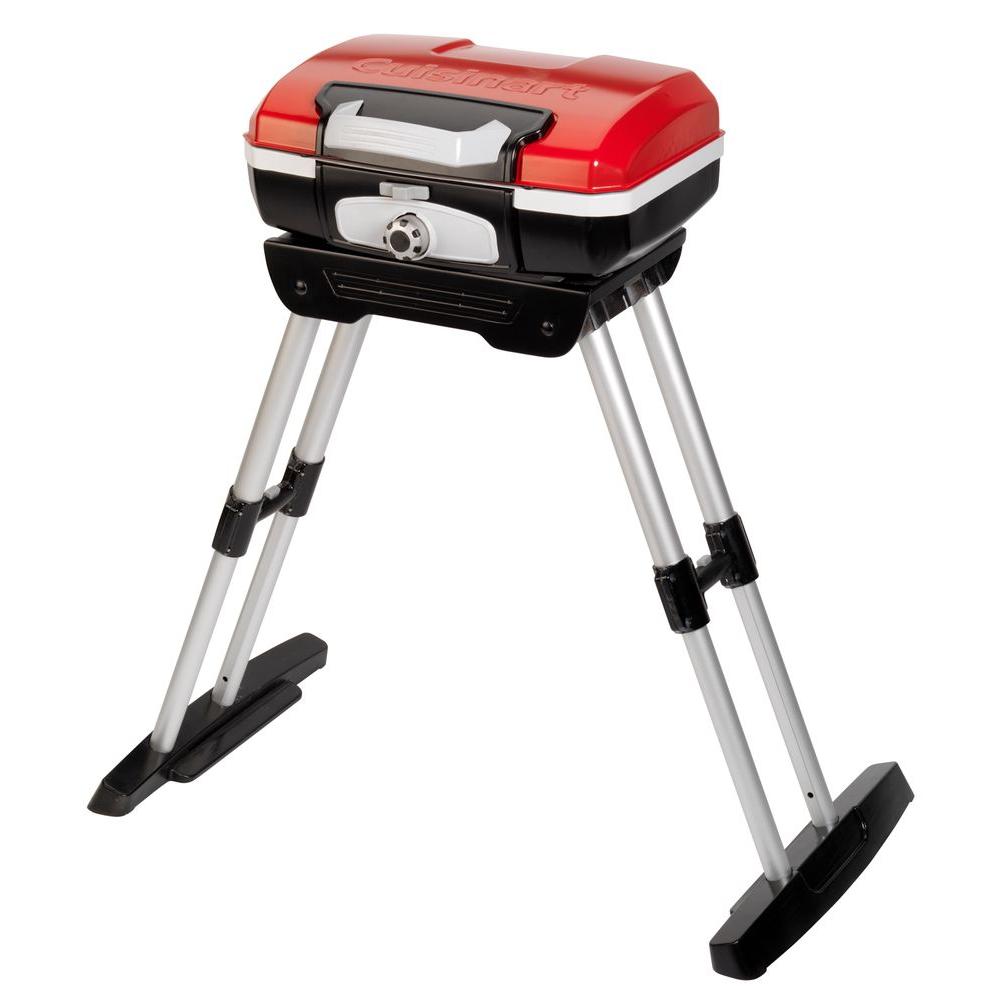 The affordable Cuisinart Petit Gourmet is an excellent grill if you plan on cooking both at home or on road for tailgating camping, or the beach.
The stand (legs) fold down to allow the grill to be carried like a briefcase when transportation is required. It weighs 17 pounds, so carrying it for a bit of a distance won't be hard for most people.
The Cuisinart CGG-180 Petit is a single stainless steel burner grill that offers 5,500 BTU. You are limited to 160 square inches of grilling space, but this still can accommodate about 8 hamburgers.
Features:
Propane (tank sold separately) 
5,500 BTU, single stainless steel burner
160 square inches of cooking space
Porcelain-enameled grates
17 pounds
Telescoping stand
Colors: red (pictured), black, or silver
---
Coleman Roadtrip LXE 2-Burner Portable Grill
The Coleman Roadtrip LXE is another excellent option if you are looking for a small grill that is portable and dependable. The grill collapses down so that you are able to transport it similarly to how you would with a piece of rolling luggage (see the picture below). Moving the grill for storage or for taking it on the road is super simple.
This grill is manufactured with dual burners. Each burner is controlled by its own knob to provide flexibility with the heat control. It is also equipped with a push button start, so there is no messing around with matches. The total cooking space is 285 square inches.
The Coleman LXE is available in several colors including red (pictured), black, blue, green, maroon, orange, and purple.
Features:
20,000 BTUs (10,000 for each burner)
Fuel source: propane cylinder or tank & adapter w/ hose (sold separately)
2-Burners (each adjustable)
285 square inches cooking space
Cast-iron and porcelain-coated surfaces
Collapsible stand (included)
---
Smoke Hollow 205 Stainless Steel Tabletop Grill
The Smoke Hollow 205 Tabletop grill offers 205 square inches of cooking space with an additional 105 square inches for the warming rack.
This grill features a "U" burner that is stainless steel and puts out 10,000 BTU. The primary cooking area is made with stainless steel and the warming rack is chrome-plated.
The assembled dimensions are 27 inches length x 17 inches width x 12 inches height. The legs are also foldable to allow for an extra compact grill. Additionally, the lid latches shut to allow for secure transportation.
Features:
"U' burner providing 10,000 BTU
27″ L x 17″ W x 12″ H
305 total cooking area
Locking hood 
Grill hood thermometer
---
Char-Broil 280 2 Burner Propane Grill
The Char-Broil 280 does not have the flash of other stainless steel constructed grills on our best small grills list, but that does not take away from its quality. 
You get 280 square inches of cooking space with this grill on porcelain-coated grates. This is a 2-burner grill producing 10,000 BTU per burner or 20,000 BTU total. The side burner offers an additional 8,000 BTU for cooking things such as sauces or boiled corn. 
Features:
Dimensions: 45 inches  width by 24 inches length  by 41 inches height
Steel lid
20,000 BTU
280 square inches of primary cooking surface
8,000 BTU side burner
Porcelain-coated grates
Metal side shelf for prep
2 six inch wheels for mobility
Push Button Ignition
---
The Top Pick
The Weber Spirit II E-210 is our favorite for the best small grill on our list. It is difficult to beat this grills quality, craftsmanship, and performance out of any other grill featured here. This grill is not cheap for a 2-burner, which makes many of the other grills much more attractive. This is particularly true if a smaller or portable grill will fit your needs. However, in terms of overall quality, there aren't many that beat a Weber even if they now include globally sourced parts and are not all completely made in the US. The Spirit II is no exception and is undoubtedly a grill that will last for many years without worry.