6 Best Manual Lawn Edgers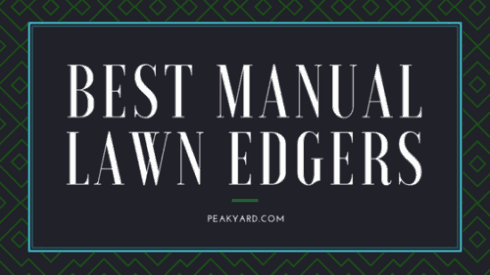 This article is designed to help you find the best manual lawn edger for your yard. We have listed six of the best manual edgers for you to consider below. While there are different types of manual edgers featured below, they all do a very effective job at creating a beautiful edge.
Picking a manual edger that is right for you should be relatively easy. Manual edgers are pretty straightforward tools. After a small learning curve, you quickly start to learn the best way to use the edging tool. The difficult part about manual edging, for most people, is the physical aspect of the task.
Manual edging does take a bit of an effort to complete even if you have one of the best manual edgers. There is no doubt you will build up a sweat once you get going. You should be in a healthy physical condition to consider edging. If you have an average size lawn edging area, expect it to take a bit of time to complete.
Manual edging does provide a very presentable edge to your lawn when done right. A manual edge can be just as good or if not better than an edge created with a powered edger. This is especially true if you use one of the products featured below. There is no need to buy an expensive powered edger if you are willing to put in the effort to manually produce a clean edge. Manual edging is a very inexpensive and an Eco-friendly way to maintain your lawn.
6 Best Manual Edgers
Here are our top picks for the best manual edgers. We believe that these tools will allow you to create the neat and clean edge you desire without the expensive cost that comes with a powered edger.
Truper 32100 Tru Tough Rotary Edger
This manual lawn edger
works by inserting the blades between the concrete and the grass (the edge) with the wheels touching the concrete. You edge by pushing the rotary edger forward while the spiked blades remain in the edge crack and cut against a stationary single blade. The dual wheels help assist in keeping the tool stable as it cuts.
It may take some extra physical effort the first time you use this tool if you haven't maintained an edge in the past. However, once you establish the initial edge, it is easy to operate assuming you keep up on edging.
The handle on this edger is only lacquered finished. You should consider wearing gloves when operating this product to avoid blisters. We wish the handle was better padded, but a pair of gloves should allow for comfortable use of this tool.
---
Fiskars 38.5 Inch Long-Handle Edger
This edger is super simple to use. You press the steel blade into the area you wish to edge and press your foot down on the foot platform above the blade to drive the edger into the soil. You work along the length of the driveway or sidewalk until a nice edge is produced. The video at the end of this article shows how a similar step edger is used. This will take some labor, but you will save on the expense of operating a powered edger. The edge will be clean and add to your home's curb appeal. The Fiskars edger is only 38.5 inches, which makes it easy to store in comparison to many bulky powered edgers.
---
Radius Garden 20601 Pro Ergonomic Stainless Steel Edger
The circle shaped handle is what sets the Radius edger a part from other manual edgers. This is the best manual edger if you are looking for grip and comfort. The manufacturer designed the circle handle to allow ample gripping surface that surpasses traditional D-shaped handles. The blade is stainless steel to help prevent rust. The lifetime guarantee of this product speaks to its quality. This may be a bit more pricey than other similar manual edgers, but it is made to last.
---
Yard Butler Step Edger
This edger creates a deep and clean edge to add a professional look to your lawn. It is 37 inches tall and a manageable 4.5 pounds for easy carrying and storage. The foot platform located above the blade allows you to use your foot to drive the edger into the soil. This is much easier than solely using your arm muscles to work through potentially tough ground or roots. The cushioned handles provide a nice level of comfort and grip for extended use.
---
AMES True Temper Dual-Wheel Rotary Edger
Here is another quality rotary edger from AMES Companies. It features a long cushioned end for grip and comfort that is needed for most jobs. The dual wheels allow the edger to stay its course and remain remain stable. The steel blade is self-cleaning to help avoid maintenance. This is a nice tool to have in your arsenal even if it is used just for some light touch up edging.
---
Garden Weasel Edge Chopper
Garden Weasel is known for making quality lawn and garden tools. The Garden Weasel Edge Chopper is no exception to company's commitment to quality. This product is near perfect when it comes to a step edger. It is made to withstand the elements because it is manufactured from rust and weather resistant steel. This 38 inch manual edger has nicely padded handles to deter injury to your hands. Use this tool anywhere that you want a beautiful edge including your garden, driveway, sidewalks, patio, and more. This is one of the best manual edgers that highly reviewed for its excellence.
---
Why Manual Edge Your Lawn
If you are unsure about whether to manual edge, consider the following reason why it may be good for your lawn:
Exercise: As we previously stated, it does take a bit of physical effort to manually edge. You will likely burn a few calories and potentially break a sweat from manual edging. Manual edgers are best for medium to small yards.
Inexpensive: If you buy a quality manual edger, you will have it for years with very minimal costs to maintain it. Compare this to a gas edger that you routinely have to pay to fuel and maintain or a battery powered edger that uses costly electricity.
Eco-Friendly: Outside of the manufacturing process of the edger and the disposal of the edging debris, there is no pollution to the environment when it comes to manual edgers.
Easy to Store: Manual edgers tend to be much easier to store than powered edgers. If you are short on space, a manual edger might be right for you.
Simple to Operate: Dealing with gas, a cord, or charging batteries is not required when it comes to manual edging. Simply grab your manual edger and get to work. It is difficult to be overwhelmed by the technology of a manual edger.
Low-Tech: There is no need to worry about one of the many working parts of your edger breaking down. Manual edgers are simple tools. If something happens to break, you will likely immediately know the source of the problem.
Minimal Noise: Unlike powered edgers, a manual edger isn't going to wake the neighborhood if you happen to use it early in the morning.
How to Manual Edge
Below are two videos that show how to manually edge your lawn with a rotary edger and a step edger. It may take a bit of practice to figure out how to efficiently edge, but most people learn quickly.