Best Soil Moisture Meters (2020 Edition)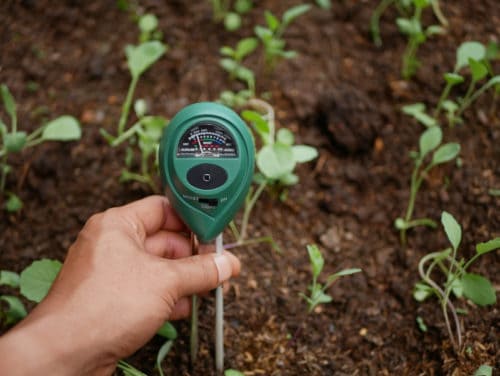 We all the know the importance of moisture to plants. It is essential for seed germination and healthy growth. In fact, plants are 90 percent water and rely on this water for photosynthesis. 
A big challenge when caring for plants is determining how much moisture they received or should receive. Often people take their best guess, which prevents the plants from flourishing and potential leads to unhealthy growth. 
One of the easiest ways to ensure your plants are obtaining the right amount of water is by using one of the best soil moisture meters available. These are relatively inexpensive garden tools that will help eliminate the guesswork out determining the soil moisture to help your plants thrive. 
How Does A Soil Moisture Meter Work?
A soil moisture meter has a long metal probe that is inserted into the soil about 4 inches deep. Attached to the probe is gauge that typically ranges from 1 to 10. A reading of 1 indicates the soil is extremely dry whereas a 10 means that the soil is wet. A reading in the middle indicates the soil is moist.
The amount of water required depends largely on the type of plant and its environment (i.e. the amount of light it receives or wind). Plants like cacti and succulents, for example, require much less water than, say, irises. The reading on the soil moisture meter should be referenced in relation to how much water a particular plant needs. 
Quick Summary:
| Image | Model | Measurements | Check Price |
| --- | --- | --- | --- |
| | Kelway Soil pH and Moisture Meter HB-2 | Moisture (0 to 100%), pH (3.5 to 8) | |
| | Gain Express Soil Ph & Moisture Meter | Moisture (1 to 8), pH (3 to 8) | |
| | REOTEMP Garden and Compost Moisture Meter | Moisture (0 to 10) | |
| | Swiser 3-in-1 Soil Test Kit | Moisture (1 to 10), pH (3.5 to 8), Relative Light | |
| | XLUX T10 Soil Moisture Sensor Meter | Moisture (1 to 10) | |
5 Best Soil Moisture Meters
1- Kelway Soil pH and Moisture Meter
Yes, this Kelway Moisture Meter is expensive but it will likely be one of the few garden tools you pass along to your kids or grandchildren. It can be used day after day without the worry of breakage unlike cheaper flimsy meters.  
It not only provides a moisture reading ranging from 0 to 100 percent, but also a pH reading from 3.5 to 8. The manufacturer states the pH accuracy is ±0.2 and the moisture accuracy is ±10%. 
In order to achieve an accurate reading, you will need to clean the contact plates with the conditioning film. Conditioning film is included, but a complaint about this meter is that you only receive a couple of sheets. You'll need more, so buy extra if you purchase this meter. 
Results take a couple of minutes to reflect on the meter once in the soil. You will have to hold down a button until the reading is accurately displayed.
Keep in mind this is an analog meter so there are no batteries or similar power source needed to operate it. Insert it into the soil and it is ready to perform.
This Kelway meter comes with faux leather case for storage and protection. The case has a belt loop to allow it to be conveniently hauled and attached to the body. 
You can view the Kelway in action in the below video.
2- Gain Express Soil Ph & Moisture Meter
The Gain Express Soil & pH Meter is a much cheaper alternative to the Kelway above. It even has a similar ph accuracy of ± 0.2 and a greater measuring range from 3 to 8 pH. 
However, a disadvantage of this meter is the time it takes to obtain a reading. The meter may have to remain in contact with the soil for up to 10 minutes for a correct value. This is not ideal for situations where you want to complete multiple tests in a short period. 
There is no battery or electric power required to operate this meter. It is self-powered, operating off the waterproof metal electrode that is penetrated into the soil. 
Overall, this is a simple to use moisture/pH meter that is often cited for its accuracy. 
3- REOTEMP Garden and Compost Moisture Meter
This REOTEMP moisture meter is highly durable. The metal box on the top of the prope greatly protects the meter and its components from damage unlike cheaper plastic models.
While this might appear heavy-duty enough to leave outdoors, the manufacturer does recommend storing it in a cool, dry place when not in use. This will help preserve it for the years to come. 
This meter measure moisture on a scale of 0 to 10 through a sensor on the tip of the probe. It can be used for the garden, lawn, and compost. However, inserting the probe into extremely hard soil can damage the meter. 
One feature we love about this moisture meter is its ability to provide an instant reading of the soil wetness. This is superior to the previous two meters shown above which take at least a couple of minutes to produce accurate results.  
This meter requires one AAA battery for operation. The battery is included with your purchase and will last about a season before replacement will be required. 
---
4- Swiser Soil PH Meter,3-in-1 Soil Test Kit for Moisture
This Swiser meter is our value pick of the best soil moisture meters featured here. It is a 3-In-1 tool that measure soil moisture, pH, and sunlight. The switch shown on the front of the meter allows the user to select between the three options to measure.
You will notice that this meter is unique in that it has two probes. One is devoted to measuring moisture while the other one is for pH. This helps in producing an accurate reading for each measurement. The light sensor is also separate which is located under the meter.
This is an analog tool so there is no need to worry about powering it from a battery or electricity. Simply insert it into the soil and it is ready to go.
Note that this is a delicate piece of equipment. It should not be used in compact or hard soil and should only be used in soil. It also should be removed from the soil after each use and stored in a safe place.
As we will say about the moisture sensor meter below, you should not expect spot on measurements from this meter. However, it will provide you with a relatively close idea of the moisture, pH, or light. We recommend taking about five measurements and using an average of these results for your final determination.
5- XLUX T10 Soil Moisture Sensor Meter
The XLUX is one of the most popular and inexpensive moisture meters out there. It is a solid option for light-duty or occasional use when a more expensive meter is not practical or within your budget. 
This is a battery-free meter that measures soil moisture through a probe that is inserted about 4 inches into the ground. The meter reflects dry at a reading of 1 up to wet at a reading of 10. This will conveniently provide results instantly.  
This moisture meter comes with a watering guide for common plants, which is helpful for novice gardeners or those getting used to the meter. 
Given how inexpensive this moisture meter is, you cannot expect pinpoint accuracy. However, you should receive a reading pretty close to true when used according to the directions. 
Additionally, you'll have to treat this tool with great care. Leaving it permanently in the soil or jamming it into hard soil can cause damage. 
The manufacturer does provide a generous 18-month warranty so if any quality issues surface you should be covered. 
Soil Moisture Meter – Q&A