Best Sprinklers For A Small Area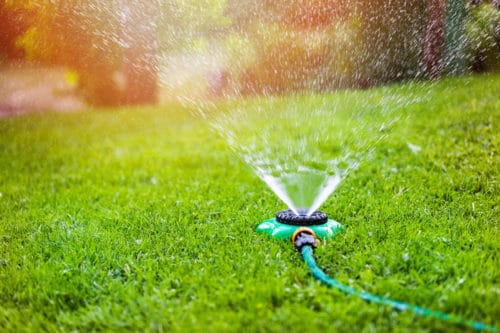 Finding one of the best sprinklers for a small area can be challenging. This is because there are many sprinklers out there that can be overkill for this type of space. They often end up watering more of the neighbors yard than your own. 
Fortunately, there are several high-quality sprinklers available that are designed for small areas, which efficiently water with minimal waste. Here are our selections of the top sprinklers for small areas. 
SEE ALSO>>Best Lawn Mower for Small Yard
Quick Comparison
| Image | Model | Max Coverage | Check Price |
| --- | --- | --- | --- |
| | Gilmour Rectangular Pattern Spot Sprinkler | 15 feet x 30 feet | |
| | Gilmour Watering Equipment Non-Clog Lawn Garden Spot Sprinkler 50950HD | 900 square ft. | |
| | Gardena 1951 Small Area Garden Spray Sprinkler On Spike | 1,000 square ft. | |
| | Melnor 65003-AMZ MiniMax Turbo Oscillating Sprinkler | 4,000 square ft. | |
| | Morfone Lawn Sprinkler | 3,600 square ft. | |
| | Melnor 65056-AMZ XT Turbo Oscillator with Range Adjustment | 4,000 square ft. | |
| | Orbit 58023N Lawn Sprinkler | 30 ft. diameter | |
| | SYOOY Metal Circular Spot Sprinkler 360 Degree Sprinkler | 31.5 diameter | |
Gilmour Rectangular Pattern Spot Sprinkler
Sale
This Gilmour Rectangular Pattern Spot Sprinkler is designed for small lawns and gardens. It creates a 15 feet x 30 feet rectangular pattern that, as you probably guessed, is useful for smaller rectangle areas you wish to water.
The sprinkler is made out of metal that is able to withstand rougher treatment unlike the popular cheap plastic sprinklers. You will receive a 3 year warranty if purchased, which should speak to the high-quality of the sprinkler.
If you are dealing with low water pressure problems, this sprinkler will typically still be highly functional. Gilmour also manufacturers similar sprinklers for square and circle areas. View the circle, square, and rectangular style sprinklers on Amazon.
---
Gilmour Non-Clog Lawn Garden Spot Sprinkler
Gilmour Watering Equipment Non-Clog Lawn Garden Spot Sprinkler | 50950HD
Treat yourself to beautiful healthu lawn all season. Water those drought thirsted laws to perfect health
Rust-resistant, power-coated finish. Heavy weight to stay in position
Solid Cast-iron construction covers up to 900 sq ft. Designed to prevent water pooling
Basic single, static spray pattern. Ideal for small areas and dry spots
Here is another high-grade sprinkler from Gilmour that is perfect for a small yard or spot watering specific areas. It can cover up to 900 square feet for ample coverage over a limited space.  
This sprinkler is made out of a heavy-duty solid cast-iron without moving parts that are known to easily break. It is built to stand up to the elements with its rust-resistant, powder-coated finish.
As a non-clogging sprinkler, you do not have to worry about the water flow being disrupted by material such as particles and debris. It is made to prevent water pooling, which is an important feature for a small area sprinkler that has minimal opportunity for drainage. 
---
Gardena 1951 Small Area Garden Spray Sprinkler On Spike
The Gardena 1951 Spike Sprinkler looks somewhat similar to an in-ground sprinkler head. However, it stays in the ground by a spike and hooks to a hose.
It features a quick connect adapter that allows the hose to easily connect and detach from the sprinkler. This is extremely convenient if you have a couple of these around the yard or often use your hose for other purposes. 
The coverage is up 1,000 square feet with a 36 foot diameter spray. As with other hose sprinklers, the amount of spray will depend on the faucet pressure supplied through the hose.  This is an excellent option for a garden or small area of grass where a higher powered sprinkler is too excessive. 
Melnor 65003-AMZ MiniMax Turbo Oscillating Sprinkler
This Melnor oscillator is small but it provides excellent coverage for its size up to 4,000 square feet. However, the equipped zoom feature can adjust the sprinkler coverage down for much smaller areas.Both the width and range can be fine tuned for precise watering applications.
This sprinkler is particularly useful for narrow areas where you want to contain the water flow. The manufacturer states that it can be adjusted down to a narrow 2×3 foot watering range. This helps to save money since you won't be unnecessarily watering non-essential parts of the yard. 
It is equipped with a quick connect systems that allows the hose to connect and disconnect with ease. A standard hose thread connection can be used instead of the quick connect if you prefer. 
This sprinkler is also available on a spike instead of on a base shown in the picture above. The spike model can be found on Amazon here. 
---
Morfone Lawn Sprinkler
Morfone Lawn Sprinkler, Garden Sprinkler Automatic 360° Rotating Irrigation System Water Sprinklers for Garden, Yards, Kids, 3600 Square Feet Coverage
【AUTOMATIC 360°ROTATION & WIDE COVERAGES】 Features with three arms, 360 degree rotating nozzle body, 12 multi-angle nozzles. Irrigated coverage up to 3600 square feet, spray distance 26-32.8ft, fit for your whole yard
【MULTIFUNCTIONAL LAWN SPRINKLER】 This garden lawn Sprinkler can be used to water lawn, garden and plant. What's more, cool your roof! You"ll feel much comfortable in hot summer
【ADJUSTABLE SPRAY NOZZLE 】 The 3 arm sprinkler has 45° to 90° adjustable nozzle. 45° for watering larger areas and 90° for more compact watering. You can rotate the nozzle to adjust and experience different spray speed and direction
【ANTI-LEAK DESIGN】 Build in non-removable brass ring, ensure tight connection and avoid leakage effectively. Make sure the water pressure is stable then your lawn and plants could be watered more efficiently
【EASY TO INSTALL & USE】 If there is a screw thread of your hose, simply attach the sprinkler to the hose fitting directly. If not, refer installation instruction in image 4
The Morfone Lawn Sprinkler has the ability to cover large areas with its 45° nozzle. Hower, it can also adjust to 90° for the small areas you wish to cover. The spray distance ranges from 26-32.8 feet. The adjustable nozzle also allows for various speeds and directions of the water. 
Similar to the Gardena directly above, this Morfone provides a quick connect option in addition to the traditional hose screw thread method. Furthermore, this sprinkler allows a series of sprinklers to be connected to it if needed. 
Melnor 65056-AMZ XT Turbo Oscillator with Range Adjustment
This Melnor Oscillator allows for range adjustments to pinpoint exactly where you want your sprinkler to hit on the lawn or garden. If needed, it can range out to cover approximately 4,000 square feet. 
The sprinkler features 18 rubber nozzles that provide precise watering and ample water volume. It is equipped with the high-quality infinity drive to keep it operating for many watering task ahead. 
It allows for quick connect and disconnect of the hose. The sprinkler comes with a Quick Connect Product Adapter but the Quick Connect Product End Connector is not included. 
We suggest bringing this inside over the cold winters to prevent possible damage to it. Additionally, as one reviewer suggests, you should also consider bringing it out of the sun when possible. This will likely extend the life of the sprinker and keep it working like it was fresh out of the box. 
---
Orbit 58023N Lawn Sprinkler
Orbit 58023N Lawn Sprinkler
SMALL AREA COVERAGE: These sprinklers cover an area up to 30 ft. diameter.
EVEN COVERAGE: Evenly distributes water over your spray area.
GENTLE WATERING: Rain-like spray, ideal for spot watering lawns and garden areas.
DURABLE CONSTRUCTION: Quality zinc construction ensuring it will last season after season.
VARIABLE WORKING PRESSURE: Works with both low- and high-pressure water systems.
This is a basic sprinkler that produces a rain-like spray that will cover up to 30 feet in diameter. 
It is manufactured out a zinc material that will hold up for many watering sessions to come. If you forget to store it inside, it won't quickly be destroyed by the elements. 
Simply hook the this Orbit Rectangular Sprinkler to a standard hose and you are ready to spot water or cover a small area. 
SYOOY Metal Circular Spot Sprinkler 360 Degree
SYOOY Metal Circular Spot Sprinkler 360 Degree Sprinkler for Small to Medium Area Watering
Durable: Low-pressure sprinkler, the distance of water jet is related to the size of water pressure, can withstand 5 kg pressure. It covers up to 31.5'' in radius.
Convenient to Use: Spray evenly, water-saving design and easy to use. It is a good helper for your gardening. Circle spray pattern for 360 degree spraying no leaking.
Material: Heavy-duty metal construction for stability and long life. It can be exposed to the rain in the outdoor (full-time 360-degree spray), 0-8 meters in diameter.
Application: Suitable for agricultural irrigation, lawn irrigation, garden spray, garden irrigation and roof cooling. Ideal for small rectangular lawns. Fits standard garden hose thread.
Warm Tip: There will be some differences in the color display of products under different light and different displays. We will use the most realistic colors to render, and the product color is based on the actual product.
This Syooy Metal Circular Sprinkler produces a fountain spray that covers 360°. It can reach up to a 31.5 radius so the spray will be particularly contained and likely not aggressively hitting the neighbors property or unwanted areas.  
The material of this sprinkler is zinc alloy designed with rust-resistance. It is able to sit out in the elements without much concern. However, one reviewer noted that it should be brought inside during the winter to avoid damage from freezing. 
---
Small Area Sprinkler Q&A
How do I prolong the life of my sprinkler?
Bring the sprinkler out of the elements when practical. This is especially crucial in the winter when cold temperatures, snow, and ice can quickly damage the sprinkler. It is best to store it indoors in a place such as the basement, if possible.
What material is best for a sprinkler designed for a small area?
A sprinkler made out of one piece of rust-resistant metal is our favorite material. These tend to last for years and are difficult to break since there are not many moving parts. Popular plastic oscillating sprinklers often need to be pampered because of the weaker material and often easy to damage multiple parts.
Can a small area sprinkler be hooked to a traditional hose?
Generally, yes. Modern sprinklers like the ones featured above are equipped to accept the threads of a traditional hose. Many are now also equipped with quick connect that allows the hose to be connected and disconnected much easier than traditional screw on and off method.
Can the water pressure be adjusted for a sprinkler?
Water pressure is controlled at the hose spigot. Turn the spigot handle counter clockwise to increase the outflow of water. Turn the spigot handle clockwise to decrease the flow or to turn off the water. You will be limited to the psi of the water pressure at your home. This will be about 50 psi for most homes.
Should I get a professionally installed irrigation system?
If you have a small space, most people opt to water with a sprinkler attached to a hose. However, a professionally installed underground sprinkler system is a super convenient method to water without having to deal with the hassle of moving the hose and sprinkler around the yard. This is especially true given the efficiency they provide with timers and zone settings. If it is in your budget, a professional system is something to strongly consider.