Outside of an extremely small property or one limited for space, an 8×6 plastic shed will fit in just about any yard. It is small enough not to feel oddly out of place, yet big enough to hold most essential tools and equipment.
If your items are currently clutter on your garage shelving, floors, and walls, you will likely be amazed at how quickly the shed will free up this space. We would image for some people that a shed would allow the garage to be used once again for its intended purpose of parking the family car. 
Given the popularity of this size of shed, we took a look at some quality 8×6 and 6×8 foot plastic sheds available for purchase. These are some of the best plastic sheds that can be order online and shipped directly to your home. 
8×6 Plastic Sheds – 4 Quality Shed to Consider
Keter Factor 8×6 ft. Resin Backyard Garden Storage Shed
The Keter Factor 8×6 shed is made of a polypropylene resin material that is reinforced by steel. This highly durable shed is weather resistant and built to last for many years.
One Amazon reviewer commented on how the shed (8×11 version) made it through two Florida hurricanes, when roped down, without damage or leaks. This speaks to the sheds toughness to stand up to the harsh elements. 
The shed door opening has a 54.5″ width providing ample room to easily move in most garden tools and equipment of the average homeowner. The interior height is 93.9″ (7.825 feet), which allows just about anyone to stand without uncomfortably bending over. 
The shed comes with a floor panel that can accommodate up to 30 pounds per square foot. The floor is made from a similar heavy-duty resin plastic as the structure, which makes it water resistant. The manufacturer recommends placing the shed on a level concrete or wood foundation 
Two features we love about this shed are the skylight (pictured below) and window (pictured above). Having had a shed without an interior light source other than the outside light through the door, I can confirm that it can be get pretty dark in there. The Keter skylight and windows help bring in a bit of much needed light without the hassle of wiring in a light source. 
The below video courtesy of MoA shows the construction of this style of shed. While the video speed has been increased for the sake of time, you can still see that this is not an overly complicated shed to construct. 
Shed Details:
101″ W x 71.5″ D x 95.5″ H (external measurements)
93.11″ W x 63.78″ D x 93.9″ H (interior measurements)
Maximum storage: 285 cu. ft
Two Shelves (included)
Ventilation 
Doors able to lock (lock not included)
---
Keter Manor 6×8 ft.Resin Backyard Garden Storage Shed
Again we feature another quality Keter product. This time it is the Keter Manor 6×8″ storage shed. While this might seem like a smaller shed than the Keter Factor above, it actually contains slightly more storage space at 291 cu. ft. 
It is constructed out of polypropylene resin plastic with steel support. Similar to the Keter Factor, it has a built-in skylight and a window to provide extra natural light when sunny. Additionally, the peak contains ventilation to help air out those sometimes nasty smells that accompany lawn and garden equipment. 
The shed comes with a highly durable floor that will be able to support the weight of general lawn equipment, garden tools, bicycles, etc. However, the manufacturer recommends to place the shed on a foundation of wood or concrete to maintain a level base.  Even if your yard is currently level, you run the risk of the shed sinking or eventually becoming unlevel over time without a solid foundation. 
The below video via Keter provides an overview of the features. You can view a video of the construction of this shed here. 
Shed Details:
73.1″ W x 93.2″ D x 89.4″ H (external measurements)
66.5″ W x 87.4″ D x 86.5″ H (interior measurements)
Maximum storage: 291 cu. ft
Maximum floor weight: 30 PSF
Maximum roof weight: 15 PSF
Doors able to lock (lock not included)
Door opening width 51.6″
---
Suncast 6×8 ft. Everett Vertical Backyard Storage Shed
This attractive Suncast Everett storage shed features double-wall resin construction providing durability, easy maintenance, and UV protection. The shingle-like roof and wood-like doors/walls add to the its appeal. This is a shed that doesn't need to be hid deep in the yard because it lacks character. 
The three roof skylights and door windows provide plenty of light when sunny to help easily find what is needed in this spacious shed. At 306 cubic feet of storage space, this is the largest shed featured in this article. 
The roof panels are reinforced by metal to help withstand heavy snow that piles up. The floor is also reinforced to help handle the weight of equipment or tools, but Suncast states that a foundation is required for this shed.
We suggest reading the owner's manual found here to obtain an idea of the site preparation requirements prior to purchasing or assembling the shed. 
Shed Details:
6′ 2-3/4″ W x 8′ 1-3/4″ D x 7′ 8-3/4″ H (external measurements)
5′ 9-1/2″ W x 7′ 9-1/2″ D x 7′ 6-1/4″ H (interior measurements)
Maximum storage: 306 cu. ft
Door opening 57″ width x 72″ height
Doors able to lock (lock not included)
---
Duramax #301148 8×6 ft. Outdoor Storage Shed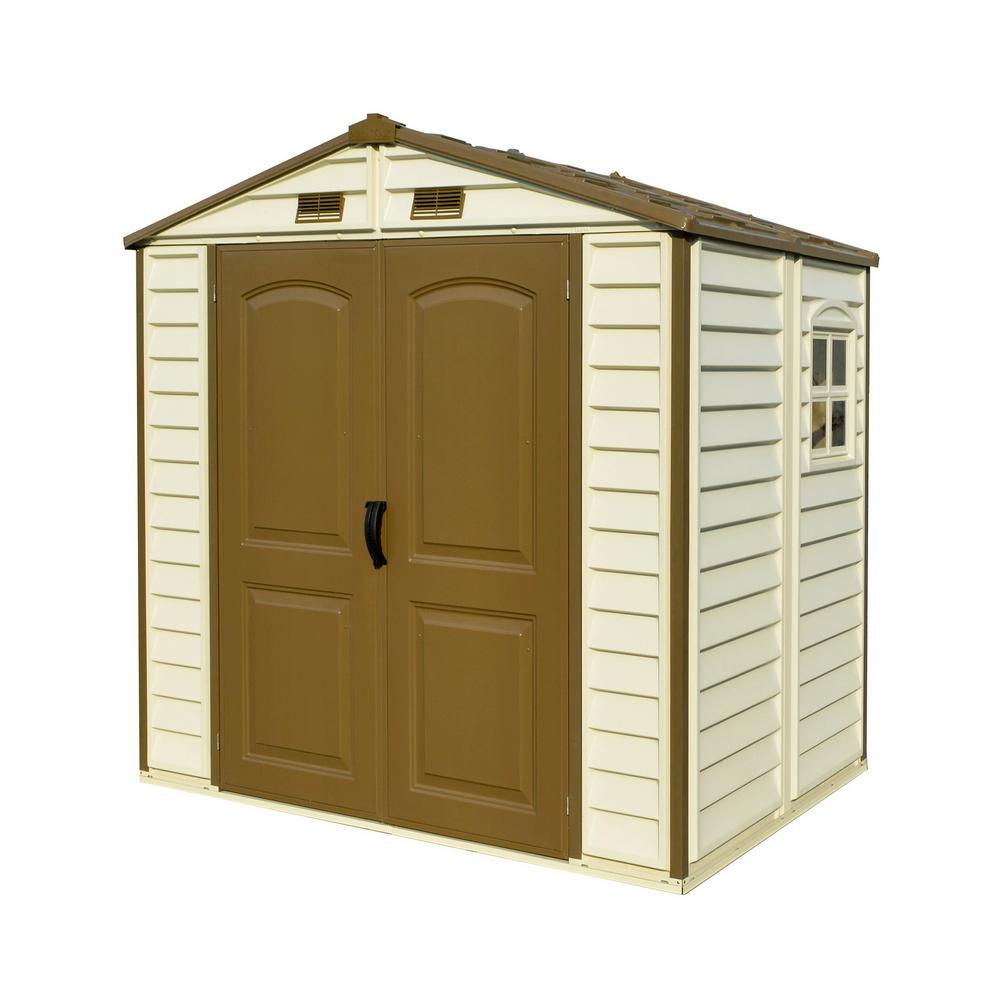 The Duramax 8'x6′ outdoor shed (model 30115) is built to hold up in all weather conditions.  It is made out of metal reinforced vinyl plastic that is fire retardant and wind/snow resistant. It is designed not to rot, dent, or rust.
The manufacturer states that the roof has been tested to hold 20 lb/sq ft of snow. In other words, there is minimal worry of the roof being damaged in most areas. Even if snow were a concern, it would be simple to use a roof rake or broom to clear the surface within minutes. 
The dual vents pictured above help reduce the musty smell that often accompanies sheds that house various types of equipment and tools. Additionally, the side window allows in ample light during bright days. 
Shed Details:
94.3″ W x 63.1″ D x 86.9″ H (external measurements)
Door dimensions: 61.25″ W x 71.4″ H
238.39 cu. ft. 
15 year limited warranty 
Foundation kit (optional)
Lockable doors (lock not included)
---
8×6 Plastic Shed: Buyer's Guide
A shed is one of those products that undoubtedly needs planning before purchasing. Here are some points to consider before buying an 8×6 plastic shed:
Door Opening Dimensions
A shed will quickly become a major hassle if you have to struggle to move items in and out of the door. An even worse scenario is if certain items do not fit through the door (i.e. a riding mower or a large self-propelled mower). Take into consideration the width and height of the door opening to be sure all items that intend to be stored will fit through the opening comfortably. 
Maximum Storage Capacity 
It is often difficult to determine the storage capacity of a shed just by reading the product specifications. However, you can often get a good idea of what a shed can hold by looking at the interior photos provided by the manufacturer. There is usually at least one photo in the product listing that shows common tools or equipment inside the shed. This photo will provide a good idea of what will fit in the shed. Occasionally you can go to the manufacturers website and see additional photos not listed on a retail website such as Amazon or Home Depot. 
Foundation
Many sheds require a foundation in order to remain level and to prevent damage to the structure over time. Be sure to factor this into the cost if it is a requirement for your shed. Pull up the shed's manual online or contact the manufacturer to obtain their recommendation on a foundation before purchase. Generally, even if a foundation is not a requirement, it is still highly recommended. 
Interior Height
Will the shed accommodate tall items such as ladders or large garden tools? Measure the longest item you plan on storing in the shed to be sure the height of the shed is sufficient to for this item. 
Exterior Dimensions
Be sure to measure the space where you wish to place the shed. Take into consideration the foundation size if you are using one. Read the manufacturer's recommendations on how close you can place the shed to other objects such as walls or fences. 
Shelving 
Many people forget about shelving for their new shed. Some sheds come with shelves such as the Keter Factor featured above. Be sure to factor in the cost of additional shelving, if needed. You may wish to purchase this after you move in all your big items so that you are aware of the remaining space available. 
Lockable Doors
Most sheds come with the ability to lock the doors to keep items secure. All of the sheds above offer a way to lock the doors, but do not provide a lock. Be sure to purchase a lock if you do not already have one, if you wish to secure your equipment and tools. 
HOA Approval
If you live in a property that has a homeowner's association (HOA), you may need to get the shed approved before erecting it. Your city may also require approval or a permit for construction. Be sure to look into the necessary steps to construct a shed, if any, before you buy.