Best Blackstone Griddle Accessories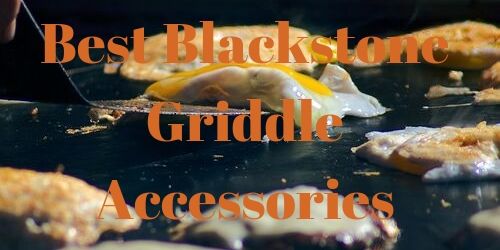 One of the best parts of owning a Blackstone Griddle is building an arsenal of accessories. However, there are a lot of products out there that are either unnecessary or frankly junk. We have selected nine of the best Blackstone Griddle accessories to help you find the essentials to up your griddle game.
Blackstone Signature Griddle Accessories
This the tool accessory kit I purchased when I first obtained my 28″ Blackstone Griddle in November 2018. I still routinely use every tool in the kit when I fire up my Blackstone. Everything still looks and functions like new with moderate use.
The kit comes with two stainless steel spatulas. This might be seem like overkill to some, but there will be many times you'll need both.
For example, I like to use one spatula for meat and the other for sides such as veggies. The two spatulas are also great for scooping and turing food by bringing the spatulas together from opposite sides of the food.
The stainless steel chopper is extremely durable and will efficiently dice food without the feeling that the steel will bend or break. I mainly use it as a cleaning tool to scrape the griddle to remove caked on food and debris.
Finally, the two bottles are solid options for cooking oil, water for cleaning the griddle, sauces, and more. The bottles are made with fine tips, which allows for a more precise measurement of liquid onto the griddle. This is important because it is super easy to oversaturate foods with oil, for example, especially when you first use the griddle.
---
Bellemain Stainless Steel Cheese Melting Dome
A dome is important since the Blackstone lacks a hood to trap in heat. The Bellemain Stainless Steel Dome works great for melting cheese on burgers, steaming vegetables, and basting eggs. It can also be placed over already heated food to keep it warm.
This dome is 9 inches in diameter which will house about 2 to 3 burgers underneath. The handle on top allows the dome to easily be lifted off food without issue. The edges are rolled to help the dome to remain flat and keep in the warmth.
I like to flip this dome upside down to be used to carry items to and from the grill. If you are familiar with outdoor griddling, you likely realize how handy this can be at times because of all the items that need to be transported before and after cooking.
---
Blackstone Griddle Grill 36″ Hard Cover
The Blackstone Hard Cover is a must to protect the griddle from the elements. Prior to purchasing this hard cover, I used a standard grill cover that you might find on a traditional grill. The problem with this cover was that water would pool on the top and eventually make its way onto the griddle.
I now use both this Blackstone Hard Cover and a traditional grill cover over the hard cover, if I do not plan on using the griddle for some time. I have had no problems with water, insects, debris, or other objects making their way onto the griddle surface since purchasing the hard cover.
This cover creates an amazingly tight seal. If I had one complaint, it would be that the cover does take a bit of effort to get it off the griddle at times. However, I suppose this is how you know nothing is going to gain access to the griddle surface with this tight seal.
The cover featured here fits the 36-inch griddle. However, if you click the Amazon link below, you will have the option to purchase the cover for both the 36-inch and the 28-inch.
Please check out our article on the necessity of grill covers to learn the importance of protecting your griddle/grill.
---
Blackstone 5036 Signature Grill Splatter Mat
Cooking on the Blackstone Griddle can be messy at times. Things like grease and food debris don't always stay nicely on the griddle surface.
The Blackstone Grill Mat can be used to protect the flooring where you stand to operate the griddle. Food, sauce, and grease will hit the mat instead of staining the permanent floor surface.
The mat is made with a rubber bottom to deter the rug from slipping. Additionally, it will provide a layer of padding to add a bit comfort for those times when your cooking more than a quick meal such as hot dogs.
---
Blackstone Signature Accessories – 36 Inch Griddle Surround Table
If you are the social type, this Blackstone Surround Table might be suited to your tastes. It fits around your existing griddle to create table space for guest to set drinks or eat at. This is an excellent accessory for parties to create a focal point for guest to mingle while their meal is being prepared.
This powder coated steel surround table is 12 inches deep so there is ample room for plates, glasses, snack bowls, and much more. Additionally, the table is 32 inches long on the sides and 64 inches for the overall width.
Keep in mind that this only works on front grease Blackstone models. Read the Amazon product description in full to be sure this will work with your griddle if you decide to buy.
You should consider buying a grill multi-purpose cleaner if you purchase this surround table. It will get messy and it is an area you likely always want clean.
---
Dozenegg Stainless Steel Versatile Dredge Shaker, Set of 2
It is a good idea to have a dedicated pair of shakers for the Blackstone. You can use them for salt, pepper, or spices. They hold up to 10 ounces each. They are made from a commercial grade stainless steel so if they happen to get wet they will not be destroyed.
---
Bellemain Cast Iron Grill Press
The problem with cooking meat such as bacon is that there are often portion that are undercooked compared to the rest of the meat. This grill press flattens out the meat to allow it to evenly cook over the griddle.
The Bellemain Cast Iron Grill Press is manufactured out of a heavy-duty cast iron. Similar to a cast iron pan, it can be seasoned to create a surface that food will not stick to.
This press weighs 3 pounds and is 8-3/4 inches in diameter. The bottom contains ridges to help produce those classic grill marks on meats. The wood handle is stylish and helps allow the user to pick up the press without burning their hand.
It comes with an amazing no questions asked three year warranty. This warranty should help speak to the quality of this griddle accessory.
---
Swethaw Stainless Steel Egg Ring
Crack an egg over a griddle and it tends to spread far and wide. An egg ring, such as this Swethaw, will create an approximate 3 inch diameter egg every time. These rings are great for making eggs for English muffin sandwiches or mini omelets.
The rings are made from stainless steel and are manufactured to withstand the extreme griddle heat. The good news is that they can be placed in dishwasher for cleaning. There is no need to hand wash them, but if you choose to do so, a little soap and water will do the trick.
---
Blackstone Griddle Carry Bag (For 36 Inch Griddle Top)
If you plan on taking your Blackstone on the road, you'll want something to easily carry the griddle top. This Blackstone weather resistant carry bag is made from a heavy-duty 600D polyester with resin handles. It is equipped with an extremely durable zipper to keep the griddle top securely in the bag. 
It is specifically designed to carry the 36-inch griddle top to places such as the park, beach, tailgating, or similar places. It is also an excellent option for storing the griddle top away for extend periods. While this is not made to hold the base (stand), it does have a pocket to hold accessories. 
---
If you have not yet purchased a Blackstone Griddle, we recommend reading our article on the Blackstone 28″ vs 36″. These are the two popular sizes for their backyard griddles. The article should help you decide which one will work best for your outdoor cooking needs.