I purchased a Blackstone Griddle (28 inch version) during a  Black Friday sale. At the time, I was not overwhelmingly excited about trying it out. It remained in the box until late April when there were no more signs of snow. 
 I have since used the griddle for numerous meals including sliders, steaks, chicken fried rice, potatoes, vegetables, and much more. While the Blackstone 28 inch Griddle is not perfect, I do regret not putting the Blackstone to use much sooner. 
Below is my Blackstone Griddle 28 inch review after several hours of use. 
Blackstone Griddle 28 inch Review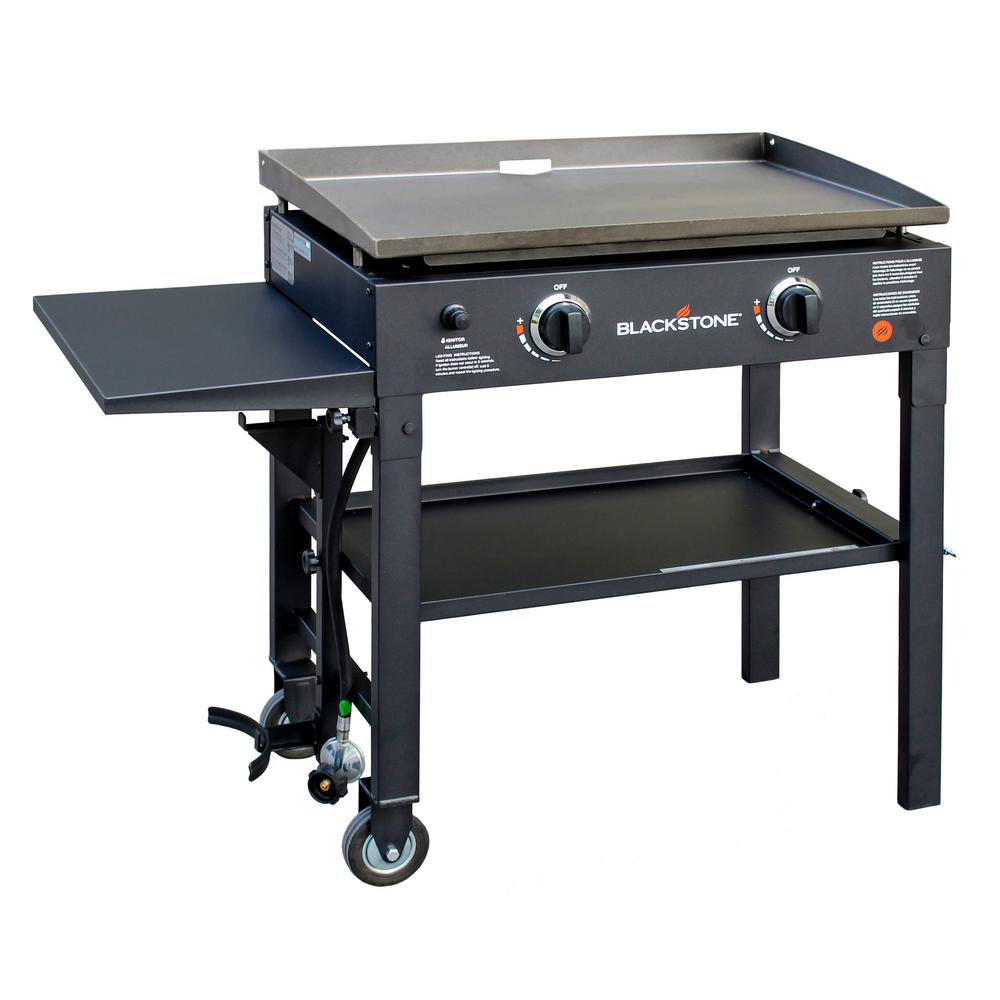 Burners 
The 28 inch Blackstone Griddle is equipped with two burners. The burners put out 34,000 BTU or 17,000 BTU per burner.
You can control the heat from high to low for each burner. For example, you might have burgers cooking on high on the left side of the griddle and onions on low on the right side.
The ability to create different temperature heat zones provides convenience and more precise cooking since you are not limited to one temperature across the whole griddle.
Griddle Size
If I could do things over, I would opt for the larger 36 inch Blackstone Griddle (720 sq. inches) in lieu of the 28 inch (448 sq. inches). It is equipped with  four burners or four sections of the griddle top where the heat can be adjusted to different temperatures.
I have found that on a few occasions it would have been convenient to cook different foods at the same time at three or four different temperatures. Since the 28 inch is limited to two burners (two heat zones), I have  been challenged to work within those zones at sometimes less than ideal temperatures for a particular food.
While the 28 inch is manageable for most basic meals, I would recommended purchasing the 36 inch for the extra space and heat zone options. This is especially true if you typical cook several foods on your outdoor cooking space. 
See our article on the Blackstone 28″ vs 36″ for more information on the similarities and difference between these two griddles. 
Cover Issues
We have received a large amount of spring rain over the previous two months. As I gaze out into my backyard to admire the lush green the rain has created, I cannot help to also be slightly annoyed by the puddle of water that is routinely on top of my Blackstone. 
Unlike traditional grills that have a sloped  hood that allows water to run off, the Blackstone has a flat top surface. Naturally, this allows water to pool significantly on the cover.
I am currently using a cheap cover that does not prevent water from seeping into the flat top griddle surface.  Of course, this needs to be remedy quickly on my end.
So, how is this all fixed?
A common solution is to create a dome between the cover and the griddle. This dome will allow water to run off the cover instead of pooling on the surface. Items that people use to create this dome are upside down mixing bowls, sheet pans, large balls, and gardening pots. 
There are covers designed to fit the Blackstone that are waterproof and are manufactured to help promote water run off. An example is the i Cover 36-inch Griddle Cover-600D.
Additionally, I recommend and plan on purchasing the Blackstone Griddle Hard Cover. This fits directly over the flat top surface to create additional protective barrier over the griddle.
It reduces condensation build up that can produce rust. Furthermore, it prevents the potential greasy flat top surface from coming in contact with the grill cover. 
Learn from my mistake and address the cover issue/pooling water when you initially purchase your Blackstone. 
Grease Management
The newly manufactured Blackstone Griddles (28″ & 36″) contain a rear grease management system. A small section on the back center of the griddle top is open (shown in the photo above). Grease, food debris, and other remnants can be pushed into this opening, which leads to an oil cup that collects the material. 
Keep in mind that you will have a lot of grease and other material to clean off the surface after every use. I recommend emptying the oil cup into a separate grease disposal container after each use. This will prevent the cup from unexpectedly overfilling. 
The oil cup holds about 3.5 cups of liquid based on my measurement. This may seem like a lot to some, but it fills quickly. 
Be aware that certain Blackstone Griddle models have the grease drainage system on the front of the griddle. There were problems with this design because it allowed grease to leak down the side of the griddle station.
I would recommend only buying a Blackstone with the rear grease management system. I have had no issues with this system, so it appears that Blackstone has solved the problem on the newest models. 
Heat
The manufacturer indicates that a test of the 36 inch griddle found that the high temperature setting reached approximately 560°F and the low temperature registered about 320°F.
Given this range of heat, the possibilities of foods that can be prepared on the Blackstone our enormous. This includes searing meats at a high temperature. 
It does take a little learning curve to get accustomed to the various heat settings. However, once you use the griddle for a handful of meals, you should have a solid grasp on its capabilities. 
Seasoning
The idea of seasoning the Blackstone griddle was slightly intimidating after reading some other Blackstone Griddle 28 inch reviews. However, the process was super simple after referencing the below video and reading the manual.
It is essentially to season the griddle before first use to deter rust and to create a non-stick surface. 
Cleaning
Prior to purchasing the Blackstone, I had the idea that it would be an absolute nightmare to clean. I had vision of me wasting away my weekend by scraping away caked on meat and sauces. 
I was pleasantly surprised at how easy the Blackstone is to clean. You do not have to use soap. Soap is only used before the first use and before the first seasoning. 
Blackstone recommends to lightly scape the griddle surface with a spatula and then use a paper towel on the surface for light clean up duties.
When a more heavy cleaning is required, hot water can be poured on the griddle surface to help steam off the food remnants while using a spatula to scrape away the food. A towel can then be used to clean away any remaining debris. 
The below video provides a quick tutorial on how to clean the surface with water, a scraper, and a towel. I have used this method each time I have finished using my Blackstone and it cleans it within minutes even with tough caked on food. 
Wheels
The 28 inch has two caster wheels. There are no issue with mobility with this griddle. Both models will easily move to their desired location without issue. 
Fuel Source
The griddle is fueled by propane gas similar to most outdoor grills. As is the case with nearly all outdoor cooking equipment, the propane tank is sold separately and will need to be filled. 
The griddle also can connect to natural gas when a conversion kit is purchased. Running natural gas to the griddle should be done by a professional. 
Price
The 28 inch Blackstone Griddle is reasonably and comparably priced (if not cheaper) to many 2-burner grills. It is made in both stainless steel and a black finish. The stainless steel is commonly more expensive than the black finish model. 
You can view the current prices via Amazon.com and The Home Depot below. I included the 28 inch and 36 inch griddles for comparison purposes in  price.
| Image | Griddle | Amazon (check price) | Home Depot (check price) |
| --- | --- | --- | --- |
| | Blackstone Griddle 28 Inch (2 burner) Black | | Home Depot |
| | Blackstone Griddle 28 Inch (2 burner) Stainless Steel Front | | Home Depot |
| | Blackstone Griddle 36 Inch (4 burner) Black | | Home Depot |
| | Blackstone Griddle 36 Inch (4 burner) Stainless Steel | | Home Depot |
Accessories
If you decide to purchase a Blackstone, you will need at least some basic accessories for cooking. I recommend buying the below Blackstone Griddle Accessory Kit.
This is the kit I purchased and I am extremely happy with the quality of these tools.  It currently has a 4.3 out of 5 star rating with over 1,400 reviews on Amazon. 
The kit comes with two heavy-duty stainless steel spatulas, which are essential for flipping and turning various foods. I like to have one spatula dedicated to handling the meat, while the other is used for vegetables or other non-meat related foods.
The stainless steel scrapper does an excellent job clean off residue from the flat top surface. It can also be used to dice food on the griddle. The metal is nice and thick to where there is no worry about it bending with general use. 
The two bottles have not leaked on me yet. I use one for oil and the other for water which I primarily use for cleaning. The bottles hold 16 ounces each. 
One other accessory that has been useful to me is the Blackstone Round Basting Cover. It is stainless steel dome that can be placed over foods such as hamburgers to melt cheese or vegetables to steam them. At a 12 inch diameter, it can cover a decent amount of surface space.