Best Raised Garden Beds For The Home Yard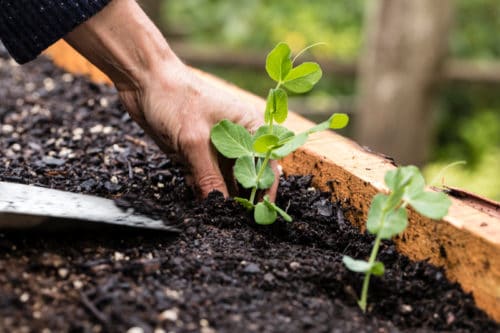 A raised garden bed can be used in almost any yard to plant vegetables, herbs, flowers, and more. They can not only add an element of beauty, but they are also extremely efficient at helping plants flourish. 
As you will see in our picks of the best raised garden beds, there is a diversified selection of beds choose from. Most are relatively easy to assemble and are designed to last for many seasons ahead. We are confident that most people will find a raised garden bed that will work perfectly in their yard. 
1- Vita Garden 4×4 Garden Bed
The Vita Gardens 4×4 Garden Bed is made with premium PVC that is coated to deter the wear and tear that the harsh elements throw at it. In fact, manufacturer states that the coating will protect the garden bed for the next 20 years from rotting, peeling, fading, and more. 
One of the beautiful things about this raised garden bed, other than its appearance, is that it requires no tools to assembly. It simply slides together in a matter of minutes as demonstrated in the below video. 
The grid layout over the garden bed allows for the extremely efficient Square Foot Gardening method that we use for our garden. You can learn more about it on SquareFootGardening.org.
Summary of Features:
Premium PVC
9.8 cu feet of soil capacity
Dimensions: 48 x 48 x 11 inches
Grid plant space: 10-1/4 x 10-1/4 inches
Assembly does not require tools
Color: white
Weight: 19 pounds
---
2- Lifetime Raised Garden Bed Kit 4 x 4 (3 Pack)
You will receive three 4 x 4 Lifetime Raised Garden Beds with a purchase. The beds are made from high-density polyethylene (HDPE) that has the ability to withstand almost any weather in its path. Unlike wood, it will not root , peel, or crack. The material is also UV-protected. 
Since three beds are provided, you can stack two together if desired. This will make the surrounding wall 18 inches (9 inches per bed wall). The large height will allow for medium to deep rooted vegetables to grow such as carrots and beans. This is especially true if the soil is not blocked below the bed by landscape fabric or a similar material. 
Assembly does not require tools. Most people will have the beds together within about 10 minutes with the easy bracket assembly system. See the video below for more on assembly and stacking.   
The Lifetime Raised Garden Beds are also sold as 1 bed or 2 beds  with an enclosure. Click the Amazon button above or below to see these products and prices. 
Summary of Features :
Material: High-Density Polyethylene (HDPE)
Interior Dimensions: 44.5 x 44.5 W x 9.0 inches
2 beds can be stacked
Assembly: No tools required
---
3- VegTrug 1.8 Meter Raised Bed
The VegTrug Raised Bed is an excellent option for people with limited space or that just want a smaller garden. The bottom bed is uniquely shaped in a V to permit roots to grow deep.
We particularly love how the bed is raised significantly off the ground in comparison to most other raised beds featured here. This helps deter back problems from having to bend over to reach the plants. It also helps prevent some animals from gaining access to the vegetables or plants. 
You can purchase a greenhouse cover for this garden bed that will provide additional protection from animals, insects, and the harsh weather. The cover can be found on Amazon.
Be aware that this is a bit more complex raised garden bed to assemble. It requires several screws and nuts & bolts to assemble. The below video provides a good tutorial on how it is constructed. 
Summary of Features:
Dimensions (approximate): 72 L x 30 W x 31 H inches
Capacity: 7 bags of compost (60L)
Internal Depth: approximately 16.5 inches
---
4- VIVOHOME Wooden Rectangle Elevated Raised Garden Bed
The VivoHome all-natural wood raised garden bed is designed with an open bottom to allow roots to grow deep. The surrounding frame is 1/2 inch thick to adequately hold the soil and also insulate it from the harsh elements. 
The wood is moisture-resistant that will not quickly rot away unlike cheaper types of lumber. It is non-toxic so you can be certain that your edible plants will be safe for consuming. 
The center of the bed contains a seperator/support that creates a dividing point in the bed. This allows a variety of plants to grow that may not be compatible directly adjacent to each other.  
The accessories that you need to assemble this raised garden bed come with your purchase. You will, however, need a screwdriver for assembly. Most people will have the bed together within 15 minutes or less and will be ready to plant.
One person commented that this bed can be filled with 5 bags of soil that are 2 cubic feet. It likely can hold much more but this should provide a good starting point.  
Summary of Features:
Dimensions: 96 L x 24 W x 9.8 H inches
Material: all-natural wood (China fir tree wood)
Open bottom frame
---
5- Watex Urban Farming Two Tiers Raised Garden Bed
This Watex is one of our favorites for a two tier garden bed. It is made from a gray wood composite that will not rot, receive insect damage, or rust. 
This is a modular raised garden bed so there are no tools required. The pieces simply slide together for assembly within minutes.  
The bottom is open to allow for root growth beyond the boundaries of the garden bed. This is ideal for deep rooted vegetables and plants that need extra space for healthy growth. 
The manufacturer sells these beds in a variety of quantities: single bed, 2 beds, 3 beds, or 4 beds as featured here. Click the Amazon link to see the prices of the various options.
One reasons that we love this raised bed is that it allows for expansion by purchasing additional beds. You can expand both vertically and horizontally as the quantity of plants you grow increases. 
Lastly, one feature that many people will appreciate is the built in irrigation system. The micro watering system provides a convenient method for your garden to receive the necessary irrigation without the hassle of traditional watering methods such as using a small sprinkler, hose spray, or a watering can. 
Summary of Features: 
4 bed included
Dimensions: 24 x 24 x 6 (each unit)
No tool assembly
Material: composite wood
Color: stone gray
Micro irrigation system (included)
---
6- Foyuee Galvanized Raised Garden Bed
This Foyuee Raised Garden Bed is constructed out of  a heavy-duty galvanized metal. It is coated to deter rusting so that the bed maintains its beauty and structure. 
It is reinforced with crossbars across the center for added stability.  The crossbars will be hidden once the dirt is in place. 
The bed is made without a bottom to allow for deep rooted growth and proper water drainage. The edges of the walls  that the body might hit are not sharp as might be expected from a metal structure. 
You will only need a wrench and a screwdriver for assembly. It should only take most people a few minutes to have the bed ready for soil and then planting. 
Summary of Features:
Dimensions: 98 L x 48 W x  12 H inches. 
Material: galvanized metal 
Open bottom design
---
7- Gardener's Supply Co. 2 Ft x 4 Ft Raised Garden Bed
This beautifully designed raised garden bed by Gardener's Supply Company is an excellent choice for patio gardening. 
Its elevated design eliminates excessive bending and kneeling to minimize the aches and pains that often come from the labor of gardening. 
This raised garden is made from cedar that is known for its ability to be rot resistant. It will hold up for many seasons ahead even in areas that receive the extremes of the cold and the heat. 
The cedar is not chemically treated so there is not a worry of harmful substances making their way into edible plants.  
Summary of Features:
Dimensions: 48 L x 24 W x 29 H inches
Material: cedar
10 inches deep
 Capacity: 6 cubic feet
Planting guide (included)
---
8- Greenes Fence Cedar Raised Garden Bed
If you are looking for a premium raised garden bed, this Greenes Fence bed should be on your short list.
It is made from untreated cedar that won't negatively impact your vegetables or fruits in terms of safety. The cedar is naturally rot and insect resistant to help it last for years with proper care. 
One of the top reasons this is one of the best raised garden beds is because of the critter fence. If you routinely have deer or other animals eating your plants such as pumpkins or roses, the fence will deter these pest from making a buffet out of your garden. 
Assembly of this raised garden is extremely easy. The frame simply slides into the posts without the need for tools through the dovetail joints. While this is a large garden for a raised bed design, it will be constructed relatively quickly with the interlocking joint system. 
If you decide to expand your garden in the future, additional beds can be purchased that will connect to your existing beds. Additionally, you have the ability to stack your beds if desired. 
Summary of Features: 
Dimensions: 8′ x 8′ x 16″ (with critter fence)
Boards 3/4 inch thick and 5.5 inches height
Material: untreated cedar 
Dovetail interlocking joints
Open bottom
Also sold without the critter fencing (see Amazon for details)
---
9- OMISHOME Raised Garden Bed
The Omishome is an ideal small raised garden for flowers, herbs, and even certain vegetables. It is perfect for homes that are limited for yard space and even can be brought inside where space allows for a miniature garden.
It is unique with its two side foldable shelves that can be used for collecting vegetables, displaying potted plants, holding garden tools, and much more. You likely won't find these type of side shelves on many other raised beds. 
This bed is made from premium cedar wood that is difficult to rot even when conditions are often unfavorable for the wood. It also has rollers to make moving the garden a breeze. 
Summary of Features: 
Dimensions: 48 L x 24 W x 30 H inches
Material: premium cedar
Two foldable side shelves
Rollers (included)
---
10- KING BIRD Extra-Thick Raised Garden Bed
This King Bird Garden Bed is made from a thick galvanized steel with double card frames. The bed will have no problem holding up to the weight of soil or taking on the elements. This is especially true since the exterior surface features a paint that prevents rust over the long-haul. 
One of the biggest downsides of this garden bed is that it is often cited for being difficult to assemble. Firstly, you will need to wear the gloves that come with this product or something similar to avoid cutting your hands. Secondly, you should watch a tutorial video, such as this one on YouTube, in addition to reading the instructions. This should provide you with enough information to make assembly relatively easy and safe. 
Summary of Features:
Dimensions: 68 x 36 x 12 inches
Material: galvanized metal
Color: gray
Weight: 16.61 pounds
Soil Capacity: 17 cubic feet 
Gloves (included)
T-tags (included)
---
11- Yaheetech 3 Tier Wooden Raised Garden Bed
The Yaheetech Raised Bed is made from a beautiful fir wood that is non-toxic. This type of wood is rot resistant and will not attract pest that will destroy it. 
This is an open bottom bed with the elevated tiers that connect through wood plugs. It can be placed in a variety of areas such as the patio, lawn, garden, or even indoors where space allows. 
The three tier system is excellent for creating separation when needed for fruits, plants, and vegetables. 
Summary of Features: 
Dimensions (outside): 49 x 49 inches
Legs: 2×2″
Boards: 0.6″ thick
Material: 100% fir wood 
---
12- NuVue Products Raised Garden Box Kit
This NuVue Products Raised Garden Bed is manufactured out of a white vinyl material that is UV resistant. With this material, there will be no issues that come along with wood and metal such as rot or rust. 
Assembly is super simple with its snap locking system. It does not require tools. Most people will likely have this garden bed ready to go within about 15 minutes. 
This garden bed is ideal for smaller yards or lining up several of them where space allows. Some people use this bed for a sandbox or indoors as a whelping box for puppies. 
Summary of Features: 
Dimensions: 48 x 48 x 15 inches
Material: vinyl
Tongue-in-groove assembly (no tools required)
UV Resistant 
---
13- Gardzen Divided Raised Vegetable Bed (2 Pack)
Here is an excellent choice for a budget-friendly raised garden bed with this Gardzen 2 x 2 feet bed. It is made from a breathable non-woven fabric that offers superior growth and drainage.
The interior of this raised bed is made up of four 1 foot squares which is perfect for people who wish to do square foot gardening. It is a great options for beginners to learn to gardening without having to spend a lot of money.
Summary of Features:
Dimensions: 2′ L x 2′ W x 11.8″ H
1 foot built in squares
Pack of 2
---
Raised Garden Beds: FAQ