Does One Mouse Mean An Infestation?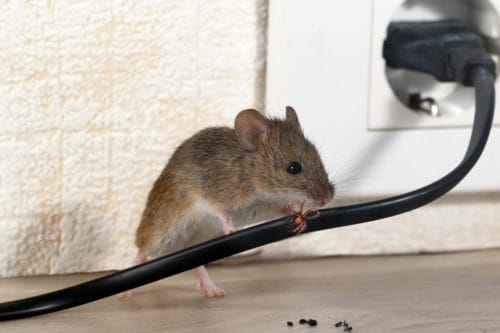 A natural part of home ownership is dealing with pests both inside and outside. One of the most common pests for homeowners are mice. Pestworld.org estimates that 21 million U.S. homes experience rodent problems each winter.
During this time, mice seek out shelter and food because their natural outdoor environment often is scarce in resources necessary for survival. If they have the opportunity, they will make their way inside a home for warmth and a few good meals. 
Mouse In The House Stories
It is common knowledge that if you see one cockroach, there is likely a bunch more hidden in the shadows. But, does the same apply to mice? Let me tell you a couple of personal stories about mice in my house for clarification on if one mouse means infestation. 
Story One 
A few years back we had two cats. We would feed them in our laundry room, which was an area that allowed the cats to eat in peace while also keeping the bowls out of the high traffic areas where they could accidentally get kicked around.
The cats would not always finish their food. Since the bowls were typically out of sight, it was easy to forget to pick them up after the cats were done chowing down.
One day when I was cleaning up the bowls that were left out for several hours, I noticed the telltale sign of mice – tiny brown droppings.
The following night I left the bowls out and baited a snap trap with peanut butter near where I suspected the entrance point was to house. The next morning the trap contained one dead mouse. 
During the following weeks, I left out additional snap traps near some exposed cat food. The cat food was untouched, there were no dropping or signs of additional mice, and the traps were never trigger.
Story Two
This story is two years later from the above story:  
My cat came running up from the basement with what looked like a toy in its mouth. Upon closer inspection it was a live mouse dangling helplessly. 
My cat ended up taking it into our laundry room where it dropped it from his vicious jaws. The mouse scurried behind a shoe rack for safety.
This was a good move by the mouse because it bought it some time for me to try to save its life. I was able to quickly grab a jar and scoop up the mouse before the cat got back to tormenting the poor thing. 
The mouse appeared unharmed so I decided to release it into the woods across the street from my house. 
Over the next month I set snap traps in the basement and looked for signs of additional mice. There was no activity after a month so I sealed off the expected entrance area where the mouse likely original came in. 
One Mouse Equals Many?
The point of the above stories was to illustrate that discovering one mouse does not undoubtedly mean infestation. Spotting or trapping one mouse can simply mean there is, in fact, only one mouse. It does not necessarily mean it is time to panic and assume the house is full of rodents. 
However, you should not dismiss the idea of additional mice or even infestation if you only happen to see one mouse scurrying around the home.
Mice often live in groups and in a hierarchical structure. Furthermore, according to the Indiana State Department of Health, females begin to breed at about 40 days with a gestation period of approximately 18 days. The typical litter size is around 6 mice. Within about 21 days of birth, pups are off exploring for food. 
Additionally, mice are nocturnal and will only come out when they believe there are no disturbances in the area. If you stumble upon one mouse, it may mean that the others have already taken cover out of your view.   
Based on the above, you can see see how a single mouse problem can really mean there is a much larger problem. You should take steps to eliminate mice from your property immediately upon discovering the problem. 
How To Eliminate Mice?
There are many products out there for people to eliminate mice on their own. These include glue traps, poisons, snap traps, and many other methods.
There are even hundreds of homemade traps you can build on your own. Shawn Woods is the go to resource for homemade traps. Check out his channel on YouTube if you are interested in homemade rodent elimination methods.
Here are the three methods that we recommend to eliminate mice:
Snap Traps
As we recommended in our article on killing rats instantly, high-quality snap traps work best for eliminating rodents. When baited properly according to the manufacturer's instructions, an efficient snap trap will quickly kill a mouse with minimal suffering. A couple snap traps that we like are shown below.
Bestseller No. 1
Authenzo Mouse Trap SX-5006 Mice Trap That Work Human Power Mouse Killer Mouse Catcher Quick Effective Sanitary Safe for Families and Pet 6 Pack
EFFICIENT And SENSITIVE: This mouse trap kills the mice faster and effectively compared to traditional wood or metal. 15 grams only can trigger the trap and ensures killed which is faster and quicker without any pain
REUSABLE: It is made of durable polystyrene which is easy to wash and does not absorb any odor or stains like the traditional wood mouse traps
EASY TO SET AND IS SAFE: The bait cup is easy to set up and is safety . You just need to press the tail of the mouse trap with your hands and the work is done
SAFE AND HYGIENIC: This trap eliminates the use of fingers to set up like in traditional methods, avoiding any possible injury to your fingers. You also do not have to touch the mouse while removing it
Mouse trap
Bestseller No. 2
Mouse Trap, Mouse Traps That Work Small Mice Trap Outdoor Indoor Best Snap Traps for Mouse/Mice Safe and Reusable 6 Pack Quick Kill Mice Traps
【Easy to Set and Bait 】 With removable bait cup design, just simply put bait in the mouse trap and press down the trigger, no more worrying snap fingers.
【Safe to Use at Home】No poison, no glue, no touch mice or any dropping, so there is no risk of any disease; this mouse traps that work both indoor and outdoor.
【Reusable and Durable】 Made of high quality ABS plastic material, no odor and no stains, very easy to clean and reuse smart mouse traps.
【Quick Kill & Sanitary】 Powerful capturing spring and sensitive teeth design, this smart mouse trap can quick kill the mice/mouse with no blood, no mess, quite humane.
【Customer Support is always there for you】 Your satisfaction is our best quality! Any unsatisfactory purchase of this smart mouse traps, contact us at anytime, we will help you at our best!
Live Traps
Live traps are designed to keep the mice alive until they can be transported to another location far from the home. These traps need to be routinely checked to minimize the stress on the animal.
While relocating mice caught in live traps seems, on the surface, to be the most humane solution, mice do not do well being relocated to a new environment. The stress of the move, along with having to find shelter and food in an unfamiliar land, weighs heavily on these rodents. Unfortunately, the odds are greatly stacked against survival for relocated mice.
If you live trap mice, you will have to make the tough decision to either immediately humanely kill the mice or set them free likely knowing their survival rate is minimal. We do not condone the mice being left in the live trap to suffer and eventually die a slow death.
A couple of popular live mouse traps are shown below:
Bestseller No. 1
HUX EYE Humane Mouse Trap, No Kill Mouse Traps, Kids/ Pet Safe, Reusable Live Mouse Trap Catch and Release, Indoor/Outdoor Mice Trap
High security - Extremely safe for children and pets.without touching the mouse and anything they could leave behind. ATTENTION only seller "Pyramid-jzt" is official authorization store. There is no blame for brand HUX EYE if you buy it from other sellers
Easy to set - Simply put peanut butter in the cubicle and open the door at the other end. When the first mouse is caught, take off the end compartment and let him act free.
Extremely environmental and reusable - It is made of plastic ,and after releasing the mouse, clean the trap and could be used again. Good for environment and save your money.
Humane - Catching mouse without kill them, show the humanitarian spirit. ATTENTION THAT THIS SNAP TRAP MAT NOT CATCH WELL FOR LARGE SIZE FIELD MICE OR CHIPMUNKS
Effective - When the mouse come in the trap to eat baits, the door closed down, easy catch and release. Unless you release it. The mouse can't escape.
Bestseller No. 2
CaptSure Original Humane Mouse Traps, Easy to Set, Kids/Pets Safe, Reusable for Indoor/Outdoor use, for Small Rodent/Voles/Hamsters/Moles Catcher That Works. 2 Pack (Small)
100% HUMANE - Our Catch and Release method causes no kill, no pain and is cruelty free. We are endorsed by humane societies and animal rights organizations in the U.S. and worldwide. Captsure is Ideal for animal lovers.
SAFE AROUND KIDS AND PETS - Capture's trap is safe for in-home use and is children and pets safe. We do not use poison, glue, chemical or electricity. It also features a design that ensures you don't have any physical contact with the mice effectively reducing the risk of diseases or bite that may arise from contact. Its design ensures no human physical contact with rodents - effectively reducing the risk of diseases or bite that may arise from human-rodent contact.
EASY TO SET AND USE - You don't have to be an expert to use a CaptSure trap. Its design allows trappers of all experience levels to capture, transport, and release small animals with ease.
REUSABLE AND EASY TO CLEAN - CaptSure's Smart Mouse Trap can be cleaned and reused as many times as needed. The trap is waterproof and can be easily washed.
100% MONEY BACK GUARANTEE, 24/7 CUSTOMER SUPPORT.
Pest Removal Expert
If a few snap or live traps do not take care of your problem with mice in a timely manner, it might be time to call a pest removal professional. A reputable expert will be able to efficiently eliminate an infestation problem and save a lot of future headaches, including potential serious damage to your home. You might have to pay more than you may like, but at least you will have the piece of mind that your mice problem has been solved.
Conclusion
Does one mouse mean infestation? The answer is no. However, it should be a red flag of the potential for serious problems with mice. You should take significant step to determine that one mouse is not two, three, or many lingering in the shadows of your home.
The best course of action is to prevent mice from entering your home through sealing off entry points such as holes or large cracks. Additionally, eliminating food, water and shelter sources, both inside and outside, goes a long way in preventing mice from sticking around to become a major problem.