This article is designed to help women find a snow blower that has been manufactured with the ease of maneuverability in mind. In addition, we focused on selecting only high-quality, proven machines that have been built to last and are known for their performance.
The snow blowers featured below are all products we would consider purchasing for clearing snow at home. We selected a mix of gas powered, battery powered, and electric snow blowers.
Here are our picks.
The 5 Best Snow Blowers for Women
1. Honda Single-Stage HS720AS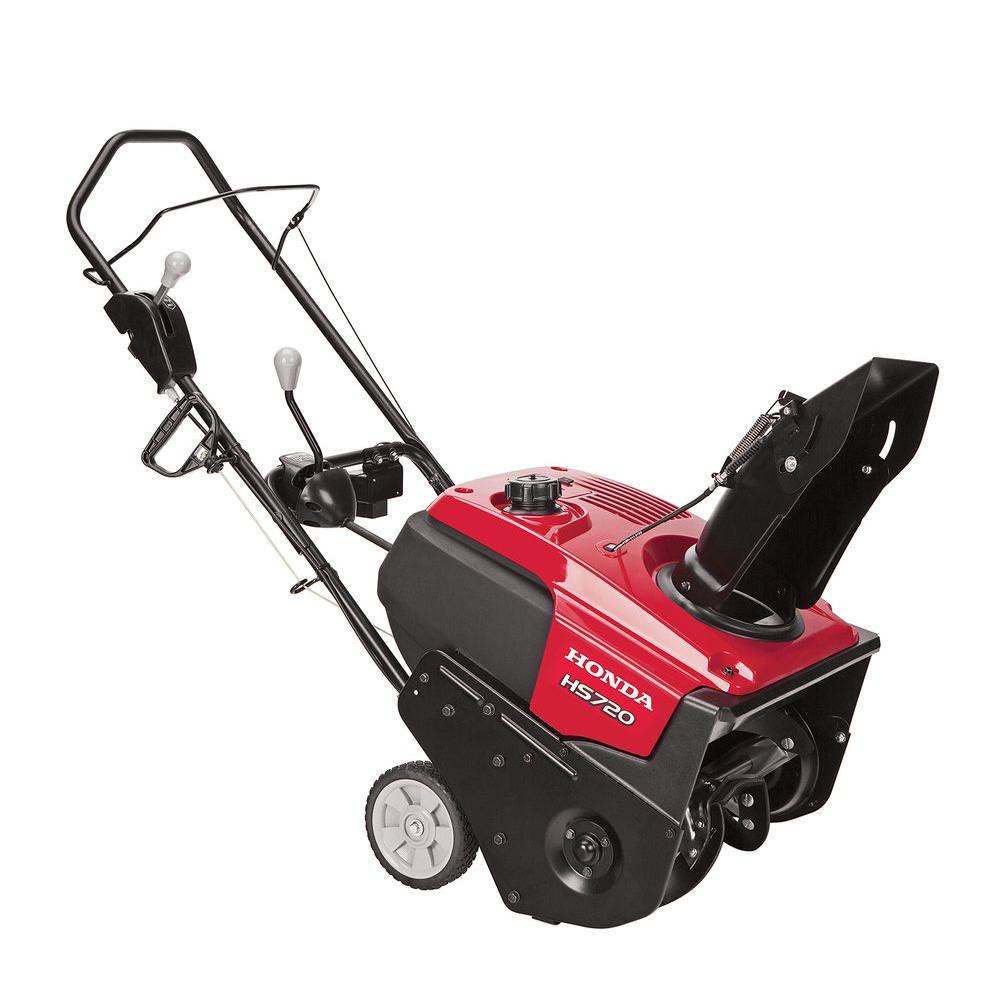 When looking at reviews of outdoor equipment, Honda products are commonly found at the top of the list for their high-quality manufacturing.
This Honda HS720AS is no exception to the top-notch standard that the company puts into making its products
This snow blower offers a 20 inch clearing width and a 12 inch snow intake height. It has the ability to clear snow that is piled up to a foot tall in one pass. 
It can launch snow up to 33 feet making quick work of the snow removal process on an average size driveway with moderate snowfall. 
This is a gas snow blower that operates on regular 86 or higher octane. It also requires oil separate from the gas. Honda provides the oil with the purchase which is super simple to add to the snow blower by following the manual instructions. 
You will have to complete engine maintenance on occasion (i.e. change the oil and change the spark plug). See page 11 of the owner's manual for an idea of what needs to be completed. 
This snow blower is equipped with an electric start option. This means an extension cord can be plug into it to start the blower by pressing a button in lieu of pulling starting it.
After the snow blower starts, the cord is removed to operate the snow blower. The electric start is a much easier process than the old fashioned pull start method. 
While this snow blower weighs 93 pounds, it is extremely simple to maneuver. The man in the video below is operating it with ease using one hand in a decent amount of snow. 
How easy is it for women to use?
One user commented on HomeDepot.com, "My wife is 5'3″ and about 120 lbs. She was super impressed with how easy it was to use".
Another user stated, "I have two units. My wife handles them very easily. You don't "push" this unit; — it propels itself via the rubber augur pads that are in contact with the driveway". 
---
2. Toro Power Clear 721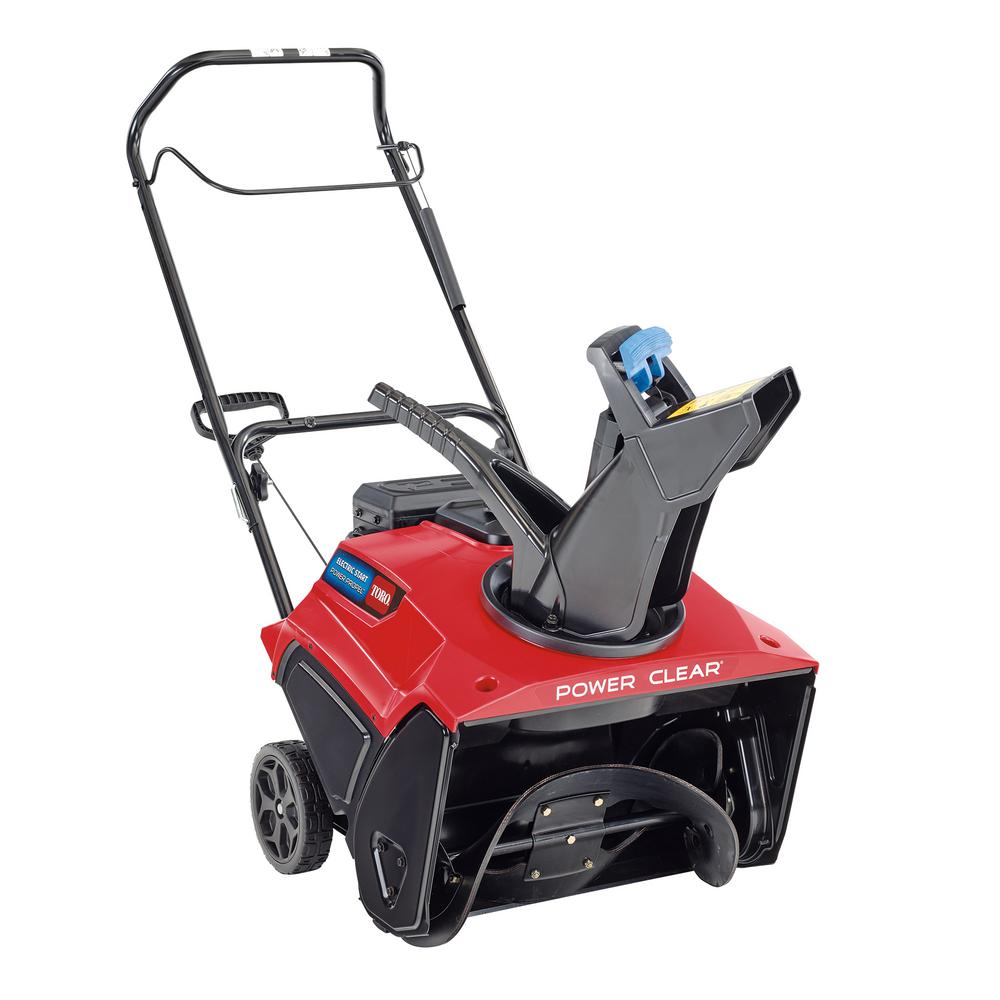 This Toro single-stage snow blower clears a path 21 inches wide and can clear snow up to about a foot deep. However, this snow blower is best for clearing  9 inches or less of snow. 
It can throw the snow up to 35 feet. This is more than ample considering the average driveway size is approximately 24 feet wide or under.
The snow blower should only be used on paved (non-gravel) driveways. If used on gravel, it will shoot out the gravel at a high rate of speed and obviously created a hazard for anything it is path. You will need a two-stage or three-stage snow blower if you have a gravel driveway.
One reason we love this Toro is because of its electric start. There is no need to pull the starter cord to get the engine going. You simply connect an extension cord (similar to the above Honda) into the blower and push an electric start button.
Once the snow blower is running, you remove the extension cord and begin the snow removal process. You can, of course, start the snow blower using the old fashioned cord pull method if you wish. 
Keep in mind that while this has electric start it still runs off gas and will also require oil. Oil comes with the snow blower and you will need to use gas with an 87+ octane rating from the gas station. 
In regard to women using this snow blower, someone asked the following question on HomeDepot.com, "Can a 5'4″ 130 lb woman handle this machine?".
Several responses from women indicated that they had no problems with maneuverability or handling this machine.  
---
3. Toro 18-inch 15 Amp Electric 1800 (38381)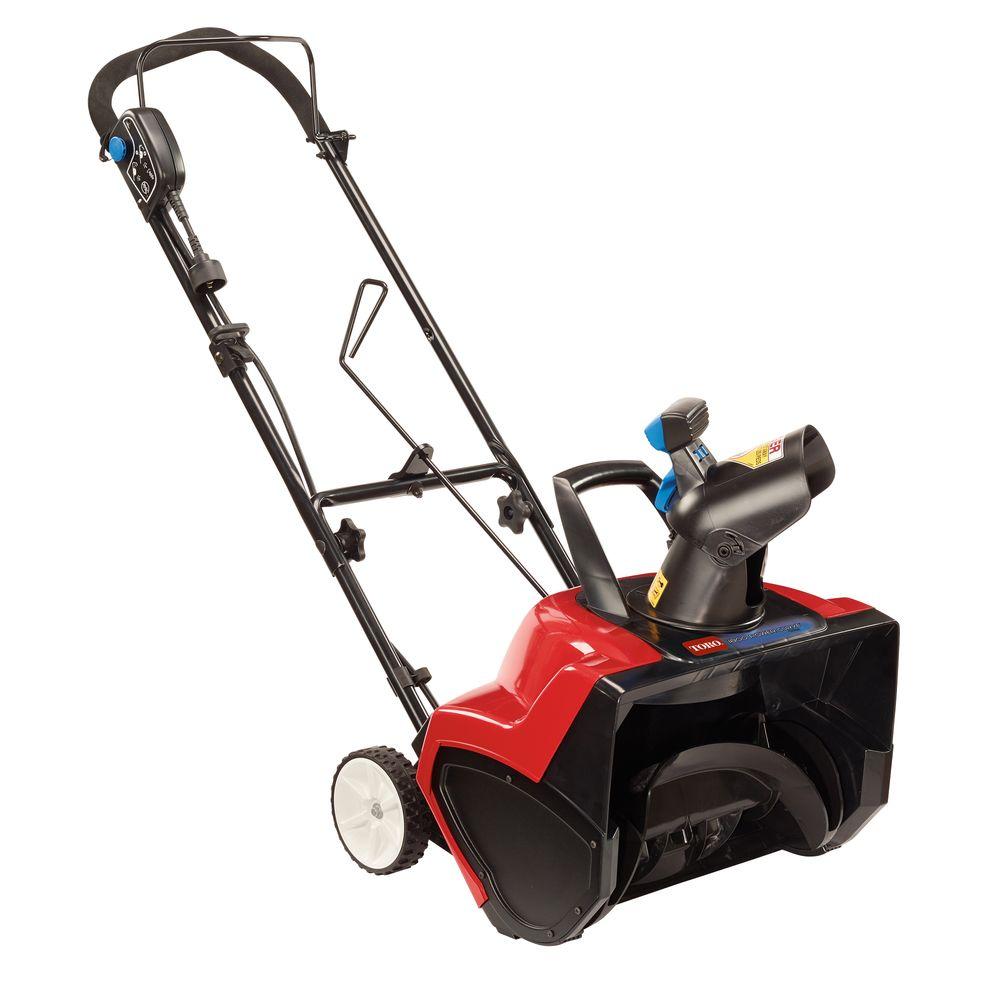 This Toro 1800 is ideal for women who do not want to deal with the hassle of gas and oil to power their snow blower. 
It features a 15 AMP electric motor that is powered using an outdoor extension cord (sold seperately). Reference the Toro Operator's Manual for the correct extension cord to buy if you purchase this snow blower. 
While this snow blower is not as powerful as the first Toro feature here, it does provide a decent amount of muscle. It is ideal for clearing snowfall that is 6 inches less.
However, the intake height is 12 inches so you have some room above 6 inches if needed. Additionally, the clearing width of 18 inches will clear a decent size path with one pass. 
At 25 pounds, it is extremely easy to move around  the driveway without most users getting tired out from its weight.
Its lightweight makes storing it a breeze. This is especially true considering the handle folds down to allow for compact storage. 
Please view the below video to see this snow blower in action. 
---
4. EGO 21-Inch Single-Stage Battery Powered Snow Blower (SNT2100)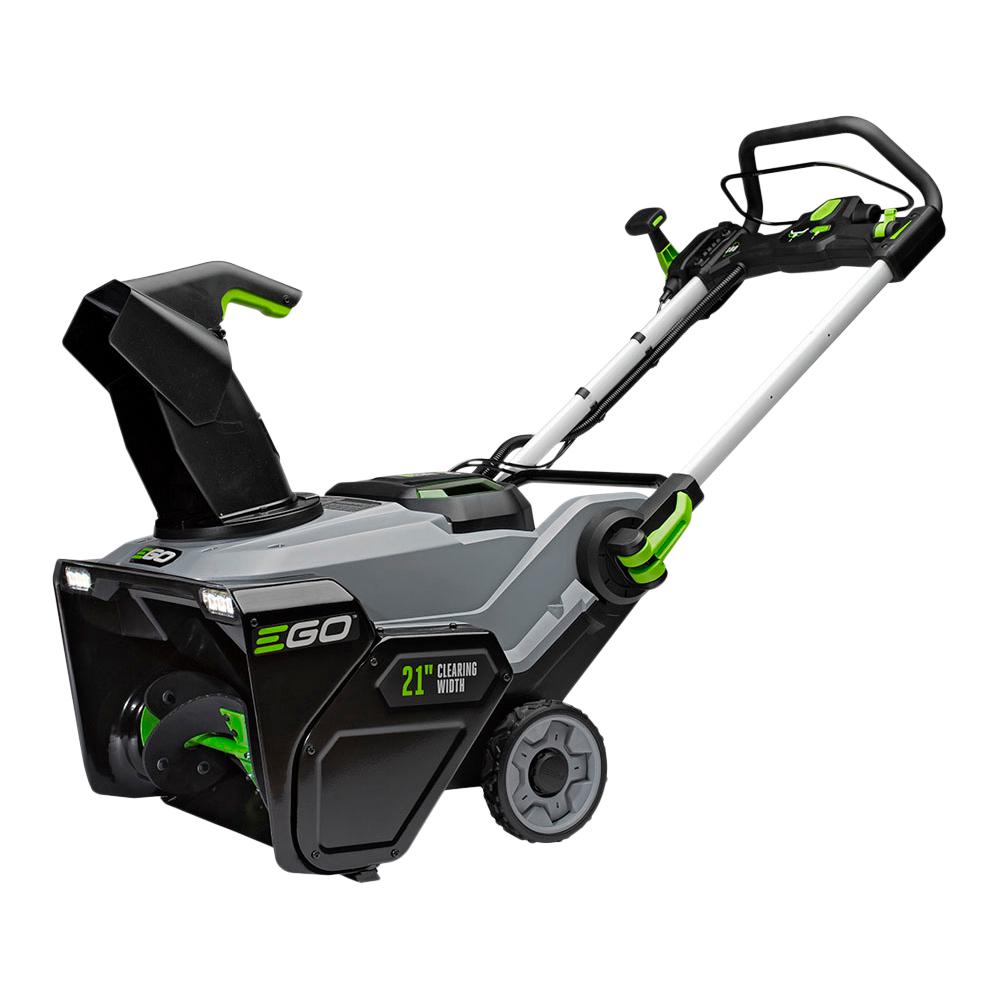 The EGO SNT2100 is a battery powered snow blower so there is no mess of gas or oil. There is no engine maintenance such as spark plug or oil changes since this machine runs off of two 56-volt Lithium batteries. 
You might be thinking that this snow blower isn't going to provide enough muscle to clear any significant snow accumulation given it is battery powered.
However, this machine is extremely powerful and matches or beats the clearing ability of many gas powered snow blowers. 
It is able to clear up to 13 inches of snow on one pass and has a 21-inch clearing width. However, it is best for clearing snow that is 10 inches or under.
This EGO is able launch snow up to 35 feet. The user will have no issues  removing snow from the driveway onto the grass. 
This snow blower is much quieter than gas powered snow blowers. According to EGO, this machine is rated under 80 dB.According to the American Speech-Language-Hearing Association (ASHA), a typically snow blower can reach an extremely loud noise level of 106 dBA.
This snow blower is not self propelled and weighs 53.35 pounds, but most people will have little trouble maneuvering the machine.
The auger that helps clear the snow will naturally help move the machine forward.
The big question is, how long do the batteries last? You clearly do not want to have to recharge with only half of your driveway cleared.
EGO indicates there is up to a 90 minute runtime using two 7.5Ah batteries. Furthermore, there is up to a 60 minute run time using 5.0Ah batteries. 
The batteries and charger are sold separately so you will be able to choose which ones fit your needs.  
Lastly, one feature that we love is the LED headlights attached to the front of this snow blower. This is a convenient feature considering how the limited daylight during the winter months. 
---
5. Snow Joe Max 18-Inch Electric Snow Blower (SJM988)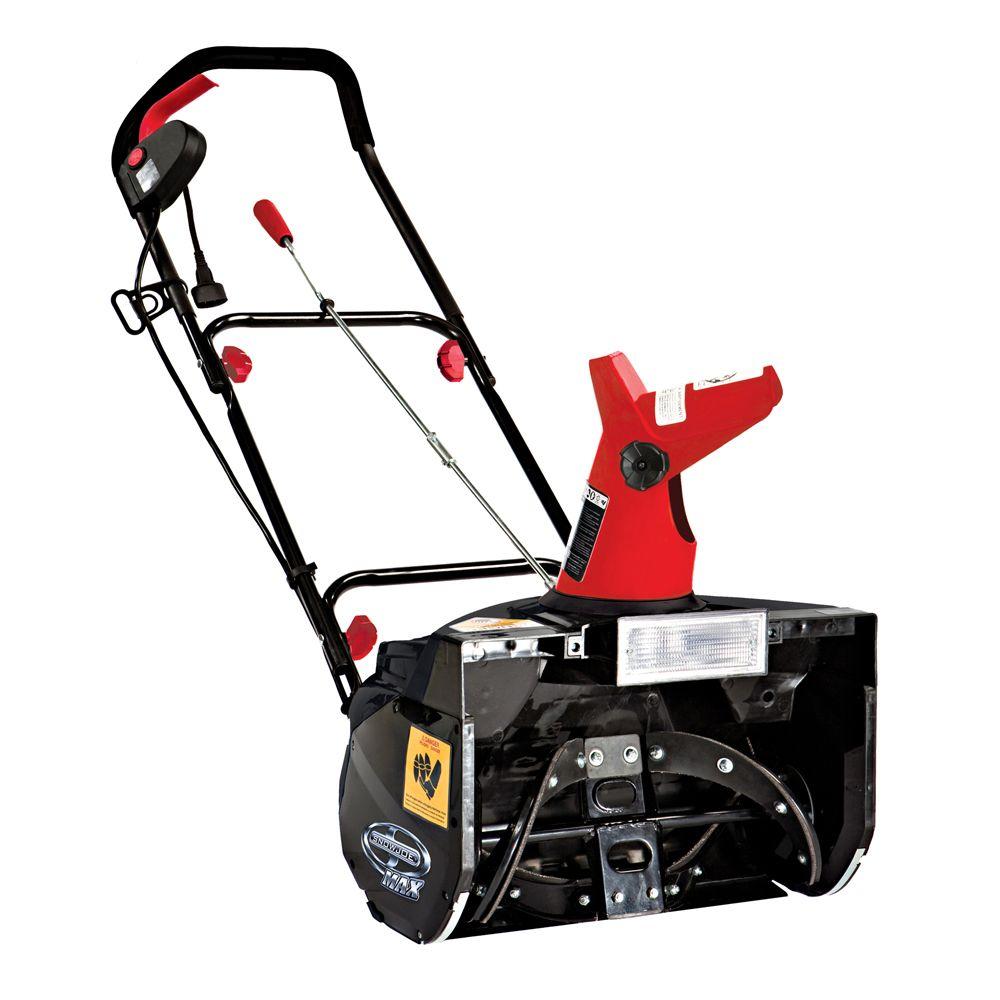 The Snow Joe Max SJM988 features a 13.5-Amp motor with an 18-inch clearing width. It can clear up to 10 inches of snow. 
This is an electric snow blower similar to the Toro 1800 featured above. It starts instantly with a push button switch.
It requires no gas, no oil, and no engine maintenance. It will, however, require a long outdoor extension cord to operate this machine such as this HDX 100 foot. 
This Snow Joe is one of the lightest models featured here on our best snow blowers for women article. It weighs only 32.9 pounds making it simple to maneuver and store on garage shelving or in the shed. 
Similar to the EGO above, this snow blower features a headlight that can illuminate the clearing path when it is dark. It is a 20 watt halogen, which will provide ample light to guide you along. 
---
Top Featured Image Credit: Bill Morrow