Dandelions are perennial broadleaf weeds that are a problem for numerous homeowners around Northern America and beyond. Since they are a perennial, they will re-emerge each year if not killed off. Dandelions will be most noticeable in the spring when they bloom their infamous yellow flower heads.
It is important to take on a dandelion problem quickly and efficiently to avoid any issues with the weeds spreading. We recommend to spot spray them instead of putting down a blanket of weed killer such as a weed and feed fertilizer. Spot spraying will typically be much more economical and environmentally-friendly.
Here are our picks for the best dandelion killers for your home yard:
The Best Dandelion Killers for Lawns
Southern AG 2,4-D Amine Weed Killer
Last update on 2022-11-17 / Affiliate links / Images from Amazon Product Advertising API
This weed killer will eliminate numerous broadleaf weeds and woody plants including dandelions. It will not harm the lawn for most types of grass. You will need a sprayer such as this Chapin 61500 ProSeries to apply this weed killer.
Be sure to read the label for proper application instructions. Generally, most home lawns will use the spot treatment application method, which mixes 2 to 3 tablespoons (about 1 to 1.5 oz.) for each gallon. The size of the product container is 1 quart or 32 ounces, therefore, most standard lawns will likely get a lot of use out of a single container.
Be aware that you do not want to apply this weed killer on grass that is seeding. Allow the grass to fully establish and thicken before considering using this product. This goes for all other products on our list.
Additionally, the manufacturer notes that the product may harm Bentgrass, St. Augustine, Carpetgrass, Centipede, Dichondra, and Clover. See the label for full details.
Features:
Safe for most grass types
1 quart (concentrated formula), mix with water
Kills many broadleaf and woody plants
Simple application with a sprayer
---

Ortho Weed B Gon Weed Killer for Lawns
Last update on 2022-11-17 / Affiliate links / Images from Amazon Product Advertising API
Weed B Gon is one of the most well-known weed killers out there. The reason for this is because it is highly effective at killing dandelions and over 250 other weeds. Some other common weeds it kills are clover, thistle, dollarweed, and chickweed. 
Weed B Gon will start killing weeds within a few hours and is rainproof in an hour of spraying it. The manufacturer states that it will kill weeds to the root when used according to the directions. This is important for dandelions because they are able to regrow if not all of the root is destroyed or removed from the ground. 
 This product is a concentrate so you will need a sprayer to apply it, such as this Chapin. A gallon of this concentrate will cover up to 64,000 square feet. 
Features:
1-gallon concentrate
Kills 250+ weeds to the root 
See results within hours
Coverage up to 64,000 sq. ft
---
Roundup for Lawns
Sale
Roundup For Lawns3 Ready-To-Spray (Northern), 32 oz. - Lawn Safe Weed Killer for Northern Lawns, Kills Crabgrass, Dandelion, Clover and Yellow Nutsedge - Kills Weeds, Not the Lawn
The Ready-to-Spray applicator is great for broadcast application to your entire lawn, just connect to your garden hose and it's ready to use--covers up to 5,000 sq. ft.
Kills over 250 weeds, including crabgrass, dandelion, clover, and yellow nutsedge--won't harm your lawn
Lawn weed killer for use on Northern grasses, including Kentucky bluegrass, perennial ryegrass, fescue, bermudagrass, buffalograss, and zoysiagrass
Starts working immediately and rainproof in as little as 3 hours
For hard-to-kill summer crabgrass and grassy weeds, use Roundup for Lawns Crabgrass Destroyer
Last update on 2022-11-17 / Affiliate links / Images from Amazon Product Advertising API
Roundup for Lawns kills over 250 weeds including dandelions, clover, and crabgrass. It will kill to the root if used as directed to help ensure the weeds do not reemerge. While there are some Roundup products that will kill both grass and weeds, this product is designed to be safe on lawns.
This weed killer comes in a ready-to-spray container. You simply hook a garden hose to the applicator sprayer, turn on the water while aiming the nozzle in the direction of the weeds, and then flip the thumb activation switch to on. This product will cover up to 5,000 square feet and it is rainproof in 3 hours.
Features:
Northern grass use only (read label before use)
Kills over 250 weeds
Kills to the root
Rainproof in 3 hours
Ready-to-Spray product 
Begins working immediately 
---

Bayer Advanced All in One Lawn Weed & Crabgrass Killer
BioAdvanced All-In-One Lawn Weed and Crabgrass Killer I, Concentrate, 40 oz
All-in-one formula: BioAdvanced's all-in-one formula kills listed lawn weeds and crabgrass without harming the lawn
Weed killer: kills over 200 listed broadleaf weeds like dandelion and clover PLUS crabgrass
Root killer: kills even the toughest weeds to the root
Rainproof protection: systemic rainproof in 1 hour
Allows for hose-end sprayer application
Last update on 2022-11-17 / Affiliate links / Images from Amazon Product Advertising API
Bayer (BioAdvanced) All-In-One will kill off over 200 broadleaf weeds, including dandelions, with the added bonus of being a crabgrass killer.
It is rainproof within an hour and is safe on most grasses. The product label lists that it can be used on Fescue, Kentucky Bluegrass, Bermudagrass, Buffalograss, Ryegrass, Zoysia, and Bentgrass.
Features:
32 oz. concentrate (sprayer not included)
Kills 200+ lawn weeds and crabgrass
Wait two days after application to mow
1 hour rainproof 
---

Fiskars 339950-1001 39″ 4-Claw Weeder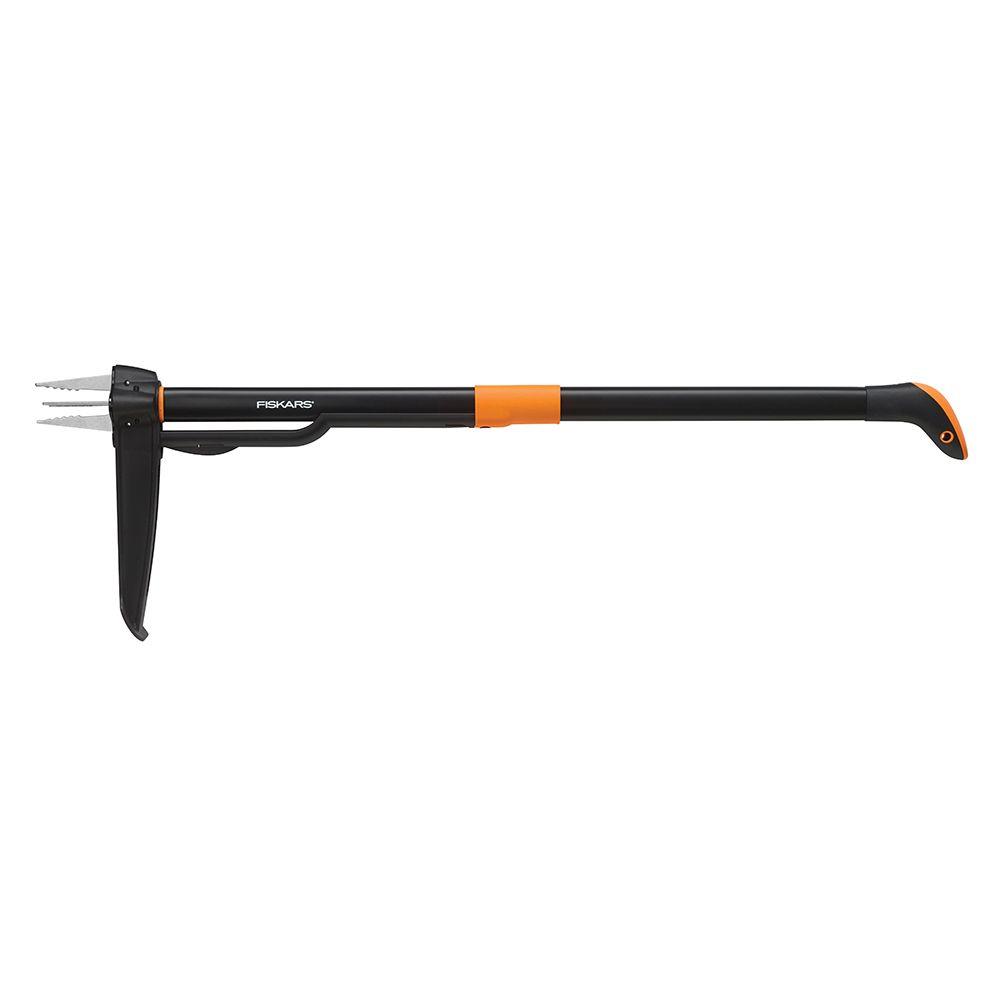 This Fiskars 4 Claw Weeder is an excellent choice to permanently remove weeds out of the lawn to the root without the use of harsh chemicals. This is our pick for the best dandelion killer if your yard is not overwhelmed with weeds.
The Fiskars Weeder is best demonstrated visually to show how it works. As you can see from the video below, this weeder is highly-effective at quickly removing weeds to root.
Call us crazy, but we can see how this can be a somewhat enjoyable process given the ease at which the weeds are removed. This tool takes a lot of labor out of the weed removal process allowing the user to go to town on weeds without feeling overwhelmed by the process.
Features:
34 in. 4 Claw Weeder
Grabs weeds down to the root
Upright design
Aluminum handle 
4 serrated & stainless-steel claws
Easy-eject mechanism to clear weeds
---