Best Gloves for Shoveling Snow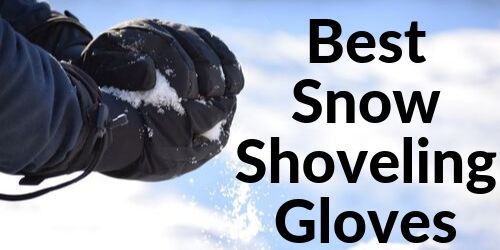 Snow shoveling is often not a task that most people enjoy. This is especially true after a long winter of snow when just the thought of having to shovel the driveway again brings about dread. While snow shoveling can be a nuisance, we shouldn't have to greatly sacrifice our comfort when completing this winter chore.
In order to help make your shoveling more tolerable, we compiled our picks for the best gloves for snow shoveling. These gloves are known for their warmth without significantly interfering with grip or maneuverability of the hands. They are also designed to keep the hands dry with their waterproof capabilities.
The Top 10 Gloves for Shoveling Snow
Velazzio Waterproof Breathable Gloves
These are the gloves you want to keep your hands both dry and warm while snow shoveling.
The warmth comes from 3M Thinsulate that provides a thin, synthetic insulation. This insulation does away with the bulk that has traditionally been associated with this type of glove. This is perfect for snow shoveling since an excessively bulky gloves can get in the way of the shovel grip and thus, impacting performance.
The Fan-Tex technology keeps the hands dry while also allowing them to remain comfortable with the ability to release sweat.
We love the zipper pocket that is located near the glove opening. This is a convenient feature to store items such as car keys that you may need to access while shoveling. The pocket is water-resistant when sealed to help keep your belongings safe and dry.
The gloves come in three size: small, medium, large/extra-large. A size chart can be viewed by clicking the Amazon button below.
---
Andake Mens Insulated Gloves
These Andake gloves feature 3M Thinsulate similar to the Velazzio gloves above. This technology will keep the hands warm while also deterring them from becoming a sweaty mess inside the gloves by providing breathability.
We especially like this gloves for snow shoveling because of their non-slip palms. The gripping material will help keep the shovel in hand while tackling all types of snowfall on the driveway. The finger tip material conveniently permits the hands to be used on smart screen devices without removing the gloves.
The wrist cuffs are adjustable to become tight around the users
wrists. This helps keep out the elements to allow the hands to remain dry and warm. Above the wrist cuff is a waterproof pocket that will hold small items such as keys, credit cards, or cash.
The gloves are available in S/M, M/L, and L/XL. Click the Amazon button below for additional details.
---
Carhartt Men's Cold Snap Insulated Work Glove
The Carhartt Cold Snap Gloves are manufactured out of a 100% polyester lining with a 100% polyurethane palm. The gloves are both windproof, waterproof and breathable with their Storm Defender and FastDry technology. 
The gloves are insulated to keep you warm in even frigid temperatures. The insulation is super soft to add comfort. Additionally, the cuffs are equipped with wrist straps to easily tighten to prevent snow from enter the glove interior. 
The gloves are made in sizes from small to extra-large so most people will be able to find the right fit. There are also two colors to choose from: black (pictured above) and black/barley (see by clicking the button below). 
---
SKYDEER Waterproof and Windproof Genuine Deerskin Leather Gloves
These SKYDEER gloves offer amazing protection of the hands in extremely harsh conditions. They can handle cold up -40°F.  It is safe to say that nearly all hands that wear these will be warm considering they can stand up these extreme temperatures. 
The gloves are 100% waterproof and windproof which will be a needed feature to have when shoveling during nasty weather conditions. They are made with the popular 3M Thinsulate insulation for added warmth, breathability, and a sweat-free interior.
The five layers of thermal materials provide superior overall protection of the hands. The outer layer is manufactured with a premium deerskin on the palm that will help cut down on vibrations and impacts that are occasionally an annoyance while snow shoveling. 
Similar to other gloves in this  best snow shoveling gloves article, these SKYDEER gloves have a strap that allows the wearer to snuggly close the gloves around the wrists. This helps deter snow, ice, wind, and other elements from gaining access to the interior. 
Overall, these are not the most stylish looking gloves, but they are certainly tough to beat for complete protection of the hands while snow shoveling in unfavorable conditions. 
---
OZERO Extreme Cold Weather Thermal Protection Gloves (Male or Female)
We included these gloves as a value pick because they are reasonably priced and an excellent protector of the hands against the cold weather.
These gloves produce their warmth from several layers of thermal material including fleece, insulated cotton, firm sponge, and TR cotton. The manufacturer states that the gloves are -10°F cold resistance due to the previously mentioned multiple thermal layers. 
The exterior is both deerskin and polar fleece. The deerskin is an anti-slip material to help keep the snow shovel firmly in the hands. The manufacturer states that these are proved to be waterproof and windproof. They are best for temperatures ranging from 23°F to 41°F. 
---
N'Ice Caps Thinsulate Waterproof Gloves
N'Ice Caps are another pair of high-quality gloves that offer Thinsulate. They are windproof and waterproof while also being breathable to quickly release perspiration that is common while shoveling. 
The lining is fleece to provide warmth and added comfort. Keep in mind that the wrist elastic creates a narrow opening that stretches to fit the wrist. This helps keep the hands warm but may not be ideal for some people looking for an easy pair of gloves to slip on.
The gloves also have adjustable wrist straps to secure the glove against the hand for further weather protection.  Additionally, the palm is made with full PU grip to help keep the shovel in the hand. 
---
MCTi 3M Thinsulate Waterproof Gloves
The popular MCTi winter gloves come equipped with 3M Thinsulate that holds in body heat while not collecting sweat inside the gloves. The gloves are waterproof and windproof because of a TPU membrane/polyester material. 
The outside of the gloves contain a 3.15″ x 3.15″ pocket to store hand warmers, keys, money, or whatever else that can squeeze in there. The wrist straps allow the glove to pull tight to keep out the chill. 
These gloves feature a nubuck palm that will help deter them from wearing down from hours of shoveling. They also have rubber fingers to assist in grip. Furthermore, they have buckle wrist straps to keep out snow, wind, rain, and other elements. 
---
Gordini Gore-tex Storm Trooper II Waterproof Insulated Gloves
These Gordini Gloves feature a Gore-Tex lining with a breathe weave woven fabric and goatskin trim. We love these for shoveling because they are waterproof, windproof, yet breathable. 
The gloves have a pocket opposite the palm to store any small items you might need while working outdoors. The palm and fingertip contain grips to help secure the snow shovel or other items in the hand. 
These are made in sizes from small to extra-large. You can also choose from a variety of colors including black, black/tan (shown above), legion blue/tan, and gunmetal/black. 
---
Hot Shot Mens Defender Winter Thermal Gloves
The Hot Shot gloves dual as a good pair of hunting gloves for warmth in the wilderness while also being a solid choice for snow shoveling. Of course, you don't have to be a hunter to use these for shoveling. 
These gloves are made with 3M Thinsulate Insulation  to maintain a thinner style glove without a reduction in heat loss. The material will help the hands remain dry from sweat with its breathability.  The waterproof insert will assist in keeping the hands dry from the outside. 
The feature we love about these gloves is that they are machine washable. Your gloves are bound to get dirty with outside use and being able to toss them in the washing machine is super convenient compared to handwashing. 
The sizeable sure grip palm provides an extra level of protection while also helping prevent items such as shovels slipping from the hands. 
---
Alpine Swiss Mens Waterproof Gauntlet Ski Gloves
If you are looking affordability and warmth, these Alpine Swiss gloves might be for you. These gloves offer 3M Thinsulate for warmth while also being waterproof and windproof because of the 150 D polyester outer shell. 
The gloves are not overly bulky to where they get in the way of shoveling performance. Additionally, the palm helps maintain shovel grip with their waterproof TPU material. 
The Alpine Swiss gloves offer two ways to tighten the gloves to the hands and wrists. They have adjustable pull straps at the wrist and a drawstring cuff closure to create solid seal against the elements. 
---
Snow Shoveling Gloves: Frequently Asked Questions