Snow removal can be extremely challenging, especially for older adults who might have certain limitations on their physical activity. Finding the right snow removal tool can make snow cleanup a much easier process for senior citizens. 
While snow blowers take a lot of the physical effort out of the snow removal process, some snow blowers are not ideal for many older individuals. The large two and three-stage snow blowers can weigh well over 200 pounds and are often difficult to maneuver even when the self-propelled feature is in operation. 
Generally, the best snow blower for a senior citizen is a machine that is lightweight, easy to operate, and does not require a lot of maintenance. Let's take a look at some snow blowers that meet this criteria below. 
Best Snow Blowers for Seniors
We recommend electric snow blowers for seniors because they tend to be lightweight and do not require the hassle of adding gas and oil to the machine. Rather, the users only needs a long outdoor extension cord and a power source to operate the snow blower. Below are some options to consider: 
Snow Joe Ultra SJ623E 18-Inch Electric
This Snow Joe electric snow thrower weighs only 33.7 pounds making it super easy to maneuver around a driveway. According to the manufacturer, it can handle up to 10 inches of fluffy snow. 
This snow thrower is equipped with a  20W halogen headlight to illuminate the clearing path when dark. This is an extremely useful feature since it is not always possible to clear snow during daylight hours. 
Keep in mind that this is an electric snow thrower designed with a powerful 15 amp motor. The user will need an extension cord (25 feet minimum and 100 feet max) that is made for outdoor winter usage for this type of machine. 
Since this Snow Joe is electric, there is no need for oil, gas, or routine maintenance that comes with gas-powered snow blowers.  The operator essential plugs it in for use and then stores it away without the need for gas fill ups, oil changes, or spark plug replacements. 
Features:
Single stage
15-Amp electric
Manually operated (no self-propelled)
4-blade steel auger
18 inch clearing width
Corded electric (extension cord not included)
Handles 720 pounds per minute
Throws snow up to 25 feet
180° Adjustable chute
Clearing tool (included)
100 db
---
EGO 21-Inch 56-Volt Lithium-ion Snow Blower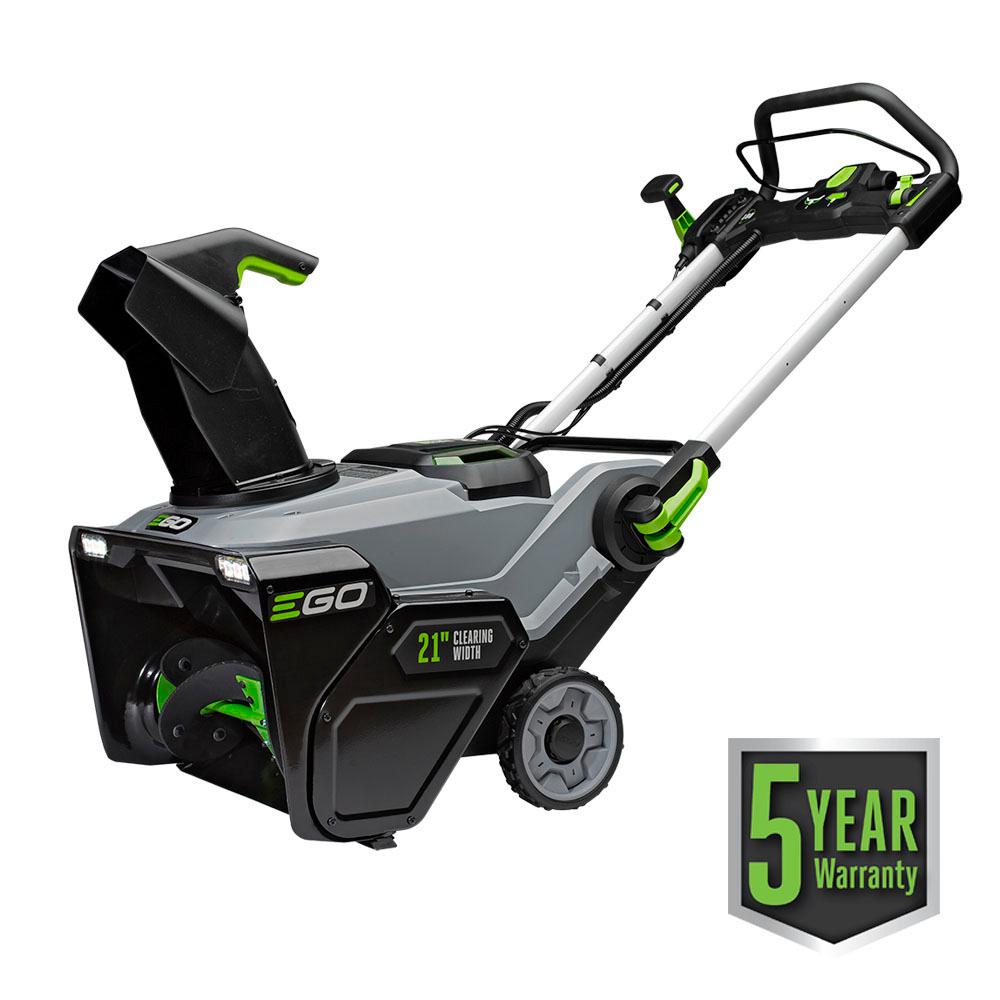 This EGO SNT2103 Snow Blower is powered by two 56-volt Lithium-ion batteries. The batteries are included with your purchase and will work with all other EGO battery powered equipment. You also receive a charger that is able to charge a battery in only an hour. 
Since this is a battery operated snow blower, there is no messy gas or oil to handle. Furthermore, the engine does not require the typical maintenance involved with gas powered snow blowers such as oil changes and spark plug replacements. 
Starting the engine does not require a pull start, prime, or choke. With a push of a button, this EGO snow blower will be ready to go in minutes. 
The noise factor of this snow blower is much quieter than a gas snow blower. A user of this EGO commented on the Home Depot website that he used it at 1AM without disturbing his neighbors. 
You may be skeptical of the power of this snow blower given it runs on batteries. The big question is, how does it perform? 
This snow blower is ideal for clearing up to 10 inches of snow on a single pass. Amazingly, the performance of  this EGO is on par with many gas powered snow blowers. We encourage you to view the below video to see the power of this snow blower in comparison to a high-quality gas powered Toro. 
Overall, this is a much lighter weight option compared to many traditional snow blowers at about 64 pounds. Most older adults who are physically able to snow blow will not have issue with maneuverability with an average snowfall. 
A 69 year old user of this snow blower commented the following on the Home Depot website, "I found it to be extremely light and easy to use. I used it last week when we had a slushy snow of 4-5 inches. It handled the snow easily and I had no problems."
Features:
21 in. clearing width
13 in. intake height
64.155 pounds
Battery powered
Two 7.5Ah lithium-ion batteries (included)
Charger (included)
Up to 35 feet snow discharge
180° chute side to side control
---
Toro Electric Power Shovel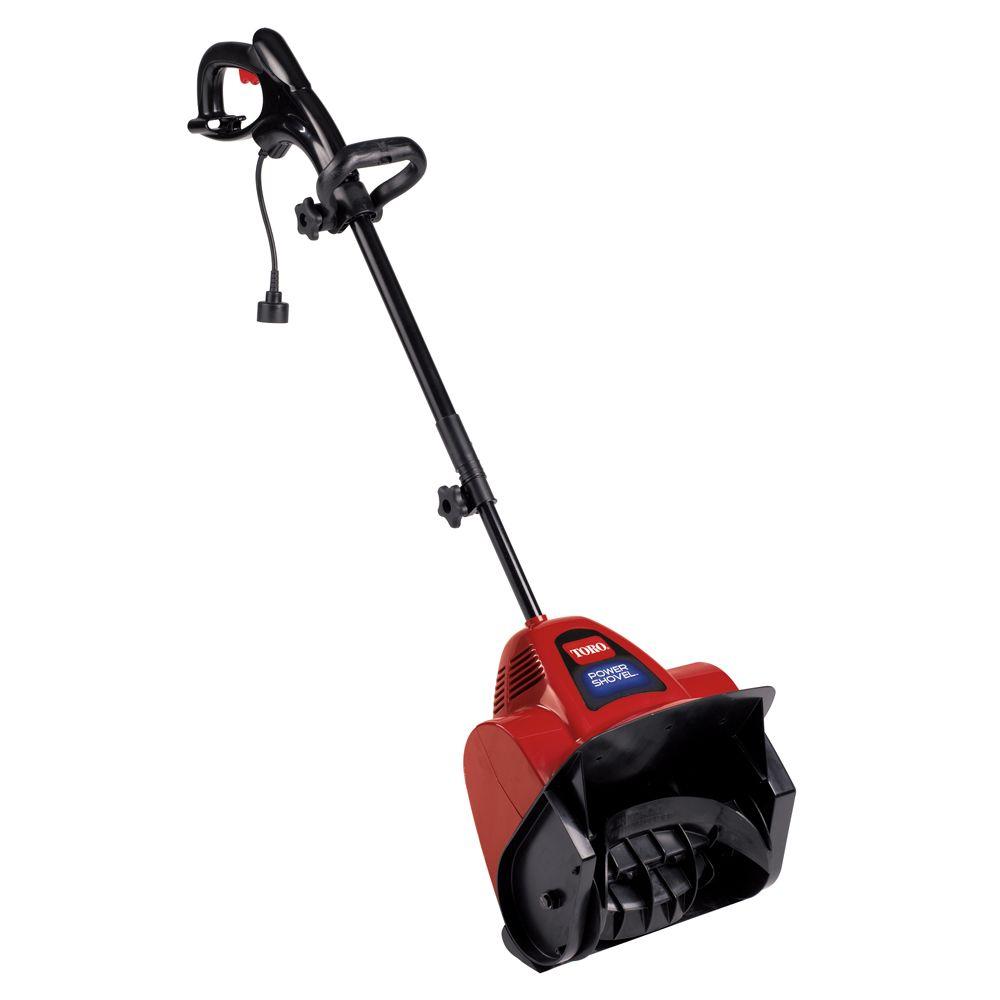 While this is not technically a snow blower, it is an excellent option for seniors who might not care for the bulk or weight of a traditional snow blower. This Toro electric snow shovel weighs only 13.5 pounds, but it is powerful enough to clear up to 6 inches of snow (2 to 4 inches recommended at a time).
This power shovel has a 12 inch clearing width and will throw the snow up to 20 feet. The intake height is 6 inches. 
We love the telescoping handle on this shovel because it allows for adjustment based on the user's height or comfort. This might sound like a minor feature but for a senior (or anyone really) who might not have great physical mobility, it can make the snow removal process much more pleasant. 
Check the video below to see this power snow shovel in action. We think you'll be surprised at how well it can clear snow. 
Features: 
7.5 Amp
Corded electric (extension cord not included)
12 inches clearing width
6 inches intake height
13.5 pounds 
Adjustable telescoping handle
---
Dakota SnoBlade Shovel with Wheels
Okay, this is obviously not a snow blower. However, we thought we would suggest this shovel for those seniors that still want to shovel, but potential do not do so because of the effort it takes. 
This Dakota SnoBlade is a shovel with wheels, which takes a lot of the physical labor out of the snow shoveling process. The manufacturer states that this shovel will clear a driveway and sidewalk in half the time with half the effort. This potentially makes shoveling a reality for some people who otherwise are limited with the physical labor they can perform. 
Please take a look at the below video to get an idea of how this shovel performs. You can see how quickly it clears a driveway without the need for the typical repetitive bend of the knees and back of traditional shoveling. 
---
Final Thoughts
One of the most important things is to know your limitations when handling snow removal. While the above tools in our best snow blowers for seniors lists will typical make clearing snow much easier than traditional shoveling, they still will require a bit of labor. This is especially true if the snow is wet and heavy. 
Here are some snow removal tips for seniors to help make things a bit easier: 
Clear snow more frequently – Waiting for the snow to stop before you begin snow blowing or shoveling can lead to a grueling snow removal process if the accumulation is significant. If you are expecting several inches of snow, it is often best to remove the snow a few times instead of all at once. This will reduce the stress on your body from trying to clear a heavy snowfall in one snow removal session. 
Dress appropriately – The snow removal process is much easier when you are well protected from the elements but not overheating.  Layer up your clothing and adjust accordingly as you are working to clear your driveway. 
Get help – If you feel that snow removal is no longer a possibility on your own. you should seek someone that can help. Of course, hiring a professionally is an option for many people. Additionally, there are free options if you do not have the means to pay for a snow removal service. Many areas have local volunteer services that assist senior citizens with clearing their snow for free. Your local government may also have programs aimed at helping as well. Lastly, don't be afraid to ask a neighbor or your church for help. 
Don't rush – Your heart works overtime in the cold weather while you labor to clear the snow. Take it slow and allow time for breaks. Additionally, many people forget to stay hydrate because snow blowing or shovel is not always associate with exercise. Drink enough water to stay hydrated just as you would for exercising. 
Please consider also reading our article on the best snow shovels for the car. This is a good tool to keep in the trunk for not only senior drivers but anyone who may potentially