Best Gardeners Hand Creams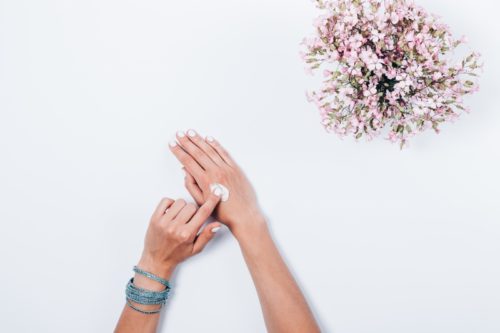 Any true gardener will tell you that it is not unusual for their hands to take a beating while gardening. They often become dry, chapped, and cracked among other issues. Finding a high quality hand cream that actually works is often essential for gardeners to receive relief from a long day in the garden. 
We have compiled our picks for the best gardeners hand creams below. Out of the nine selections below, we believe that most readers will find a product that will be there go-to for gardening protection, relief, and beyond. 
1- O'Keeffe's Working Hands Hand Cream
O'Keeffe's in one of the most popular and highly rated hand creams on the market. 
This product is best for healing or relieving dry and cracked hands. When applied, it provides a layer of protection on the skin that deters  moisture loss.  
This is a thicker style of hand cream that won't easily rub off like cheaper products. when first removed from the container, it almost has a waxy feel to it. However, it becomes more like a lotion as it is worked into the skin. 
O'Keeffe's lacks the extremely greasy feel that is common with many hands lotions. Additionally, while the product container pictured above is on the smaller size, a little amount of hand cream goes a long way. A small dab will cover a large portion of the hands. 
Several people have commented that there was no stinging when this hand cream was applied. However, O'Keeffe's does state that mild stinging can occur with severely dry skin. 
O'Keeffe's comes in the 3.4 ounce jar as pictured above. As an alternative, it can also be purchase in a 3 ounce tube as shown here on Amazon.com. 
Since the feet also may need some relief from a long day in the garden, O'Keeffe's also makes a foot cream that is a favorite for healing dry and cracked feet. View the O'Keeffe's Foot Cream on Amazon. 
Product Details:
Comes in tube or jar
Establishes a protective layer
Increases moisture 
Deters moisture loss
#1 hand cream in America at time of article
Made in USA
---
2- Earth Therapeutics Gardener's Hand Repair
Earth Therapeutics Gardener's Hand Repair is formulated out of natural shea butter and oatmeal. These ingredients work in tandem to moisturize and alleviate dry and cracked skin. 
Furthermore, the product contains Alpha-Hydroxy Fruit Acid Complex, which is a natural acid found in food. As Webmd explains, this ingredient may remove dead skin and help promote thicker skin layers.  
Earth Therapeutics has been around for over 20 years. They have built a reputation for high quality body products that actually work while also being budget-friendly. 
Product Details:
6 ounce tube
Designed to help heal dry and cracked skin 
Provides moisture 
Protection against the elements
Can be used on knees, elbows, hands, or other dry areas 
---
3- Burt's Bees Ultimate Care Hand Cream
Burt's Bee is likely best known for their popular lip balms. They do, however, produce an amazing hand cream. 
This product uses ingredients such as pumpkin oil, green tea extract, baobab oil, and watermelon seed oil to offer natural hydration and moisturization to the hands. It also includes fruit acid complex to supply light exfoliation to the skin.   
This hand cream is unscented, which may appeal to many men gardeners (or even women) who do not care for the strong fragrances of some of the other hand creams or lotions out there. 
According to Burt's Bee, this hand cream has been clinically shown to provide moisturization for the complete day. In other words, you likey don't have to carry the tube around with you for constant application. 
Product Details:
3.2 ounces
Made without parabens or phthalates
Unscented
Noteable ingredients:  Baobab Oil, Watermelon Seed Oil, Pumpkin Oil and Green Tea extract 
Moisturizer 
---
4- Crabtree & Evelyn Ultra-Moisturising Gardener's Hand Cream
This Crabtree & Evelyn Hand Cream uses a lot of herbs as ingredients that you might find in your garden or yard. This includes yarrow, clover, and calendula that assist in conditioning the hands while providing a soothing effect. 
Two vital ingredients included in this hand cream for moisture replenishment are shea butter and macadamia seed. These ingredients work with the included Vitamin E to contribute to the hydration of the skin. 
Other notable ingredients include extracts of rosemary leaf, sage leaf, and cucumber fruit. The rosemary not only provides a pleasant scent but has the ability to be an antioxidant. Additionally, the sage conditions and the cucumber fruit clarifies, soothes, and hydrates. 
Overall, the ingredients all contribute to a formula that will likely work wonders for many gardeners' hands that have been roughed up by the elements and hardwork. 
Product Details:
8.8 ounces
Acceptable for daily use
Provides moisture 
Buttery texture
Noteable ingredients: shea butter, macadamia seed oil, rosemary & sage leaf extract, and cucumber fruit extract. 
---
5- Miracle of Aloe Miracle Hand Repair
The Miracle Hand Repair is a aloe based cream that is designed to eliminate dry skin with its 60% pure aloe vera gel. The aloe absorbs into the skin instead of remaining on the skin surface only to be rubbed off.  
This product is lightly scented so it won't overpower most sensitive noses. It is also a non-greasy formula that leaves the hands ultra smooth and not an oily mess. 
Miracle Hand Repair has received many stellar reviews from Amazon. One five star review from a gardener stated the following:
"My hands get so dry from gardening. Miracle Hand cream is thick but absorbs quickly. I order it over and over again.
Product Details:
8 ounces (1,4, & 32 ounce also available)
Reduces flaking and redness
Safe for diabetics
Skin penetrating moisturizer 
Organically grow aloe used
---
6- Outdoor Hands Intense Skin Therapy Cream
Outdoor Hands was started by a clinical pharmacist who was on a quest to develop a product that could effectively heal cracked and chapped hands. After many attempts, the Outdoor Hands formula was finally developed that healed cracked hands. This is not only one of the best hand creams for gardeners, but also for general use.  
Outdoor Hands Skin Therapy Cream is made from a mix of organic oil and botanical extracts that contribution to not only healing cracked hands, but also moisturizing them as well. The cream is absorbed by the skin to provide a lasting soothing feeling without the oiliness found in inferior creams. 
Product Details:
3.4 ounces per tube
Relieves cracked/chapped hands
Pharmacist formulated
Supplies moisture and soothes
---
7- Workman's Friend Barrier Working Hand Cream
This Workman's Friend Hand Cream provides a barrier on the hands after applied. This barrier helps protect the skin from becoming difficult to clean from things like dirt and plant stains. In other words, you won't waste  your time scrubbing your hands after gardening from the inevitable dirt and grime that builds up.
The manufacturer even states that this cream can provide a barrier of protection from poison ivy and poison oak to help deter these plants from unexpectedly ruining your weekend.
This cream also moisturizes and hydrates the skin. The manufacturer states to apply every four hours for the best results.
This is a non-greasy cream which is important to help maintain a grip on gardening tools. It is also non-scented making it appealing to a wide variety of users. 
Product Details:
3.38 ounces
Moisturizer
Prevents cracked and chafed skin 
Protective barrier created in 3-5 minutes after application
Barrier does not wash away with typical handwashing 
Best when applied every 4 hours
---
8- Gloves In A Bottle Shielding Lotion
Gloves In A Bottle works similar to the Workman's Friend hand cream above. When applied to skin, it provides an invisible protective layer to help keep the messy things you come in contact with off the skin. This layer becomes part of the outer skin, which allows the shielding lotion to not easily wear off.   
This product also moisturizes and quickly absorbs into the skin. It lasts up to 12 hours to provide protection and hydration. It can be used beyond just the hands, if desired, on areas such as the arms, legs, and face. 
Product Details: 
2 ounce bundle (2-2oz bottles)
USA made
Moisturizes 
Cruelty- free
Barrier does not wash away with typical handwashing 
Lasts 4-12 hours
---
9- Montana Emu Ranch Worker's Cream
Montana Emu Ranch Worker's Cream is geared toward people looking for a product designed for protection against the harsh elements. This is an aloe gel based cream with Emu Oil that both work to protect the skin. It can be used on both the hands and feet for moisturization, crack prevention, and the reduction of flaky skin that can often be itchy. 
---