The 8 Best Axes for Kindling: A Buying Guide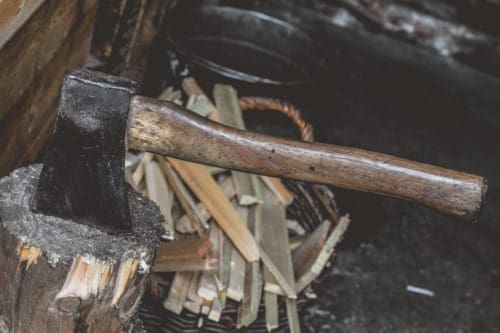 If you are here looking for a kindling axe, you are likely aware of how expensive kindling can be to purchase. At a home improvement store near us, it is close to $40.00 for 25 pounds. 
The much more economical and arguably rewarding approach is to purchase a high-quality axe to produce your own kindling. These axes are relatively inexpensive and will allow you to create kindling at a fraction of the cost from purchasing it at a store. 
Below are our picks for the best axes for kindling. First we provided a comparison summary of the axes in the below table for those looking for quick results. We then provided more detailed about these axes under the table for those that want to dig into these products a bit deeper. We hope you find an axe for kindling that you will be happy with for years or maybe even a lifetime ahead.  
Comparison Summary: Kindling Axes
| Image | Product | Length | Handle | Purchase |
| --- | --- | --- | --- | --- |
| | Estwing Fireside Friend Axe | 14 inches | Forged steel with nylon-vinyl reduction grip | |
| | Fiskars 375501-1001 Hatchet | 14 inches | FiberComp | |
| | Estwing Sportsman's Axe | 12 inches | Genuine leather grip over tool grade steel | |
| | Husqvarna H900 | 13 inches | Fiber-reinforced PA | |
| | Kindling Cracker King | 17 inches | Not Applicable | |
| | Gransfors Bruks Wildlife Hatchet | 13.5 inches | Hickory Wood | |
| | Gerber Freescape Hatchet | 17.5 Inches | Composite | |
| | Fiskars 378501-1002 X7 Hatchet | 14 inches | FiberComp | |
---
Best Kindling Axes
1- Estwing Fireside Friend Axe – 14″
The Estwing Fireside Friend is a 14-inch long splitting axe forged out of a single piece of American steel. The steel is coated blue to match the shock reduction grip that is made from nylon-vinyl.
The grip supplies ample room to place the hands in a variety of position that allows for safety and comfort. You'll feel in control without the worry of the tool slipping dangerously out of the hands.
Opposite of the sharp blade is a maul that can be used to hammer wedges, spikes or pegs among other uses. The large maul head also adds weight to the axe to help it not get stuck while splitting.
This axe is a perfect size to reduce smaller diameter logs into split firewood, yet light enough at four pounds to easily produce kindling. If you are looking for an axe that will provide you with control and balance, this is one to consider.
This axe comes with a durable nylon sheath to protect the blade and prevent users from getting injured. Reportedly, the sheath was once not included, so it is a nice bonus to now have it include with the purchase.
Product Summary:
14 inches
Splitting maul
Sheath (included)
Nylon-vinyl shock reduction grip
Made in USA
---
2- Fiskars 375501-1001 Hatchet 14″
It's tough to go wrong with a Fiskars tool. In fact, we have never used one that did not provide top-notch performance.  
This Fiskars hatchet is optimal for handling smaller chopping jobs, especially for creating kindling. Its 14-inch size makes it easy to store or take along on a camping trip for logs and kindling for the campfire grill.
This Fiskars hatchet is extremely simple to maneuver and has an efficient weight distribution that allows for precise chopping. The blade features an ultra-sharp edge that greatly minimizes the labor needed to complete tasks. 
Product Summary:
14 inches
Shock-absorbing handle
Blade cover (included)
Ulta-sharp blade
Chops small or medium logs 
---
3- Estwing Sportsman's Axe – 12″
The 12″ Estwing Sportsman's Axe is forged out of a single piece of steel similar to Estwing Fireside Friend shown above. The blade is both hand sharpened and polished, which should speak to the quality of this axe.
It is an excellent axe for chopping smaller logs or branches. Of course, it also works great for splitting wood into kindling.
One feature we love about this axe is the genuine leather hand grip. Not only is it classy and beautiful, but many people state that it feels extremely comfortable in the hand.
A complaint that some have with the grip is that it is a bit slippery, especially when wet. You may want to wear a glove with grips if you purchase this axe and do not feel comfortable maneuvering it.
The axe comes with a nylon sheath to protect the user and the blade. This is a high-quality axe to keep at home or take on the road when you venture into the wilderness.
Product Summary:
Length: 12 inches
Sheath (included)
Real leather grip
Made in USA
---
4- Husqvarna H900 13″ Composite Hatchet
The Husqvarna H900 is another high-quality and durable hand axe. It is often cited as a favorite survival hatchet, but it can, of course, be used at home around the yard,
It is equipped with a fiber-reinforced PA (composite) shaft. If you prefer a wood handle, Husqvarna makes a 13-inch hatchet with a hickory shaft found here on Amazon.
The super sharp axe head has a non-stick coating to prevent resistance between the axe and the log. This allows for smoother splitting as friction is reduced. Across from the blade is a hammer head that can be used for wedges, stakes, or similar purposes.
This hatchet weighs only about 2 pounds, so it is ideal as a lightweight tool that is need for long distance hauls such as hikes. It is best suited for light duties such as splitting small logs or kindling.
Product Summary:
Length: 13 inches
Composite handle
Hammer opposite blade
---
5- Kindling Cracker King Firewood Kindling Splitter
This Kindling Cracker King is a safer alternative to a swinging axe for producing kindling. You simply set a log vertically on the blade and then pound the log into the blade. The extremely sharp blade will easily split firewood with less risk of injury because of the stationary blade.
This kindling splitter is 17 inches tall with a top ring of 9 inches, which allows it to accommodate larger log sizes. It is equipped with bolt holes that permits the splitter to be mounted to a secure structure such as a large tree stump for ample stability.
It is made out of a durable cast iron in Australia that will provide many years of use with minimal maintenance. If you don't have one already, it is recommended to purchase a heavy hammer, such as this 3-pound Estwing Sure Strike, to drive the logs into the blade.
The Kindling Cracker King is a tool that is best to see in action before purchasing it to see if it is right for you. Please view the below video to get a visual idea of how this splitter works.
While this splitter is generally more expensive than most other best axes for kindling featured here, it is highly efficient at splitting wood, even into kindling size. If you find yourself constantly loading up the firewood cart, you'll be thankful you have this handy tool by your side.
Product Summary:
Length: 17 inches
Cast iron material
Made in Australia
Ring: 9 inch diameter
Mountable with bolts
---
6- Gransfors Bruks Wildlife Hatchet 13.50 Inch
There is no doubt that this Gransfors Bruks is a high quality hatchet that will likely last a lifetime. If you are looking for a traditional style axe/hatchet and are willing to pay a premium, Gransfor Bruks should be one of your top choices.
Keep in mind that these are hand forged with great detail placed into avoiding releasing axes with faults. Considering the strict and traditional production techniques, along with demand, Gransfors Bruk axes can be difficult to come by at times. However, this is the type of axe that is worth waiting for to be produced and available.
The handle is made out of hickory wood that undoubtedly feels solid in the hands. The blade is razor sharp from the get go, which should be expected with this superior quality axe. Additionally, you're likely not going to need to sharpen this hatchet for some time with normal use.
In addition to producing kindling, this axe can be used to split small logs or chop branches. It's a solid choice to bring along camping due to its small size and weight.
Product Summary:
Length: 13.5 inches
Made in Sweden
Weight: 1.3 lbs
Leather sheath (included)
---
7- Gerber 17.5-Inch Freescape Hatchet
The Gerber Freescape Hatchet features a PTFE coated blade that assists in minimizing friction for smooth chopping through wood. Gerber utilizes a unique grind technique on the forged steel blade to produce a super sharp edge that will last for chop after chop. 
This hatchet is made with a shock absorbent composite handle that is ultra durable. The composite material minimizes the weight of the axe keeping its weight around 33 ounces or about 2 pounds. 
This is a bit bigger than the other axes featured here, but it certainly works efficiently for kindling, splitting small logs, and other light tasks. 
Product Summary:
Length: 17.5 inches 
Forged steel head
Heavy-duty composite handle
Sheath (included)
Made in Finland
---
8- Fiskars X7 Hatchet 14 Inch
The X7 is the cheapest priced of our selection of the best axes for kindling. However, we advise against discounting this as an inferior hatchet. You can see how well it performs in the below video on "How to split kindling". It also can be used for chopping small to medium logs for the firepit, chiminea, or other fire source when not used for producing kindling.
The blade is coated to reduce the chances of sticking to the wood. Similar to other Fiskars axes, the X7 has an ideal weight distribution that contributes to its efficiency. The extremely sharp blade edge will chop without the need for resharpening well into the future with moderate use.
Product Summary:
Length: 14 inches
Width: 5 inches
Blade cover (included)
Forged steel blade
---
How to Split Kindling?
Instead of balancing the log vertically and chopping down, a safer method is to place the wood flat as demonstrated in the below video. You will be able to achieve more precise splits with potentially less risk of injury to the hands and other body parts. The hatchet being used in the video is the Fiskars X7 featured above.
Final Thoughts
We love the Estwing Fireside Friend because it provides the best value in comparison to its overall features. However, if your budget can afford it, get yourself the Gransfor Bruks. This is an axe that will last a lifetime with proper care and something you will likely pass on to your kids or grandkids. Overall, you really cannot go wrong with any of these picks for a kindling axe. We would be extremely happy to add any of these to our collection of axes.