Most snow blower are equipped with two wheels at the back of the machine to help move it along as it clears snow. A snow blower with tracks has tracks like a military tank instead of wheels. The tracks provide superior traction, which is especially useful for removing snow on inclines and when the snow is particularly deep.
Track-drive snow blowers are expensive. These machines typical get the most bang for a buck in climates that receive a significant amount of snow each year. This means places like Minnesota, Michigan, Vermont, Maine, New York, and many areas of Canada to name a few places.  They are also extremely useful for people who have a lot of pavement to clear that is not particularly flat or even. 
Below, we have compiled our picks for the best track snow blowers.
1 – Honda Hydrostatic Track Drive 2-Stage Snow Blower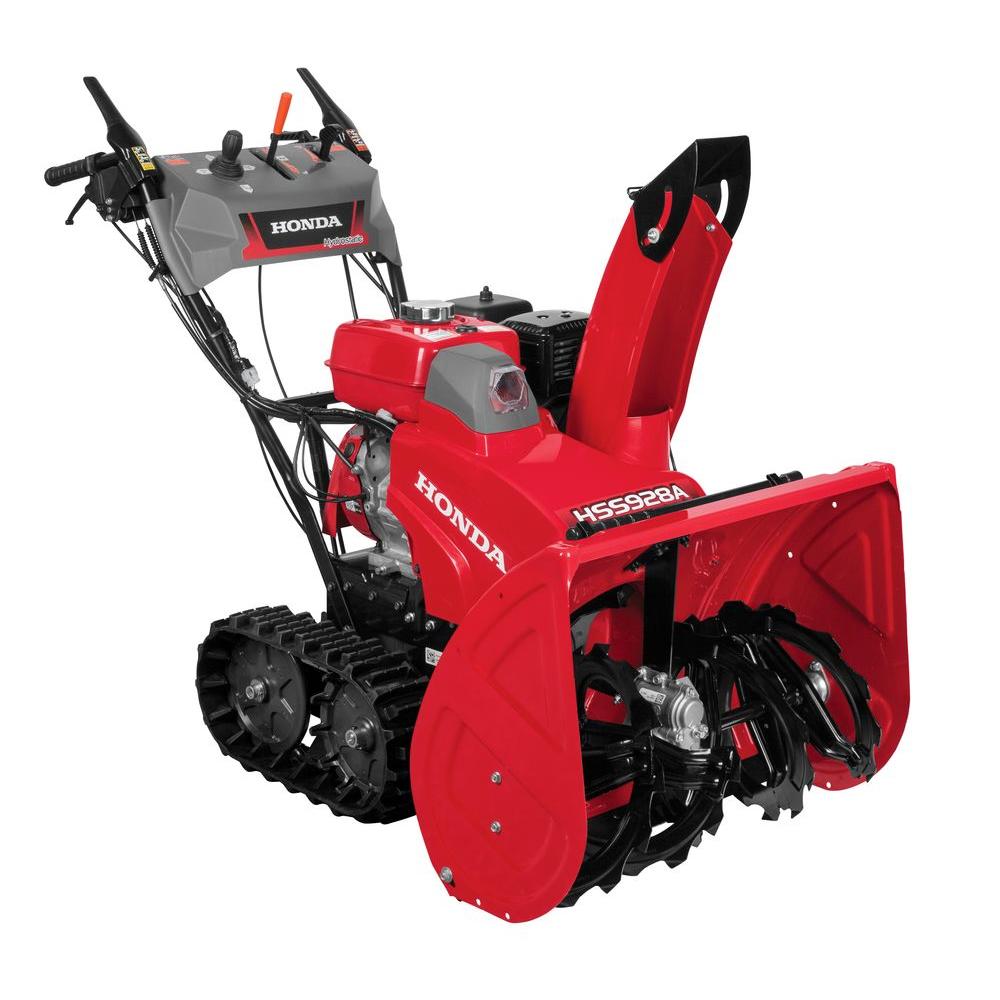 Honda lawn mowers typically rank at the top of our list for quality. The same holds true for Honda snow blowers as well. This is particularly true for this Honda HSS928AAT. Let's get into why we rank it as our top pick. 
It features a  270cc GX OHV commercial grade engine. Some of the benefits of this type of engine include extended service life of the engine, reduced oil consumption, elevated emissions operation, and more efficient fuel mixture intake. 
This two-stage snow blower launches snow up to 52 feet. It will be no challenge to clear the typical home driveway and even many commercial pavement areas. It will clear a path up to 28 inches wide and up to an amazing 1,900 pounds of snow per minute. 
This Honda does not have an electric start, which is a bit of a downside. However, several users have stated that this snow blower starts after one pull time after time. If you are looking for an electric start snow blower, you should consider the Honda HSS928AATD. 
Of course, this Honda is equipped with track drive which offers superior traction to allow for no slipping and sliding over the surface. It is powerful enough to clear snow banks and is recommended for inclines or rougher surfaces. Honda even states that this snow blower can be used on outdoor stairs to give you an idea of its versatility and power. 
One feature we greatly appreciate about this Honda snow blower is its electric joystick chute control. You simply push the joystick in one of four directions to direct the snow as desired. There is no need to uncomfortably keep bending over to manually adjust the chute as is required on many other models. 
Features Summary:
Two-stage gas powered
270cc Honda GX OGV engine
28 inches clearing width, 21.7 inches clearing height
Hydrostatic drive
LED light for operation when dark
Left and right controls levers
Heavy-duty augers with ice breaking capability
Throttle control slow to fast
Forward and reverse speed control
Gas tank cap unscrews with gloves on
Chute clearing tool (included)
3 year warranty
---
2 – Cub Cadet Three Stage Track Drive Snow Blower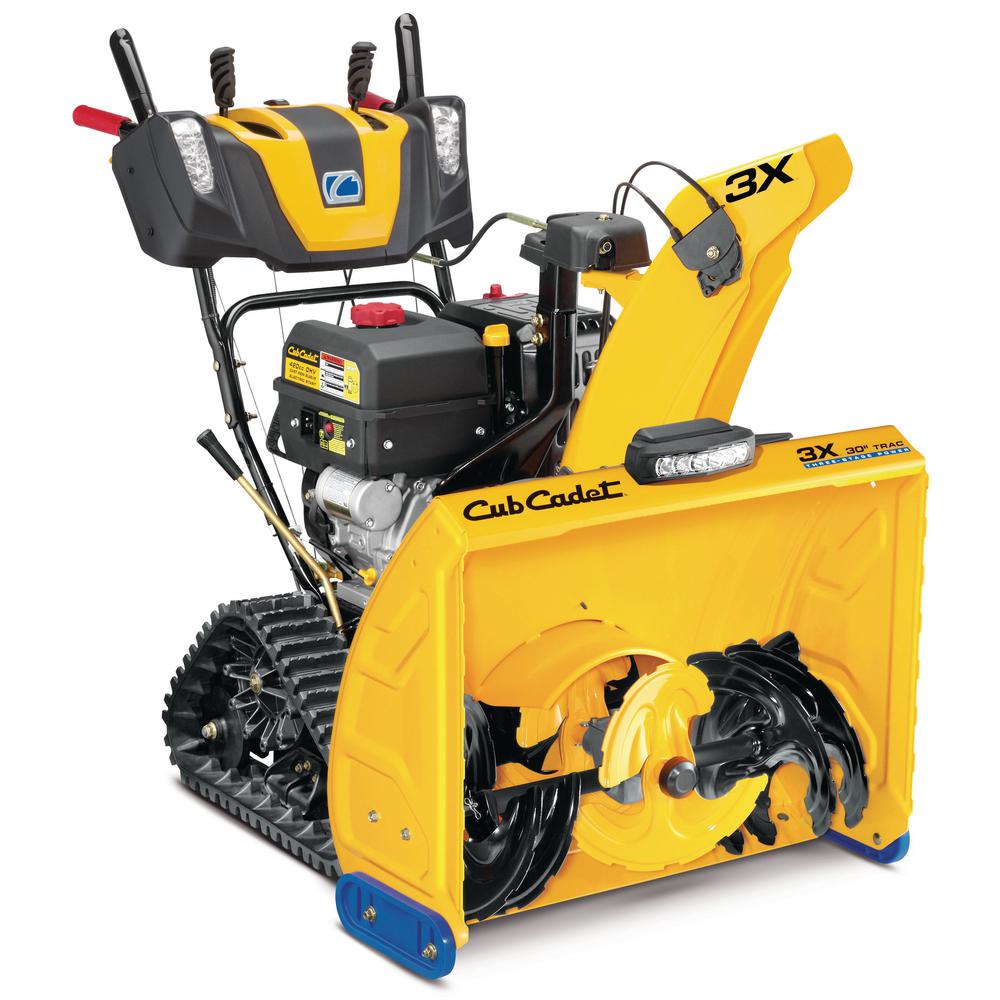 +
The Cub Cadet 3X 30 Trac features three levels of adjustability for the track drive to power through various surface types and snow conditions. It offers 6 forward and 2 reverse speeds that allow the user to comfortably propel the snow blower at their own speed. 
The engine is a 4-cycle, 420cc OHV. There is no need to pull start the engine. You simply plug the snow blower into an outlet using an extension cord and push-button electric start the machine. Once the snow blower is started, you unplug the extension cord and start clearing snow.  
This snow blower clears a 30 inch width and has an intake height of 23 inches. It can be safely be used when light is limited because of its two powerful LED headlights. 
This is a three stage snow blower that will handle a driveway up to 15 cars or greater and handle both smooth or gravel surfaces. 
Features Summary:
Three-stage gas powered
420cc OHV 4-cycle engine
Push-button electric start
30 inches clearing width, 23 inch intake height
200° chute rotation
3 year limited warranty residential/1 year limited commercial
Two LED dash lights plus a LED bar on top of the intake
6 speeds forward and 2 speeds in reverse 
Heated grips
---
3 – Troy-Bilt Two-Stage Track Drive Snow Blower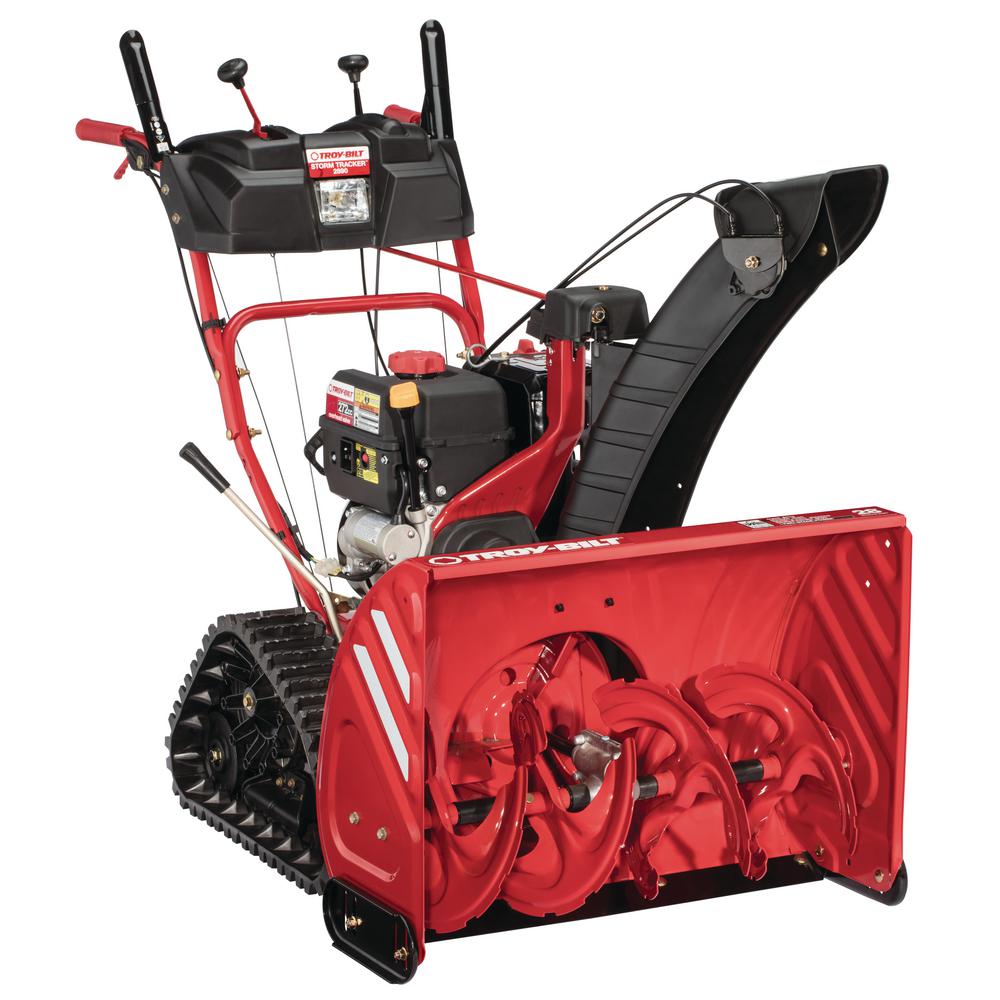 The Troy-Bilt Storm Tracker 2890 is manufactured with a 28-inch clearing width and a 21-inch intake. The size of this snow blower is sufficient for clearing most residential driveways and sidewalks. 
This is a two-stage snow blower where the augers hack aways at the snow and ice to prepare it to allow the high-powered impeller to release the snow through the heavy-duty chute. 
The chute is controlled by a crank control making it less high-tech compared to the Honda featured above. However, this snow blower is much more affordable in comparison to that Honda. The chute allows for 200° of rotation so there are ample angles to throw the snow off the clearing path.
The manufacturer states that this snow blower is best for removing snow from driveways about three cars wide by three cars long. In other words, it will have no problem clearing a typical residential driveway that received a significant accumulation of snow each year. 
Features Summary:
Two-stage gas powered
28 inches clearing width, 21 inches intake height
272cc OHV 4 cycle engine
6 speeds forward, 2 reverse speeds
D-Track drive
2 year limited warranty 
Works on gravel driveways
Heated grips
In-dash headlight
---
4 – Ariens Compact Track Two-Stage Snow Blower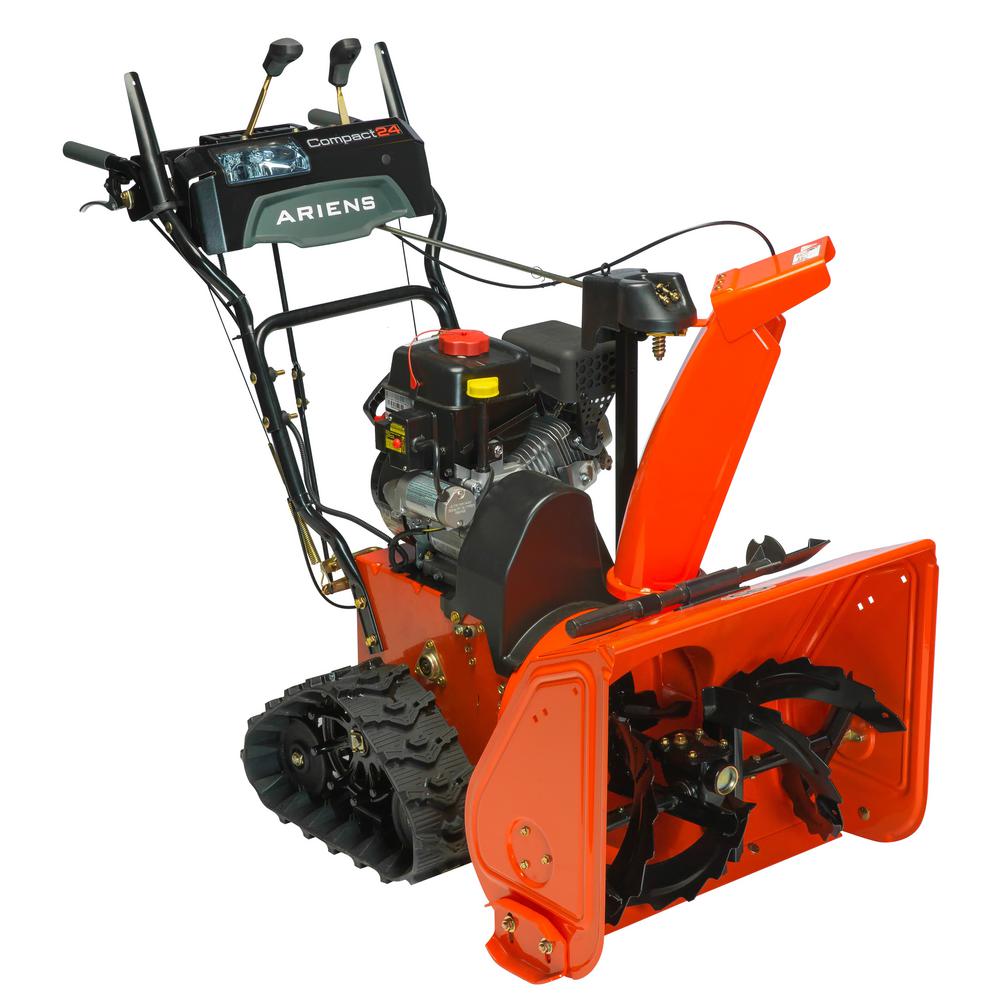 The Ariens 920028 is an excellent snow blower for people looking for the track system without the bulk and weight of many other models. It is an extremely efficient snow blower for home use – particularly if you are required to clear inclines or need traction. 
This snow blower features 223cc Ariens AX engine. It clears a snow width of 24 inches and has an intake height of 20 inches. Similar to other snow blowers featured here, it has 6 forward and 2 reverse speeds to allow the user to work at their own pace. 
The snow blower can launch snow up to 40 feet for superior clearing ability. The chute has a turning radius of 200° to allow for a precise way to place snow where you want it. 
Lastly, this snow blower features a push-button electric start so there is no need to fumble around with a pull start. 
Features Summary:
Two-stage gas powered
223cc Ariens AX engine
6 speeds forward, 2 reverse speeds
24 inches clearing width, 20 inches intake
Push-button electric start
3 year limited warranty
Halogen headlight
All steel auger
---
5 – Ariens Platinum Rapid Trak SHO Snow Blower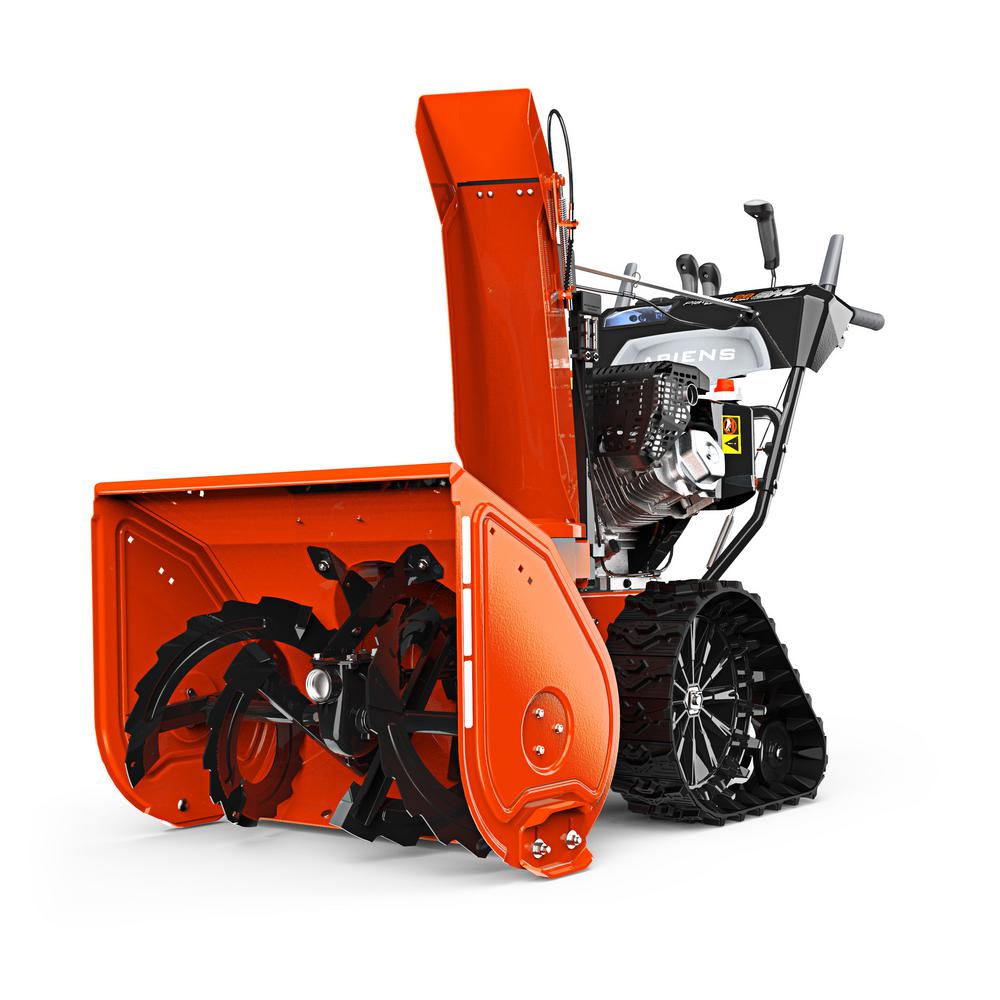 The Ariens Platinum Rapid Trak SHO 921057 features an additional 4 inches of clearing width at 28 inches in comparison the Ariens snow blower highlighted directly above. It also provides a larger intake at 21 inches. 
The snow blower has a 369cc Ariens AX 4-cycle engine. It equipped with electric start to get you snow blowing as quick as possible.  It has 6 forward and 2 reverse speeds for versatility in how you wish to operate the machine. 
It has three position: track, wheel, and dig-in. Track functions how a normal track snow blower would operate with grip created by the track. Wheel allows the snow blower to move like a typical wheel-drive machine. Finally, dig-in allow the track wheel to dig down into hard-packed snow for performance. 
Snow can be discharge out of the machine up to 55 feet. The remote steel chute control has 200° of a turning radius to throw snow where you need it. 
Features Summary:
Two-stage gas powered
369cc Ariens AX 4-cycle 
28 inches clearing width, 21 inches intake height
Electric start
All steel chute
200° turning radius of chute
Halogen headlights
Hand warmers 
---
6 – Troy-Bilt Vortex Tracker 2890XP Snow Blower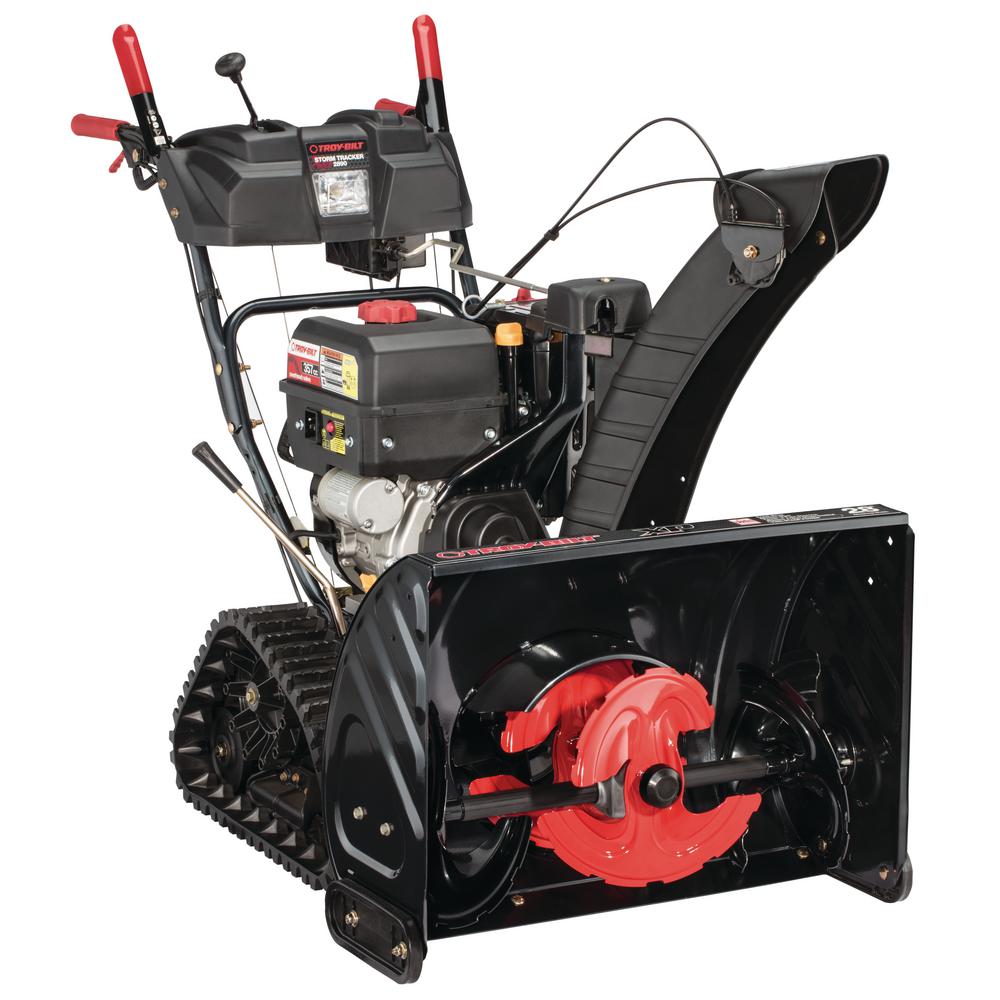 The Troy-Bilt Vortex Tracker 2890XP is a new to the market track drive snow blower so we are still waiting for more user data to fully judge this one. However, it's one to watch and consider for a future track snow blower purchase. 
It features a 357cc engine with an electric start that requires minimal effort to get the machine running. It also offers 6 forward and 2 reverse speeds to control the snow blower how you want. 
The clearing width is a large 28 inches with 21 inches for the intake height. It is best for snow up to 18 inches, so for most people, this will be powerful enough to handle just about any snowfall. 
Features summary:
Three-stage gas powered
28 inches clearing width, 21 inches intake height
Troy-Bilt 357cc engine
Electric start
Plastic chute
200° chute turning radius
Max throw distance: 40 feet
---
Frequently Asked Questions
When do I need a track snow blower?
Track snow blowers are best to use when traction is an issue. For example, driveways with inclines will benefit from the traction control of a track-drive snow blower. They help ensure safety and efficiency in most winter environments.
What are the downsides of a track-drive snow blower, if any?
Performance on icy surfaces can be an issue as the tracks occasionally struggle on this type of surface. Is this a major issue? No, many people indicate only minor traction issues on ice, if any. In other words, it is not a deal-breaker that will make most people switch to buying a snow blower with wheels.
Are track snow blowers more expensive than snow blowers with wheels?
Generally, yes. You will pay a few hundred dollars more for the superior traction of a track snow blower in comparison to one with wheels.
How many stages are track snow blowers?
Typically they are gas-powered, two or three-stage snow blowers. They are commonly suitable for uneven or gravel surfaces since the auger does not make contact with the ground. Of course, read the owner's manual to confirm a particular snow blower is acceptable to use on gravel or other uneven surfaces.
Do snow blowers with tracks come with an electric start feature?
It depends on the model. For example, the Honda featured above lacks electric start but other model featured in this best track snow blower article do have electric start.
How heavy are track snow blowers?
The average weight of the six snow blowers above is approximately 277 pounds. These are not light machines. If you are looking for a lighter type of snow blower, check out our articles on snow blowers for seniors and women.
What is the benefit of a track over wheels?
A track provides better traction since more area hits the surface in comparison to a tire. Additionally, there is no need to worry about flat tires or filling the tires with the proper psi when it comes to a track.