Best Fire Pits Under $200 for the Backyard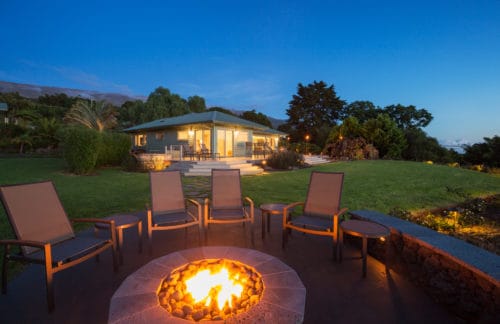 Finding one of the best fire pits under $200 can be challenging given the large quantity available for purchase. Below we have provided 11 high-quality options for you to consider for your patio or yard. We are confident that you will find a fire pit that will fit your space for a reasonable price.
(1) Sunjoy L-FT629PST Squaw Valley Fire Pit
This Sunjoy L-FT629PST Squaw Valley features a beautiful powder-coated steel and copper color finish. The stamped diamonds on the side provide a subtle charm, especially when the flames shine through to illuminate the yard.
This is a larger 35-inch fire pit which can accommodate plenty of wood for a fire that will last for hours. We recommend viewing the below video to get a better idea of its size and appearance. The above picture does not do it justice.
Durability is far from an issue with this fire pit. It is built with quality in mind that should have you enjoying fires around it for years to come. Additionally, it is not likely to go out of style any time soon given its elegant but simple design. This fire pit will undoubtedly be the centerpiece of your yard to entertain, relax, or enjoy as you see fit.
Product Summary:
Dimensions: 35.8 x 35.8 x 23 inches
Power-coated steel
Faux copper finish
Stamped diamond pattern
Scuff protector on each leg to protect the surface it sits on
Spark guard (included)
Poker (included)
---
(2) Landmann 26364 Savannah Garden Light Fire Pit
The hugely popular Landmann 26364 Savannah Garden Light Fire Pit provides a durable steel construction that will last for years to come. It is painted with a black sandpaint with a matte black finish to provide a timeless and clean appearance.
The weave pattern not only adds character but also allows air to circulate within the fire pit to help extend the time the fire lasts.
A poker comes with this fire pit that is convenient for lifting the screen or moving firewood within the fire.
To speak of the quality of this Landmann, one reviewer has had this fire pit for over four years and has not experienced any corrosion of the steel. Keep in mind, he did keep it covered.
Product Summary:
28.5 x 25 x 24.2 inches
22 pounds
Spark screen (included)
Poker (included)
**If you like this fire pit, you should also consider this AmazonBasics 23.5″ Fire Pit. It looks almost identical to the Landmann pictured above at a much cheaper price.**
---
(3) Bonnlo Fire Pit Outdoor Wood Burning Table Backyard
---
This Bonnlo 34″ table style fire pit is manufactured with a heavy-duty steel with a black finish that is heat resistant. While the table is steel, it won't permanently be required to be anchored in one place. It light enough to move where you wish to place it in your yard.
The manufacturer states that this fire pit can accommodate up to approximately 8 people around it. It is an excellent option for parties or entertaining as a focal point for guest to gather around in the fire pit chairs for hours of great conversation.
The fire pit comes with a protective mesh fire screen to keep sparks and ashes contained. It also comes with a sizable bowl to catch ashes or debris. The bowl contains six holes to allow rainwater to drain – keeping the interior dry. Additionally, you will receive a grate to allow the wood to rest on inside the bowl along with a poker for adjusting wood or moving the fire screen when hot.
Product Summary:
Exterior dimensions: 32 x 32 x 14.3 inches
Steel construction
Fire Screen (included)
Poker & Grate (included)
Bowl (included)
Fuel: wood, logs, or charcoal
---
(4) VonHaus Geo Fire Pit
The VonHaus Geo Fire Pit is equipped with a deep steel bowl to comfortably hold a sufficient amount of firewood for extended enjoyment time around the flames. You can see in the video below that it can conservatively hold at least 6 or 7 pieces of firewood. This is a fire pit we would strongly consider for its wood capacity and ability to keep guest warm.
This fire pit is made from strong steel that is finished with an elegant distressed bronze. It also has a gorgeous geometric pattern around the side that provides a modern but classy look.
It comes with a mesh spark guard to keep people safe from sparks, ashes, and so on. A poker also is included for moving wood inside the fire pit or lifting the hot spark guard.
Product Summary:
Dimensions: 23.5 D x 24.5 H inches
16 pounds
Heavy-duty steel construction
Spark guard (included)
Poker (included)
Heat Deflector to deter the area below the fire pit from being charred
Fuel: logs or charcoal
---
(5) TACKLIFE Propane Fire Pit Table
Don't want to deal with firewood or the messy ashes and other debris that comes with a traditional wood fire pits? This TackLife fire pit table may be the one for you.
It is fueled by a propane tank that sits in the enclosed table cabinet. The cabinet will easily hold the typical 20 pound propane tank most commonly used on grills.
It produces 50,000 BTU that offers a nice level of warmth for the people gathered around it. It comes with the volcanic stones pictured above to add to the ambiance of the fire pit.
A lid is include with the fire pit to cover up the stones when the fire pit is not in use. This allows the top surface to be used as a table to hold items such as games, drinks and food.
The table top's outside dimensions are 28 x 28 inches. While on the smaller size in comparison to others here for the best fire pits under $200, it will provide ample warmth without getting in the way of your backyard enjoyment.
Product Summary:
Top Dimensions: 28 x 28 inches
Height: 25 inches
Fuel: propane
Heat output: 50,000 BTU
Allows 20 pound propane tank tank storage
Side of table heat control
Volcanic stones (included)
Stainless steel burner
20 inch gas hose (included)
Cover for the volcanic stones/burner (included)
---
(6) Bali Outdoors Propane Gas Table Fire Pit
This Bali Outdoors is another high-quality tabletop fire pit. If you like the TackLife fire pit above, you should also consider this one for your yard.
It connects to a propane tank that fits in the cabinet below the tabletop. The cabinet has enough space for a 20 pound tank so you will have plenty of fuel for many hours of fire.
Similar to the TackLife, this has a 28-inch tabletop. It comes with a lid to cover the burner/lava rocks. This allows the fire pit to convert into a table for a wide variety of uses.
Product Summary:
Dimensions: 28L x 28W x 25H inches
Weight: 70 pounds
50,000 BTU
Fuel: propane
Accommodates a 20 pound propane tank
Push button ignition
Side control panel
Lava rock & lid (included)
---
(7) Legacy Heating COD-WD-28 FIRE Pit
The Legacy Heating COD-WD-28 is unique in that it comes with a stainless steel cooking grate. In other words, you can not only can use this as a fire pit, but also as a way to cook meals like a campfire grill.
This pit is manufactured out of heavy-duty steel and is painted black with a rust-resistant finish. The diamond and square side pattern provides a stylish look for almost any yard.
Unlike many other fire pits, this one comes with a cover that will help protect it from the elements. You'll also receive the spark screen and lifter in addition to the grilling grate as discussed earlier.
Overall, at well under $200 for this high-quality fire pit, this is an excellent value.
Product Summary:
Dimensions: 30 inches diameter, 20 inches height
Weight: 50 pounds
Heavy gauge steel
Grill grate (included)
Spark screen & lifter (included)
Cover (included)
---
(8) KingSo Outdoor Fire Pit
The Kingso Outdoor is an excellent option for a smaller style of fire pit. Its diameter is 22 inches making it large enough to hold standard size firewood, but also being compact enough to easily push aside when not in use. It is a nice choice for a fire pit you can both use at home and take along to the beach or camping.
It features a tough steel frame that will withstand the elements and the heat. It is also painted black with a heat resistant finish for added protection.
Product Summary:
Dimensions: 22 inches diameter, 20 inches height with screen on
Weight: approximately 11 pounds
Spark screen (included)
Wood grate (included)
Wood handle poker (included)
---
(9) Landmann 28347 Big Sky Fire Pit
The Landmann 28347 provides a rustic wildlife look that would be perfect for a cabin and even in many home yards. The wildlife cutouts are particularly prominent when the flames are blazing behind them.
This fire pit is manufactured with a sizeable bowl at 12.5 inches deep to accommodate a large amount of wood. The diameter is 23.5 inches making it a nice size for the typically backyard.
One reviewer recommended painting this fire pit with a high temperature spray paint before it has a chance to potentially rust. This tip could apply to many paintable fire pits out there because most are not immune from rust. This is something to think about if you want your fire pit to last.
Lastly, the grill comes with a grill grate for cooking. This is a nice addition for people who enjoy outdoor cooking but prefer not to waste propane or charcoal on the traditional grill.
**If you are not a fan of the animal pattern, Landmann makes a similar fire pit with a star and moon pattern. View the Big Sky Stars and Moon Fire Pit.**
Product Summary:
Dimensions: 23.5 inches diameter, 12.5 inches deep
Fuel: wood or charcoal
Animal pattern side cut outs
Poker – 37 inches (included)
Spark guard (included)
Grill grate (included)
---
(10) Bali Outdoors Wooden Fire Pit Chimenea
This Bali Outdoors fire pit is actually more like a fireplace, but we think many readers will still consider this as a viable option. You'll almost feel like you around the living room fireplace with this chimenea in your backyard.
Firewood is loaded through the front sliding door with a significant amount of space to add several logs for hours of warmth. Smoke escapes via the roof of the chimenea to help prevent people close to the fire getting smoke in their face.
Unlike other chimeneas, viewers can see the fire flames no matter where they are seated. The durable cast iron material will stand up to the elements over time and it also provides a stunning rustic look.
Product Summary:
Dimensions: 22 x 22 x 45 inches
53 pounds
Fuel: wood
Cast-iron material
Poker (included)
Log grate (included)
---
(11) AmazonBasics Natural Stone Fire Pit
AmazonBasics has put out a lot of high-quality products and this fire pit is no exception. The table around the fire pit features natural stone with beautiful copper diamond accents.
The bowl measures 22 inches in diameter, which provides ample room for standard 16-inch logs. The spark screen is nicely domed to ensure logs adequately fit beneath it.
One feature of this fire pit that may seem minor but cannot be overlooked are the stabilizing feet. If the location where the fire pit is placed is uneven, these legs adjust in height to allow a stable table no matter where it is placed.
Product Summary:
Dimensions: 33.9L x 23.6H inches
Fire Bowl: 22 inches
Log grate (included)
Spark screen (included)
Fire tool (included)
---
Frequently Asked Questions