Best Cantilever Patio Umbrella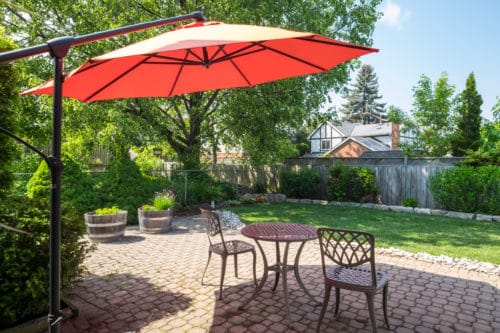 What is a cantilever umbrella (a.k.a offset umbrella)? Merriam-Webster defines cantilever as a projecting beam or member supported at only one end. This definition likely will make more sense to you once you view the pictures below in our list of the best cantilever umbrellas.
Each of these umbrellas have an arm(s) that supports a canopy. The arm is attached  to a pole that is supported by a base /stand. Since the canopy is suspended over the shaded area, there is no obstruction of view beneath the canopy.
In contrast, the canopy of a traditional patio umbrella is supported by a pole in the center of the umbrella, which can often obstruct views and be nuisance during conversations. A traditional patio umbrella also has its base located within the shaded area. This base is often located under the patio table, which can get in the way of feet.
A cantilever patio umbrella is a much more practical umbrella since it allows the shaded area to be free from obstruction. Additionally, these offset umbrellas allow for a great level of maneuverability since they are often able to rotate 360° and provide several levels of tilt. They are excellent for shading patio tables, outdoor sofas, grilling areas, lounge/zero gravity chairs, pools, and much more.
Best Cantilever Umbrella for a Patio
Below we have provided our list of the ten best cantilever/offset umbrellas. We believe that this is an excellent selection of umbrellas for you to consider for your yard or patio. We hope you are able to find an umbrella that you will enjoy for many years to come.
---
1.

Abba Patio Offset Cantilever Umbrella 
This 11 foot shade umbrella is made with fade resistant fabric which is an excellent choice for blocking out the sun with its 98 percent UV protection. Additionally, the umbrella is waterproof  so you don't have to worry about the elements destroying your umbrella in a short amount of time.
The umbrella has a crank opener with the ability to tilt in 5 adjustable positions. No matter the direction of the sun, this umbrella will likely be able to adjust to block out those annoying rays.
It closes vertically and a velcro strap ensures that the umbrella is securely shut. The umbrella comes in several colors including sand, cocoa, dark red, beige, and tan.
---
2.
Grand Patio Deluxe Banana Style Cantilever Umbrella
The Grand Patio Deluxe is a 10 foot umbrella made from rust-free aluminum to last for years to come.The umbrella provides UV protection and is fade-resistant to maintain its beauty. The umbrella opens and closes with an easy to use crank system.
We especially like the banana shape of this unit, which allows for a great range of movement and a wide variety of angles to block the sun.
It is difficult to tell from the picture above, but the base contains wheels that allow you to easily roll the umbrella to another location if desired.
Assembly will not be complicated for most people who purchase this umbrella. We would estimate that most people will have this umbrella ready for use within about 15 to 20 minutes.
You can see a demonstration of the assembly and operation of this cantilever umbrella in the video below. The video gives you an excellent idea why this is one of the best cantilever patio umbrellas on the market.
---
3.

Purple Leaf Double Top Deluxe Umbrella
Most people probably can tell the quality of construction of this umbrella just by looking at the picture. Admittedly, this is more expensive than many other umbrellas we have listed here. However, the price you pay will likely pay off in the long run.
As expected for an umbrella of this quality, it is UV resistant, waterproof, and colorfast fadeless (fade resistant fabric). It is constructed with alloy steel that is anti-oxidation painted to allow it to last.
This umbrella features an easy to use crank to open and close the umbrella with minimal effort. It can adjust to provide various shade positions based on the location of the sun.
You have a lot of color choices with this umbrella to match your existing patio furniture. The current colors are brown, green, khaki, terra, dark red, black, and turquoise blue.
A storage cover is included with your purchase, but you will need to purchase the base weight separately (sold here).
---
4.

Ashley Furniture Signature Design – Oakengrove Outdoor Patio Umbrella 
The 10 foot high Ashley Oakengrove cantilever allows for 6 different positions on the tilt that are adjusted using a slider mechanism that is located next to the crank. The crank opens and closes the umbrella as is typical for most similar products.
The base contains a foot-pedal that you can push down to allow the umbrella to rotate 360°. While 360° rotation is typical for offset umbrellas, the foot-pedal is an uncommon feature that makes maneuvering the umbrella super easy.
The umbrella features solar powered LED lights on the ribs of the canopy to create a beautiful ambiance for your covered location. The LED lights can be  powered by an AC adapter with a 10 foot cord (included). The umbrella is equipped with an on/off switch for convenient operation of the lights.
The durable polyester canopy is fade-resistant and will help block potentially harmful UV rays. The frame and pole are made out of aluminum.
While this umbrella may be more expensive than other umbrellas, keep in mind that it is sold with a base that you will fill with sand. These type of bases are often sold separately with other cantilever umbrellas.
The current available colors are coral (pictured above) and tan.
---
5.

Ulax Furniture Deluxe Cantilever Umbrella w/ Solar Powered LED Lights
This 11′ diameter umbrella offers 7 tilt positions and 360° rotation to provide ample shade in almost any sun position.
The 100% polyester fabric is super durable at 240/gsm. It is made to be fade resistant and  also water resistant  to withstand the elements.
The canopy contains 8 aluminum ribs to provide superior canopy support. It also contains a heavy-duty oval pole that measures 3.5 feet x 2 inches.
While the high quality of this umbrella is its key feature, the LED lights lining the canopy provide a nice way to add a beautiful lighted atmosphere to your seating area. The light batteries are solar powered (charged with the sunlight), but they also can be chargeable by USB if needed. The lights are controlled via a built in switch.
Note that a weight base is recommended and is not included.
---
6.

Myal Offset Patio Umbrella with LED Lights
Here is an affordable outdoor umbrella that is equipped with bright LED lights along the steel ribs  for night time enjoyment. The pole contains a switch to turn the light on and off.
The canopy is water, fade, and UV resistant. Is made to withstand the elements day-after-day without noticeable wear.
Keep in mind that this umbrella is also available to be purchased without LED light at a cheaper price. Additionally, the weight base is sold separately. You will likely want to buy this to keep the umbrella in place under various conditions.
---
7.

Le Papillon 
Cantilever Umbrella
The Le Papillon 10 feet diameter cantilever umbrella features the ability to simply rotate the umbrella 360° for adjustment to the various positions of the sun. The canopy also can rise up and down to provide tilt to the canopy as needed to block the sun.
The canopy opens with a clockwise turn of a crank mechanism and closes with a counter-clockwise turn as is typical with the other best cantilever patio umbrellas on our list.
The canopy contains 8 steel ribs to provide solid support. The frame is powder coated to provide a rust-free finish. The complete umbrella is weather resistant to withstand the common elements. The aluminum stand pole is 1.9″ high, which connects to a durable steel pole.
The current available colors for this umbrella are beige, coffee, dark blue, green, and grey.
This cantilever umbrella does not come with a weighted base. Many people buy the Le Papillon heavy-duty plastic base separately and fill it with sand. This weighted base will help keep the umbrella in position during heavy wind, storms, etc.
---
8.

C-Hopetree Outdoor Offset Patio Umbrella 
This approximately 10 foot diameter umbrella is fade, mold, and water resistant. It provides 98% UV protection to help you avoid the harmful rays of the sun.
This cantilever umbrella can rotate 360° and provides numerous vertical tilt positions. You should not have much trouble with this umbrella when it comes to adjusting its position to the sun.
The manufacturer notes that the umbrella is not wind rated. If you buy this umbrella, you should close and secure it with the provided velcro strap when wind is expected to be about 5 MPH or greater.
This is one best cantilever offset umbrellas if you are looking for an inexpensive option in comparison to other umbrellas. It may not be on par with some of the more expensive models, but we believe it provides a nice value for what you will spend.
The umbrella does not come with a weight base. Please click here to view a compatible base for this product. You can also purchase these weight bags for added security and stability of the umbrella. Lastly, you may want to consider purchasing this umbrella cover to help keep it looking fresh.
---
9.

Sundale Outdoor Offset Hanging Umbrella 
The Sundale Outdoor offset umbrella is available in a six colors. These colors include taupe, camel, coffee, light blue, sky blue, and brick red. It can reach approximately 8 feet in height.
The canopy is 100% polyester to provide excellent protection from the sun with its UV blocking material. It is also water-repellent and anti-fade to help the umbrella keep its appearance. The canopy measures about 8 feet in diameter.
When the umbrella is closed it can be wrapped with a velcro strap to help protect it from the elements. Sundale Outdoor manufactures a heavy duty umbrella cover that fits this offset umbrella, which will provide additional protection for this umbrella.
You get 5 positions of vertical tilt and 360° of rotation with this umbrella. You will need to purchase the base weights separately, which can be viewed here.
---
10.

Farland Offset Cantilever Patio Umbrella
If you are looking for an umbrella with several color options and a relatively inexpensive price, this is your umbrella. As you can see in the picture, the available colors are dark blue, red, dark green, and beige.
The umbrella fabric is manufactured with polyester that is said to be waterproof, anti-fading, and anti-ultraviolet.
The unit is made with your typical crank system and tilt slider to position the umbrella. It does not come with a weighted base, but this is something that you should consider adding on to your purchase to avoid the umbrella from tipping over.
We consider this one of the best cantilever patio umbrellas in terms of affordability in comparison to its features. We suggest combing through the many reviews of people who have bought this umbrella to see a range of opinions on the product.
Cantilever Umbrella Q&A
Do I need a weighted base for my umbrella?

Most of the products listed on our best cantilever umbrella list do not contain a weighted base. We recommend purchasing one to avoid the umbrella from tipping over and causing damage. Many products listed above are linked to the weight base that the manufacturer or seller recommended for the umbrella. Be sure to purchase a weight base that is compatible with your umbrella.

Do cantilever umbrellas tilt?

Yes, cantilever umbrellas generally do tilt.

How do you assembly a cantilever umbrella?

You should check the manufacturers instructions. The many offset umbrellas that are available have different assembly instructions. Typically, you fasten a few main parts together and the umbrella is ready to use within less than a half hour.

Do cantilever umbrellas blow over?

They will potentially blow over if they are not properly weighted down at the base. You should read what the manufacturer says about weighing down the base of their product before you buy. Many cantilever umbrellas have a weighted base that you buy separately.  The  base is commonly filled with sand to weigh down the umbrella and deter it from blowing over. Of course, if a storm or wind is strong enough, it can knock down much more than just a patio umbrella.